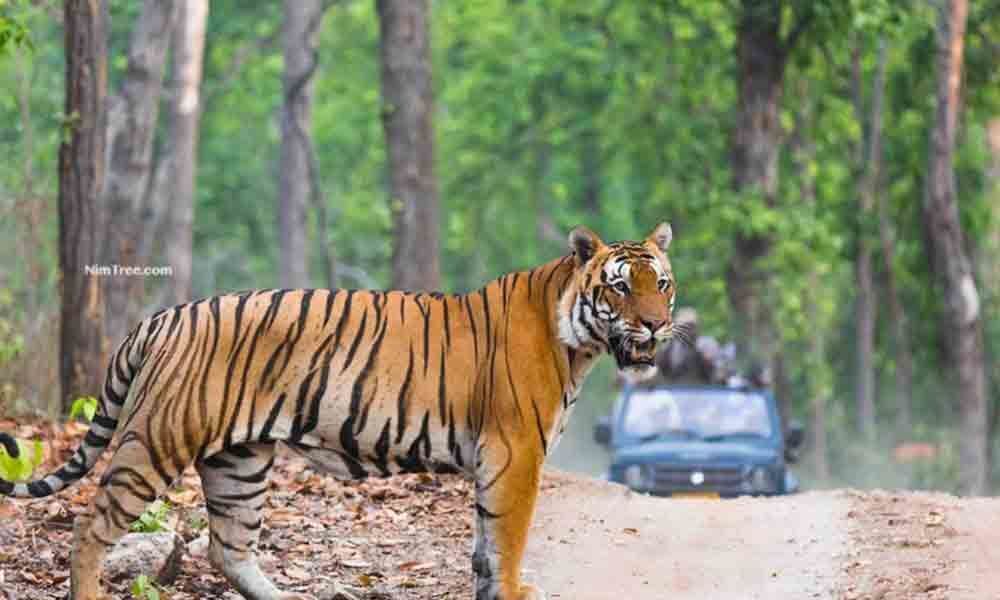 Highlights
India is blessed to have a diverse and flourishing wildlife population, owing to the numerous national parks, wildlife reserves and conservation...
Five popular places for tiger safari in India
India is blessed to have a diverse and flourishing wildlife population, owing to the numerous national parks, wildlife reserves and conservation projects that have been introduced in the last few decades. India is fortunate to boast of hosting more than half of the world's tiger population, so naturally, India is the perfect place for a Tiger Safari! A coveted and treasured experience which many tourists vouch for, a tiger safari in India is a delightful and thrilling journey to partake in for tourists, wildlife enthusiasts and wildlife photographers alike.
Here are a few of the best places to visit in order to make your tiger safari worthwhile.
Ranthambhore Tiger Reserve
Ranthambhore is one of the largest national parks in India, situated on a dry deciduous forest on the Aravalli hills in Rajasthan. This is a prime tiger reserve located near urban areas and is also the closest to Delhi, the national capital. Ranthambhore used to be the erstwhile hunting region for the Maharajas of Jaipur and was popularised by the visit of Prince Philip and Queen Elizabeth II during the 1960s. Ranthambhore now has about 56 tigers, along with other animals like leopards, hyenas, foxes, jungle cats, etc.
Bandhavgarh National Park
Bandhavgarh, Madhya Pradesh, is the most famous wildlife sanctuary in the region. Though white tigers exist no more there, Bandhavgarh is known as the 'Land of the White Tiger', owing to the capture of one by a Maharaja in 1951. Bandhavgarh is home to about 100 Bengal tigers, with many new cubs being born this season. Apart from tigers, there are regular sightings of sloth bears and jackals. Bandhavgarh is a lush green sanctuary housing a rich population of fauna and is hence one of the best and most underrated places for a tiger safari.
Tadoba National Park
Maharashtra's oldest and largest national park, Tadoba is another renowned tiger reserve situated in the Vindhyas, named after the god 'tadoba' or 'taru', which the local tribes worship. It spans over 1700 sq. kilometers. Tadoba is popularly referred to as 'The Jewel of Vidarbha'. Tadoba has a progressively growing number of tigers, who find shelter in the wilderness. There are trained guides, an open gypsy and a bus dedicated to ensuring a memorable experience for the visitors. The park also has an exquisite range of species, and regular sightings of leopards and sloth bears.
Kanha Tiger Reserve
Kanha is renowned for its picturesque beauty, which makes it seem almost like a scenery of Kipling's 'Jungle Book'. A plush forest of Sal trees, Kanha is meticulously maintained to ascertain that its splendour never diminishes. This makes it one of the best places for a tiger safari, with high chances of spotting more than one tiger in a single day. Apart from tigers, Kanha is also home to wild dogs, jackals, chital, and many more wildlife species including Barasingha, an endangered species of deer only found in Kanha.
Jim Corbett National Park
Corbett is one of the oldest national parks established in India, earlier known as Halley National Park. The park is elegantly settled in the foothills of the Himalayas, and boasts of a panoramic beauty featuring lakes, forests, hills and the northern sky. A vast variety of species thrives here in the rich biota, the park is renowned as the workplace of legendary conservationist Jim Corbett. Apart from tigers, the park has regular sightings of elephants, hog deer, etc. and is great for birdwatching in the winters.
Subscribed Failed...
Subscribed Successfully...