Cops seize ganja, gutka after chase in Markapuram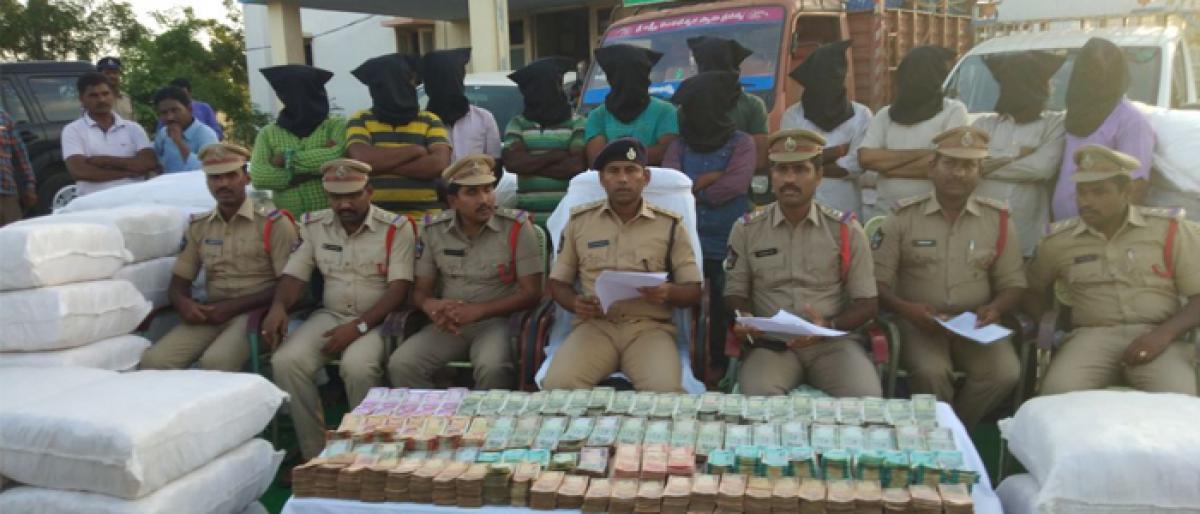 Highlights
The Markapur police seized large quantity of ganza on Wednesday in a cine chase like situation
Yerragondapalem: The Markapur police seized large quantity of ganza on Wednesday in a cine chase like situation.
The Markapuram DSP, Ramanjaneyulu said that based on a tip off, the Markapuram and Peddaraveedu CIs and Markapuram rural, Yerragondapalem, Peddaraveedu SIs were conducting searches at Devaraju Gattu and Kunta areas on the Wednesday afternoon.
At Devaraju Gattu, three vehicles didn't stop for the checking and almost ran over few policemen. The police officials chased the vehicles and took N Ramanjaneyulu, B Sivananda Reddy, P Satyanarayana, P Ramanujaya, K Venkata Ramudu, E Narendra and V Nagarjuna Reddy from Anantrapur into custody.
They seized three vehicles including one DCM van, one Mahindra Zylo and one Mahindra Camper vehicles and seized more than 10,000 packets of gutkha and few bags of ganza along with a cash of Rs 23,71,610 from them.
The DSP said Ramanjaneyulu was the kingpin of the gang and supplies tobacco and ganza products all over the Andhra Pradesh.
He appointed T Seshagiri of Markapuram, N Kishore and Shaik Saidulu of Reddachintala and B Venkata Subbaiah of Giddalur for distribution of the same products in the district.
He said that they arrested total 11 people including the four from the district and were continuing the investigation.