Seminar on large software projects held at PB Siddhartha Arts and Science College in Vijayawada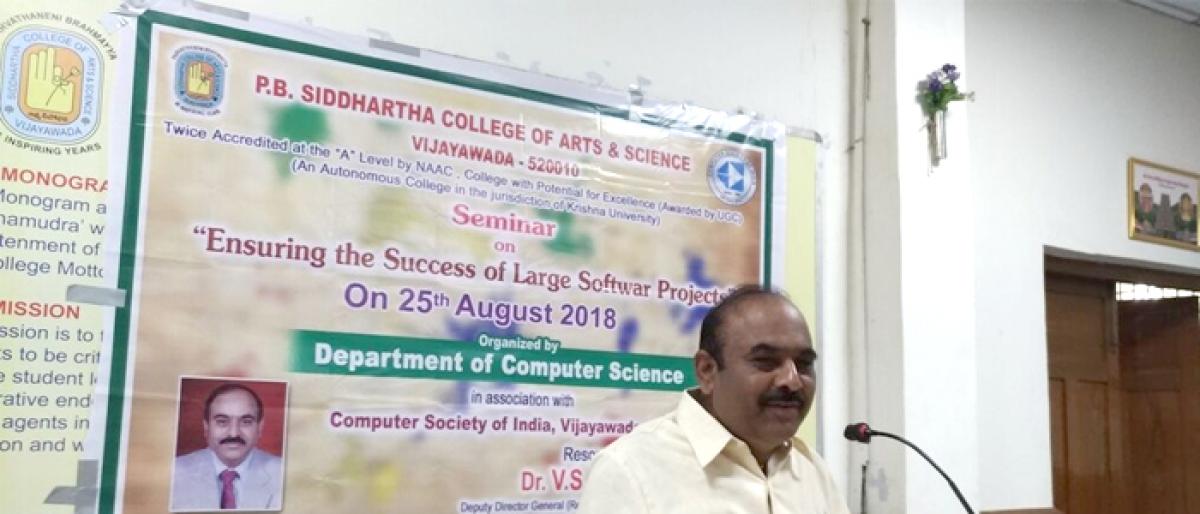 Highlights
The department of Computer Science of PB Siddhartha Arts and Science College in association with Computer Society of India, Vijayawada Chapter organised a seminar on Ensuring the Success of Large Software Projects on the college premises here on Saturday
Vijayawada: The department of Computer Science of PB Siddhartha Arts and Science College in association with Computer Society of India, Vijayawada Chapter organised a seminar on 'Ensuring the Success of Large Software Projects' on the college premises here on Saturday.
The resource person of the seminar was Dr VSR Krishnaiah, retired deputy director general, National Infrmation Centre, New Delhi.
Speaking on the occasion, Krishnaiah said that software companies under the state government have the database of crores of people.
That stored data would be used on a daily basis when they need the information of the particular person.
"It is a hectic task. Developing the software for such task is very expensive and also takes a lot of time," said Krishnaiah.
He said that there was 30 to 40 percent chance that the software may crash ending with data loss.
Krishnaiah explained various ways to protect the software from getting crashed.
The college vice-principal, P Babu Rao presided over the programme.
Director V Babu Rao, Dean Rajesh Jampala, Computer Science HoD Dr T S Ravi Kiran, faculty and students were present.