AP achieved global recognition with Zero Budget Natural Farming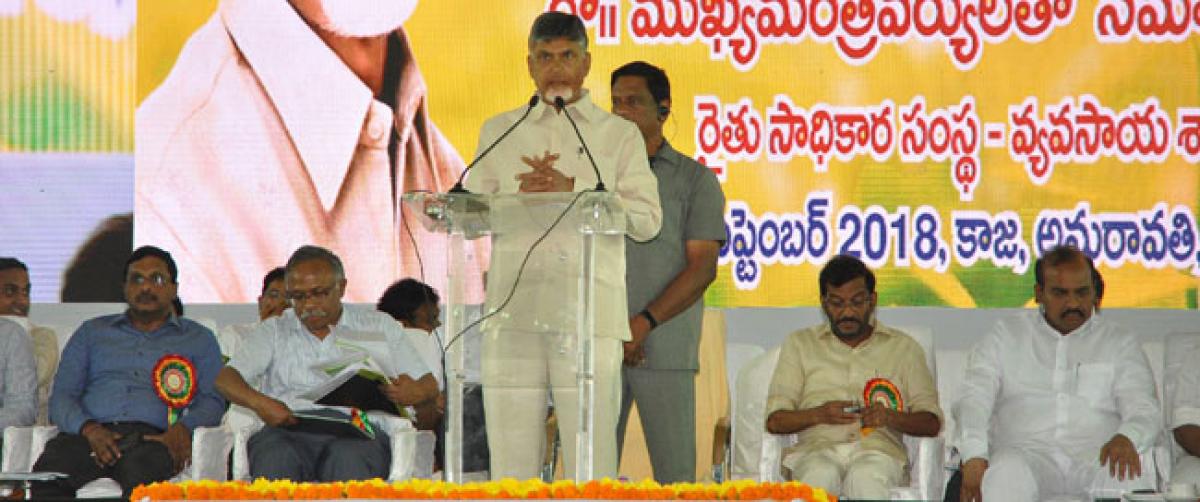 Highlights
Chief Minister N Chandrababu Naidu said that Andhra Pradesh got world recognition because of Zero Budget Natural Farming At a meeting held on Bible Mission Grounds near Acharya Nagarjuna University ANU in Guntur district on Tuesday, he interacted with the ZBNF farmers and asked about their experiences
Guntur: Chief Minister N Chandrababu Naidu said that Andhra Pradesh got world recognition because of Zero Budget Natural Farming. At a meeting held on Bible Mission Grounds near Acharya Nagarjuna University (ANU) in Guntur district on Tuesday, he interacted with the ZBNF farmers and asked about their experiences.
On the occasion, he said that he will address a meeting in this regard at United Nations General Assembly very soon. About 60 lakh farmers and 2 crore acres will be brought under ZBNF by 2024, he said and urged the farmers to extend their cooperation to keep his promise. APwill become role model for world countries very soon in ZBNF.
He appreciated the farmers who did hard work to promote ZBNF and added that if the farmers adopt this system, they will get quality yield with less investment. He further said that demand for organic food and rice, vegetables produced under the ZBNF is increasing.He said that there will be tremendous change in the lives of farmers and their standard of living will improve. He reminded that APis first in the country in the ease of doing business for the last two -years.
The Chief Minister said," if farmers start cultivation under the ZBNF, cost of cultivation will come down. There is no need to use fertilisers and pesticides. Agriculture will become viable. Soil fertility will improve. There will be climatic change. Consumers who consume rice, vegetables, fruits produced under the ZBNF, their health will improve. Now I am giving priority to ZBNF. All the 60 lakh farmers will adopt ZBNF by 2024.''
He announced that he will give awards to the farmers and officials who did hard work to promote ZBNF on Sankranti to encourage them.
He said they will continue their efforts till they get PhDs. He said that there is need for farmers, SHG women to complete degrees in the open college and universities to get certificates.
He urged the farmers to improve knowledge in E-commerce also. Minister for Agriculture Somireddy Chandramohan Reddy, Minister for Civil Supplies PrattipatiPulla Rao and Minister for Social Welfare Nakka AnandaBabu were among those participated in the meeting.