Chandrababu Naidu to unveil 1 lakhth farm pond tomorrow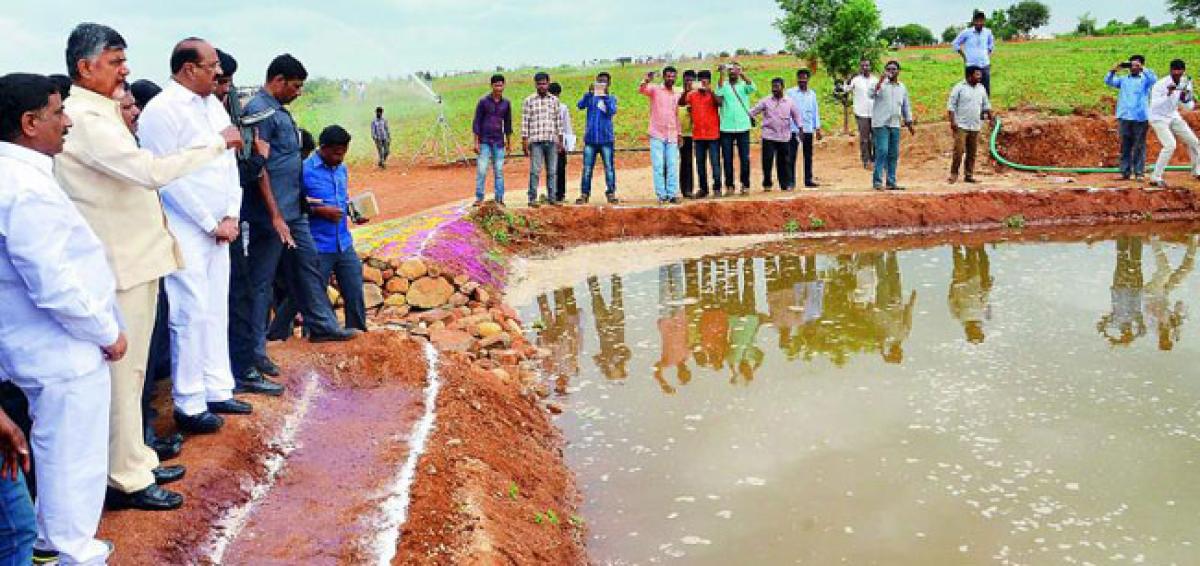 Highlights
Chief Minister N Chandrababu Naidu will be unveiling the 1 lakhth farm pond in Anantapur during his visit to the district on October 10 The Chief Minister along with District Collector Veera Pandian and District Water Management Agency DWMA Project Director PD Jyothi Basu will celebrate the unique feat of DWMA in the country
Anantapur: Chief Minister N Chandrababu Naidu will be unveiling the 1 lakhth farm pond in Anantapur during his visit to the district on October 10. The Chief Minister along with District Collector Veera Pandian and District Water Management Agency (DWMA) Project Director (PD) Jyothi Basu will celebrate the unique feat of DWMA in the country.
Andhra Pradesh as a state had completed digging of nearly 2 lakh farm ponds while Anantapur district alone has contributed 1 lakh farm ponds out of the 7 lakh farm pounds targeted by the central government. Another 13,000 farm ponds are in their completion stages. The DWMA had targeted 1.13 lakh farm ponds and has now crossed the 1 lakh mark.
The district administration in coordination with the DWMA is planning to celebrate the digging of 1 lakh plus farm ponds during the visit of the Chief Minister to the district on October 10. Jyothi Basu told The Hans India that 1 lakh farm ponds have been completed while another 13,000 farm ponds are on its final stages of completion. All the farm ponds have been dug with NREGS rural work force.
The district stands on top in the state and in the country by achieving the enormous target of digging 1 lakh plus farm ponds. Rightly called 'Panta Sanjeevani,' it is coming to the rescue of the drought-hit district farmers and contributing greatly to water conservation campaign. The central and state governments have spent more than Rs 900 crore in Anantapur district alone on the 1 lakh farm ponds.
Each farm pond costs anywhere between Rs 60,000 and Rs 70,000. Chittoor district stands second by completing 27,559 farm ponds and Srikakulam district the lowest by completing only 2,761 ponds.
The previous DWMA PD A Nagabhushanam played a crucial role in launching the scheme and in motivating farmers to dig farm ponds as part of the water conservation mission. The present PD Jyothi Basu has succeeded in the completion of the magic figure of 1 lakh plus.