Bay Marathon A Huge Hit in vizag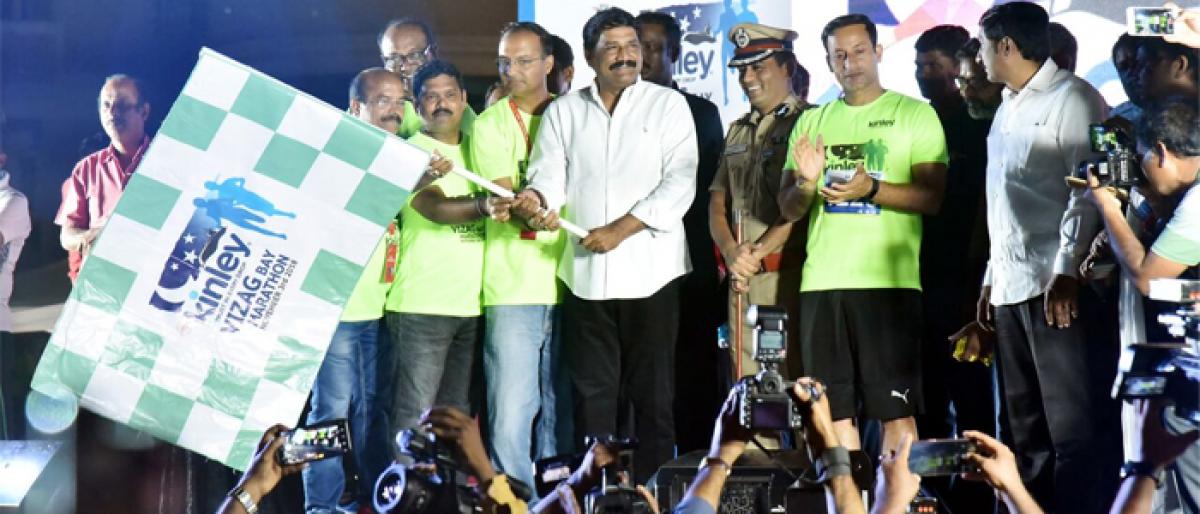 Highlights
The Beach Road in the city was on Saturday night crowded with over 5,000 runners including foreigners participating in the third edition of the Vizag Bay Marathon
HRD Minister Ganta Srinivasa Rao flags off the Marathon at the Beach Road in the presence of collector Pravin Kumar
Visakhapatnam: The Beach Road in the city was on Saturday night crowded with over 5,000 runners including foreigners participating in the third edition of the Vizag Bay Marathon.
Not only the youth but also the aged participated in the event with much enthusiasm. HRD Minister Ganta Srinivasa Rao flagged off the Marathon at the Beach Road in the presence of collector Pravin Kumar.
The Marathon was held in three categories--21.1 km, 10 km and 5 km but over 3,500 took part in 5K run only and 500 participated in the 21.1 km.
A good number of spectators also turned up to enjoy the event and kept cheering the participants. The participants enjoyed running on the beach.
Though the Marathon has created some troubles to the commuters, many participants have expressed that the route map was beautiful, and the weather supported the runners.
"We have not seen a charming marathon route anywhere," the participants opined while participating in the event.
In the 10K category, Ramesh Chandra was the winner in the male category with a timing of 32:54 while Ishwarya Timpony was the topper in the female category clocking 47:58.
In the 21K male category Felex Cherniyot Rop got second position by clocking 1:16:56 and the third post got by P Shivaji by clocking 1:28:35.