Anniversary of Vivekananda's Speech : 49,698 students take part in competitions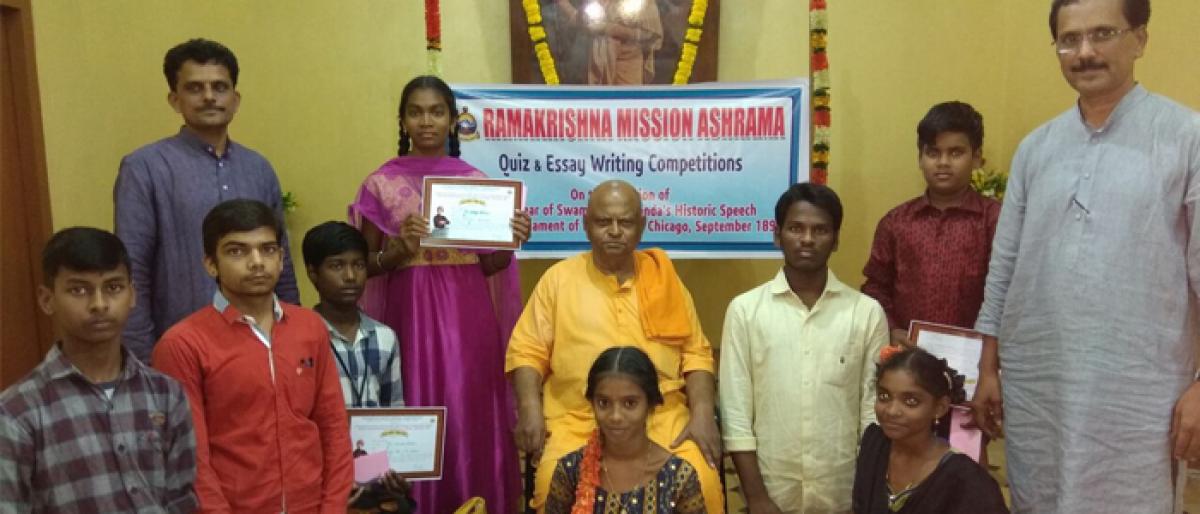 Highlights
As part of the 125th anniversary of Swami Vivekanandas speech at World Parliament of Religions in Chicago, Ramakrisha Mission Ashrama, Visakhapatnam conducted quiz, elocution and essay competitions in schools of Visakhapatnam, Vizianagarm, East Godavari and Srikakulam districts on Saturday
Visakhapatnam: As part of the 125th anniversary of Swami Vivekananda's speech at World Parliament of Religions in Chicago, Ramakrisha Mission Ashrama, Visakhapatnam conducted quiz, elocution and essay competitions in schools of Visakhapatnam, Vizianagarm, East Godavari and Srikakulam districts on Saturday.
As many as 49,698 students participated and a total of 4,948 prizes were distributed after the first round of competition. In all, the top 8 winners were awarded prizes and certificates.
Prizes included a set of books and remaining in cash ranging from Rs 10,000 for the first prize to Rs 4,000 the fourth prize.
List of winners: Essay writing (Telugu), the first prize won by Neelavathi, class 10th of ZP High School, Gudicherla, second prize won by Prabhas of class 9th, ZP High School, Gadala while the third and fourth prize winners are U Amrutha of MPUP School, Donkada and Ch Nagesh of class 8th of Sadguru Vidyalayam, Gadala.
Written/oral quiz- (Telugu): The first to fourth prize winners are N Udaya Bhanu, Class 9th of ZPH school Kallempudi, Vizianagarm district, M Taraka Ratna, Class IX, Ammavadi EM High School, Tekkali, Srikakulam district, Bharath Kumar, Class 10th of Sama School, S Kota, and Nandashree Gopal, Class 9th of Sama School Kakinada respectively.