Cops crack 26 cases; 14 offenders held in vizag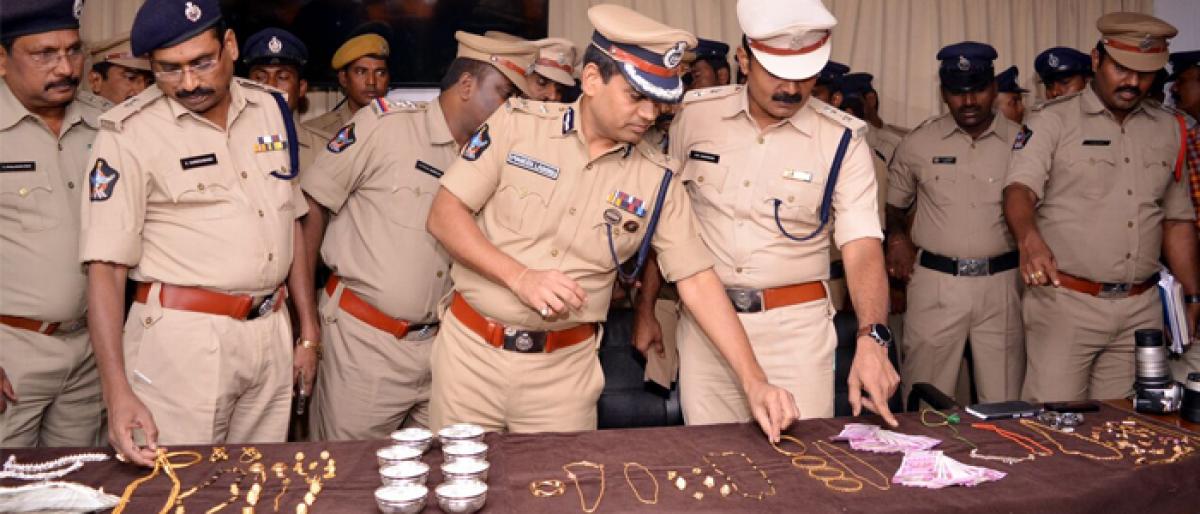 Highlights
The crime branch of police commissionerate solved 26 property offences breakinthefts, snatching and few others and recovered 65693 gms of jewellery, Rs 37 lakh in cash, 1,078 gms of silver ornaments, 10 twowheelers and a few electronic gadgets, worth Rs 3222 lakh following the arrest of 14 men, including two juveniles here on Saturday
Visakhapatnam: The crime branch of police commissionerate solved 26 property offences (break-in-thefts, snatching and few others) and recovered 656.93 gms of jewellery, Rs 3.7 lakh in cash, 1,078 gms of silver ornaments, 10 two-wheelers and a few electronic gadgets, worth Rs 32.22 lakh following the arrest of 14 men, including two juveniles here on Saturday.
According to Police Commissioner Mahesh Chandra Laddha, out of total 26 cases, 13 cases under Pendurthi police station limits only. One of the accused persons in a dacoity case in which a jewellery businessman J Ramesh Babu from Coimbatore was looted of Rs 41.98 lakh in cash and 1,200 gms of jewellery, Suraj was arrested in West Bengal and police have recovered 60 gms of jewellery and Rs 2.75 lakh in cash from his possession.
The investigation is on to arrest of some more accused and recovery of remaining stolen property. So far, we have arrested 11 of 15 accused persons and recovered Rs18.4 lakh in cash and 660 gms of jewellery in the dacoity case, he added.
On the recent series of chain snatching incidents in Vizag city, Laddha said that over 20 chain snatchings were reported at various parts in the city in the past two months.
"Our preliminary investigation has revealed that some inter-state gangs have also involved in the crimes and the police teams visited parts of Karnataka, Uttar Pradesh, Tamil Nadu and parts of Andhra Pradesh to identify and nab the accused in the cases," he added.
The property offences have decreased by 380 cases in 2018 compared to previous years due to efforts made by the crime wing police, he added.
We are chalking out plans to increase the police patrolling and surveillance to prevent the crimes and effective detection in property offences in the coming days, said Laddha.