Sri Venkateswara Institute of Medical Sciences in deep financial crisis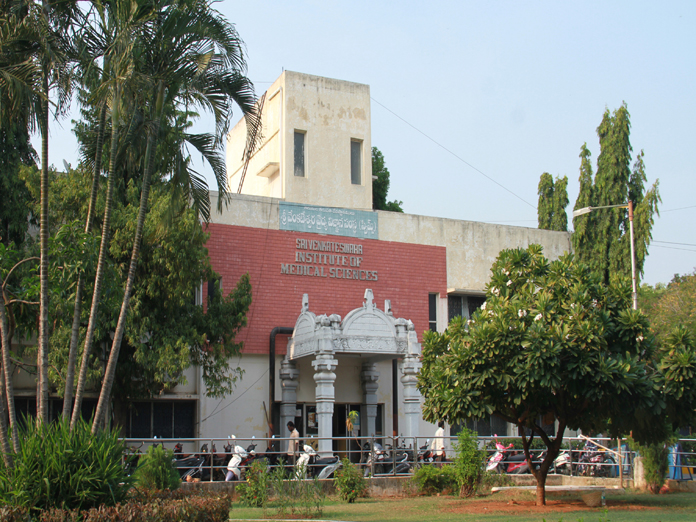 Highlights
Sri Venkateswara Institute of Medical Sciences SVIMS, the only super speciality institute in the State post bifurcation, has been facing severe financial difficulties It is the only premier institute in the State without salary budget since its inception in 1993
Tirupati: Sri Venkateswara Institute of Medical Sciences (SVIMS), the only super speciality institute in the State post bifurcation, has been facing severe financial difficulties. It is the only premier institute in the State without salary budget since its inception in 1993.
SVIMS was established to provide the most advanced medical technology to the needy with nominal cost. The Institute became a University in 1995 and emerged as a centre of excellence for providing medical care, educational and research facilities of a higher standards. But, without salary budget, the institute unable to retain talented faculty.
The Institute was being funded and managed by TTD, which gives Rs 24 crore per annum while State government provides only Rs 60 lakh as revenue grant. In the absence of salary budget, the Rs 24.6 crore it gets per annum is inadequate to meet the growing expenditure.
Though it has been striving hard to meet the expectations to be on par with other prestigious institutes like All India Institute of Medical Sciences (AIIMS), the fund crunch was tying its hands. The SIVMS provides medical services to 1,800 out-patients per day and 42,600 in-patients per annum, an increase of six per cent over the previous year.
About 13,000 surgeries and 22 lakh investigations have been taking place per annum. It was learnt that AIIMS grant-in-aid from the Central government in 2017 was Rs 2,400 crore which was hiked by 25 per cent in 2018 to make it Rs 3,018 crore as against Rs 60 lakh grant-in-aid SVIMS has been getting from State government. Similarly, SVIMS gets only 2.2 per cent of grant-in-aid compared with JIPMER, Puducherry.
Even NIMS, Hyderabad was getting Rs 140 crore grant from that State government. When this point was brought to the notice of then Health Minister Kamineni Srinivas in February 2018 on the occasion of SVIMS silver jubilee celebrations, he assured of all help from the State government, but nothing was done till date. Still, the Director cum Vice-Chancellor Dr TS Ravikumar was leaving no stone unturned in utilising every possible chance of introducing new concepts to put the institute at high esteem.
It may be noted that the Chief Minister N Chandrababu Naidu himself is the Chairman of the governing council and Chancellor of the SVIMS. However, the government has never bothered to give a helping hand to SVIMS and address its financial problems.
Adding to the woes of SVIMS, it has to get crores of rupees as reimbursement for the services rendered under various schemes. They include Rs 18.6 crore from NTR Vaidya Seva Scheme, Rs 9.6 crore from the ESI Corporation, Rs 2.7 crore from the Employees Health Scheme, Rs 1.4 crore from Railways, Rs 74 lakh from the CM Relief Fund, Rs 80 lakh from APSRTC and Rs 61.5 lakh from Arogya Bhadratha scheme.
When there was much clamour about the outstanding amount from ESI in May 2018, the corporation has promised SVIMS to reimburse it within two months and that promise was not fulfilled yet. Similarly, other government agencies were also not bothered to clear the dues to the SVIMS though their employees have been availing services.
Responding to a question on the financial crunch, the Director Dr Ravikumar told The Hans India that they have been providing treatment on credit basis to government of AP for NTRVSS and EHS patients at an average of Rs 6.5 crore per month. Of this, the government was accepting claims only to the extent of Rs 4.5 crore per month and that too not regularly.
The Director was making every effort to write to various credit agencies for being paid for the services rendered. He also wants to plead with the board members in the next meeting of the governing council, demonstrating that SVIMS output and outcomes have been excellent, considering the financial supports that other institutes of excellence were receiving.
It was high time that the government should come forward and strengthen SVIMS financially, which will further consolidate its ambition of making the Tirupati a medical hub.