Mother Sparsh Launches India's First Eco-Friendly Water-Based Baby Wipes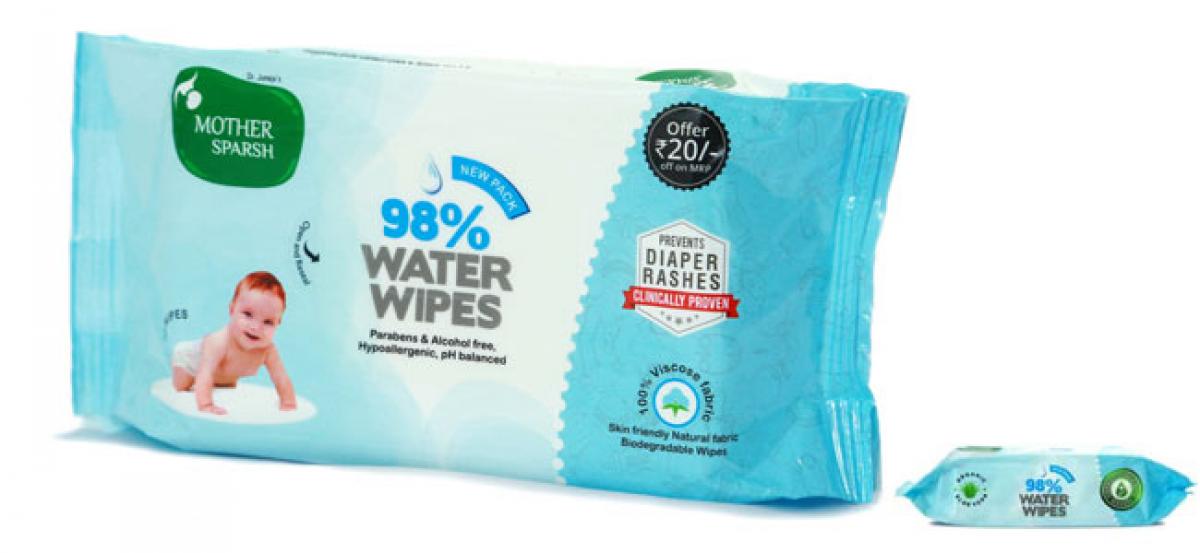 Highlights
Mother Sparsh, a promising wipes brand, has launched 98 water based baby wipes in the Indian market These wipes are made of 100 plantbased fabric, dermatologically tested, biodegradable, extra strong, and velvetysoft for the precious skin of babies
These wipes contain 98% purified water and are as good as cleaning with water and soft cotton!
New Delhi : Mother Sparsh, a promising wipes brand, has launched 98% water based baby wipes in the Indian market. These wipes are made of 100% plant-based fabric, dermatologically tested, biodegradable, extra strong, and velvety-soft for the precious skin of babies. The idea behind these revolutionary natural wipes is backed by the studies of several health organizations and health experts who clearly advocate that cleaning with pure water is safer and also reduces the chances of allergy, irritation, and redness as babies have a very delicate and sensitive skin. Mother Sparsh has already sold over 1 lakh wet wipes till date and is one of the bestselling products on Amazon India and FirstCry!
These wipes have mild fragrance and are free from harmful chemicals, majorly contains purified water, with cotton-like fabric, thus cleaning with Mother Sparsh water wipes is as good as cleaning with soft cotton and pure water as also suggested by midwives. The fabric used is extremely smooth (almost velvet-like), breathable and highly absorbent unlike polyester based wipes dominating the market, which may irritate the soft skin of the baby.
Mother Sparsh 98% water-based baby wipes are clinically examined to prevent rashes. Wipes have become a modern parenting convenience to maintain baby's hygiene, being for everything like clean up the baby while changing the diaper, while feeding or refreshing baby's face. These zero polyester wipes are effective in preventing bacterial and yeast infections, thereby not only helping clean the baby, but also preventing the baby from allergies and rashes.
Commenting on the launch of these eco-friendly water wipes Rishu Gandhi, Co-Founder and Head – Brand Strategy of Mother Sparsh said, "Mother Sparsh 98% water-based baby wipes are as good as cleaning with water. Mother Sparsh initiated its journey with a clear motive to launch baby products that are gentle and non-toxic. With this thought, India's first eco-friendly water-based wipes, i.e., Mother Sparsh 98% water wipes were launched – as an effort to provide the best to the baby and environment-friendly too. We are sure our initiative and our products will be welcomed by mothers who want only the best and safest product for their babies."
Being an environment-friendly product, which generally has a higher cost than regular products Mother Sparsh is positioned well among the competitors with respect to both the price and value proposition. Presently these wipes are available at all leading eCommerce stores such as Amazon, Flipkart, Snapdeal, FirstCry, Paytm, and at more than 3000 retail outlets.