Bodhtree plans to raise Rs 13 crore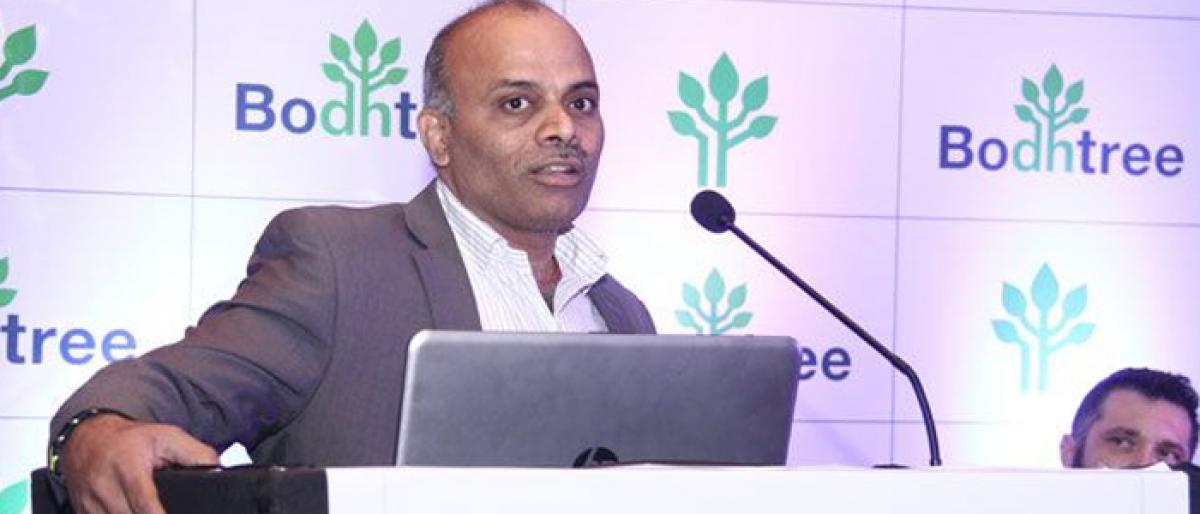 Highlights
Bodhtree Consulting Limited, registered a net profit of Rs 208 crore in the first quarter of current fiscal as against Rs 034 crore in the same period a year ago, registering a sixfold growth The company plans to raise Rs 13 crore by issue of 15 lakh convertible warrants at a price of Rs 90 per share
​Hyderabad: Bodhtree Consulting Limited, registered a net profit of Rs 2.08 crore in the first quarter of current fiscal as against Rs 0.34 crore in the same period a year ago, registering a six-fold growth. The company plans to raise Rs 13 crore by issue of 15 lakh convertible warrants at a price of Rs 90 per share.
The revenue recorded was Rs 22.8 crore as against Rs 26.6 crore registered a year ago. EBITDA was at Rs 5.21 crore in Q1FY19 as against Rs 2.14 crore in Q1FY18, registering a significant growth of 144 per cent. EBITDA margin improved substantially to 21.7 per cent in Q1FY19 as against 8 per cent in Q1FY18. The company has acquired IT & IT enabled services of Bodhtree Consulting LLC (Texas, USA) which is 100 per cent controlled by Bodhtree Solutions PTE Ltd, Singapore. The objective of the acquisition is to expand the operations overseas and thereby tapping new customers.
The indicative time period for completion of the acquisition is 12 months and the current turn over the company for FY18 was Rs 25 crore, which would be revenue accretive for Bodhtree Consulting Ltd, said a press release. LN Rama Krishna, the company's Managing Director, said, "Our operating margin improved significantly during the quarter led by improvement in operational efficiencies across the verticals.
Our acquisitions are revenue accretive and with sheer acquisition we are going to grow by 25 per cent and there would an additional organic growth of 15-20 per cent in our regular business in India. We have strengthened our team in US and the momentum in our business in US would be substantial during the current year. This would be big game changer for Bodhtree."