Karthi's Chinna Babu Movie Review & Rating {2.75}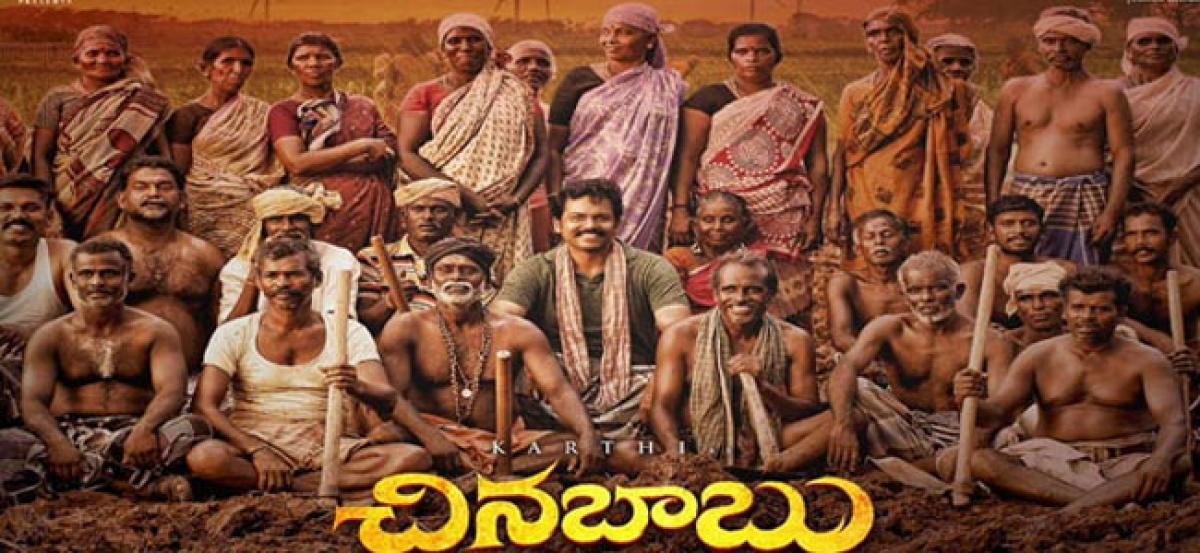 Highlights
Chinna Babu Movie Review And Rating Chinna Babu is the latest film that released in the theatres today The film stars Karthi and Sayesha Saigal in the lead roles Satya Raj, Bhanu Priya, and others were seen in the important roles
Rating: 2.75
Title: Chinna Babu
Language: Telugu
Cast: Karthi,Priya Bhavani Shankar,Sayesha Saigal
Release Date: 13 July 2018
Director: Pandiraj
Producer: Suriya
Music: D Imman
Genre: Drama
Chinna Babu is the latest film that released in the theatres today. The film stars Karthi and Sayesha Saigal in the lead roles. Satya Raj, Bhanu Priya, and others were seen in the important roles.
The film is directed by Pandi Raj who earlier made the film called Pasanga. Suriya produced the movie under 2D entertainments banner. The makers are happy with the way the film progressed at the box office and they are excited to see the response from the audiences. Check out the review of the film.
Story:
Rudra Raju (Satya Raj) has two wives, 5 daughters and 1 child Krishnam Raju (Karthi). Krishnam Raju takes up agriculture as his profession and leads his life. He falls for Neela (Sayesha Sehgal) and proposes to marry her. Then arises a conflict in Krishnam Raju's family and Rudra Raju places a condition for Krishnam Raju. What is the condition? What is the problem for Karthi to marry Neela? What happens in the end? Forms the story of the film.
Performances:
Karthi has played his part very well in the movie. He is impressive in the role of a farmer and has come up with an impressive attempt. There is a lot of fun in the film through his character and he is the best at entertaining the audiences.
Sayyesha Saigal has delivered a great performance in the movie and impressed with her looks as well as performance. Satya Raj has played a key role in the movie and delivered a remarkable performance. The rest of the film's cast has made their presence felt.
Technical Aspects:
The cinematography by Vel Raj is impressive. The editing is neat and decent. The music scored by Imman is good but the Telugu songs lost charm and life. The background score of the movie elevated the movie properly. The artwork is excellent. The production values of the movie are grand. The graphics and VFX work is also nice.
Verdict:
The movie Chinna Babu is a realistic family drama that has got a lot of scope for essaying family emotions and human values. The movie also highlights the distress faced by farmers but more or less, it is said to be a story that happens within a family. The emotions were worked out big time and the makers were successful in reaching the targeted audiences.
There is a lot of drama that happens in the film which could have been cut down slightly. The film is fun at times and has the right emotions that will make the movie watchable. The rural-based movie blended with all the commercial elements and the film is a winner at the box office.
ALSO READ: Karthi's Chinna Babu Movie Twitter review
Disclaimer : This Review is An Opinion of One Person. Please Do Not Judge The Movie Based On This Review. Watch Movie in Theatre