Why The Expected H1b Changes Are Good News For Indian Students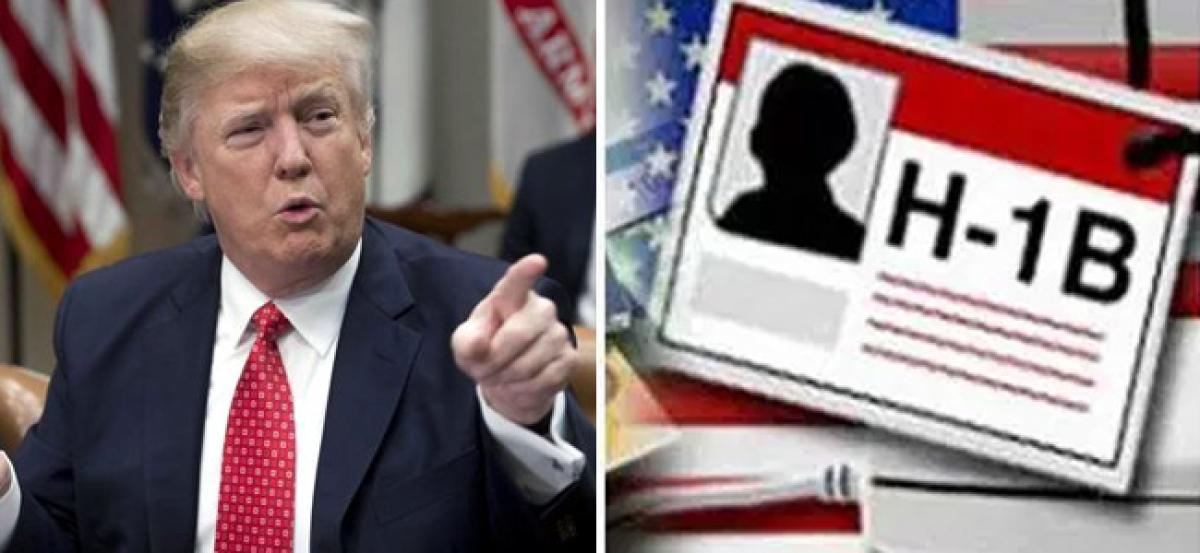 Highlights
President Trump's latest executive order on immigration reforms is actually good news for Indians studying in the United States: This is the clear message delivered to Indian students planning to go to America by University of South Florida
Understanding President Trump's Intended Changes
Mumbai: President Trump's latest executive order on immigration reforms is actually good news for Indians studying in the United States: This is the clear message delivered to Indian students planning to go to America by University of South Florida (USF) Vice President Dr. Roger Brindley and Dean of USF's Muma College of Business Prof MoezLimayem. Theyare among several faculty members from American universities who have spent the last few weeks reaching out to Indian students concerned about accepting offers of admission from U.S. universities.
On April 19, President Trump signed an executive order that tasked the heads of four departments to "suggest reforms to help ensure that H-1B visas are awarded to the most-skilled or highest-paid" applicants. The intention of the order is to close the current loophole that brings in less skilled and lower-paid workers and replace the lottery system with a merit-based immigration system, thus giving master's degree holders a better chance of getting H-1B visas.Quoting from the latest Pie News (the British journal for professionals in international education) Dr. Brindley told Indian students as well as education counselors that "…emphasis on the most highly skilled workers, could actually have the potential to benefit foreign graduates of American colleges."
Dr. Brindley highlighted the fact that the United States needs international students qualifying from American universities since "foreign talent is needed to fill skills gaps in the U.S. labour market in some industries, such as IT."
"The fact is,"he explained, "that not enough Americans are graduating from technical Masters courses such as Business Analytics and Information Systems (BAIS) and Computer Science." The possible reasons for this range from a general lack of interest in Math and Science to the high burden of debt that most American students carry with them after four years of a Bachelor's program, making employment more appealing than starting on a Master's degree.
Speaking to students in Delhi, Mumbai, Pune, Bangalore, Chennai and Hyderabad, the USF faculty also pointed out that:
• Recent public notices are focused on lower-level positions and those with fewer skills.
• Removing abuse and fraud from the H1-B Program could lead to more "spaces" available for students with Master's degrees and above who are seeking mid-level and higher positions.
• Increased monitoring and enforcement of compliance is directed at H1-B dependent employers with 15% or more of their workers on H1-Bs.
• The additional guidelines for computer programmers are targeted at individuals without a higher degree – not at students who will be doing their Masters at a recognized research-intensive university.
• The median annual salary in year one for students graduating with a Masters' degree from USF's College of Engineering or the College of Business has been $70,000 and $65,000 respectively – the degree and the salary range are both out of the 'targeted" low-level positions. These, in fact, are the skilled applicants the new guidelines aim to attract.
Touching on speculation about changes in the rules for Optional Practical Training (OPT), Dr. Brindley encouraged students to use WhatsApp and other social media to reach out to international students who are graduating from American universities this month to confirm that many are applying for OPT positions. "There have been no legislative changes to the program. It remains intact and available for our students. Nothing has changed," he stressed.
USF took the unprecedented step of extending its deadline for Masters Programs for Fall 2017 from February 15 to June 1 to give concerned students more time to study the situation and make an informed decision. Almost 10 percent of USF's 50,000 students are international students from 140 countries, with India heading the list. The vast majority of Indian students choose programs at the College of Engineering and the College of Management, with Computer Science and BAIS being the most popular choices.
Subscribed Failed...
Subscribed Successfully...