Convocation held at Saveetha Institute of Medical and Technical Sciences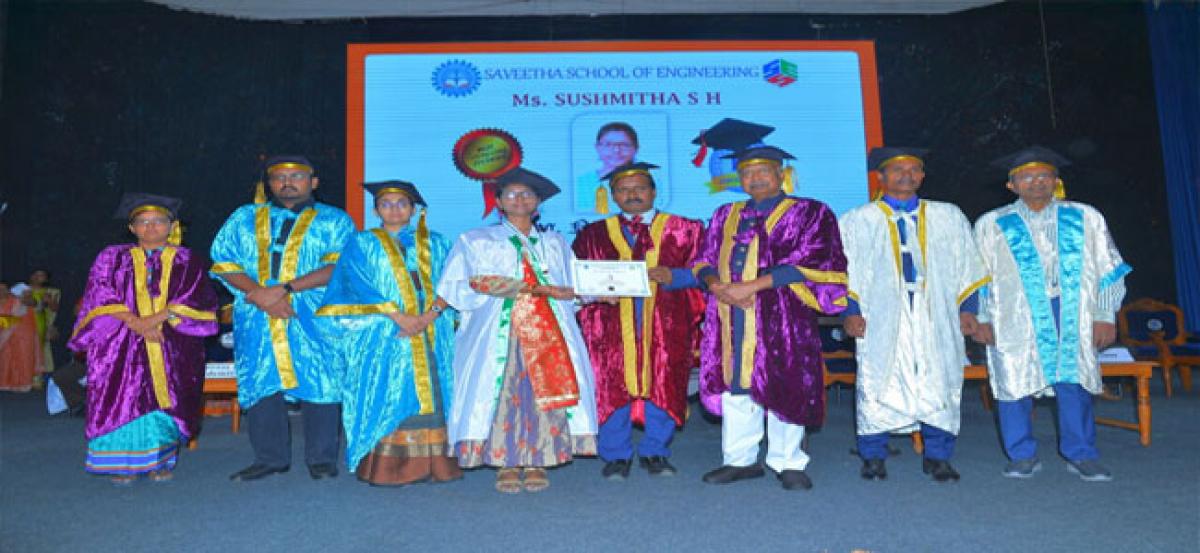 Highlights
Saveetha Institute of Medical and Technical Sciences 12th Convocation held on Sunday, conferring degrees on 723 graduates who have successfully completed their studies respectively in three of our major constituent institutions including Saveetha School of Engineering, Saveetha School of Management, Saveetha School of Law Of them, 629 are Under Graduates, 74 Post Graduates and 20 are Doctorates
Hyderabad: Saveetha Institute of Medical and Technical Sciences 12th Convocation held on Sunday, conferring degrees on 723 graduates who have successfully completed their studies respectively in three of our major constituent institutions including Saveetha School of Engineering, Saveetha School of Management, Saveetha School of Law. Of them, 629 are Under Graduates, 74 Post Graduates and 20 are Doctorates.
The 12th Convocation is presided over by Founder and Chancellor, SIMATS N M Veeraiyan, Pro Chancellor, Vice-Chancellor, Members of the Board of Managemnet, Director of Academics and the Registrar. V BalaMurugan,Outstanding Scientist & Director, Comvat Vehicles Research and Development Establishmnet,DRDO Avadi had Kindly consented to be Chief Guest and Delivered the Convocation Address. The university at present runs about 47 UG programmes, 86 PG programmes, 3 MPhil Programmes, 2 Diploma, 3 PG Diploma, and several PhD programmes with total student strength of 8485.
About 2231 students have enrolled in different programmes in 2018-19. It is to be noted that the PhD enrolment has almost doubled than the previous year, totalling 220. Saveetha University to its credit has already around 159 MoUs with various international universities and industries including a series of MOUs signed by our constituent colleges with various global partners this year.
The university has published 1945 research articles, 40 text books, filed 163 patents,achieved 852 awards; which is a significant achievement if juxtaposed with both regional and national counterparts. The cumulative outcomes indicate that the university has contributed immensely to the intellectual capacity of the nation in recent times with 7365 publications, 8187 projects, and 4 Guinness records.