Old-timers recollect past glory of city football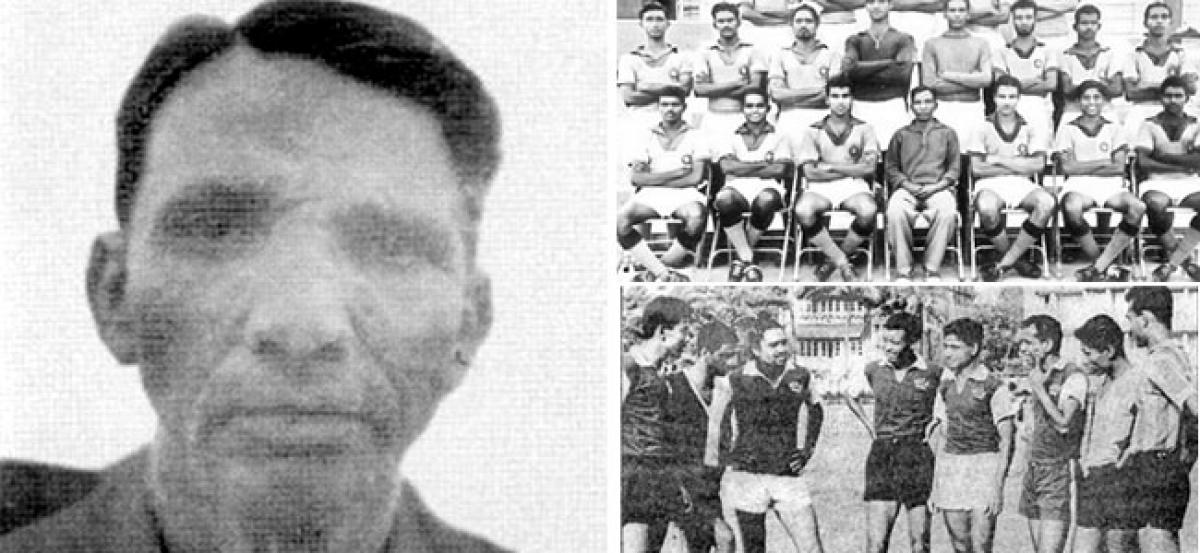 Highlights
Perhaps very few Hyderabadis know that Indian Football team once called as Brazil of Asia mostly comprising players from city took part in Olympics in between 1948 and 1960 and won gold in Asian games
Indian football team took part in Olympics in between 1948 and 1960
India won football gold medal in 1962 Asian games
Hyderabad: Perhaps very few Hyderabadis know that Indian Football team (once called as Brazil of Asia) mostly comprising players from city took part in Olympics in between 1948 and 1960 and won gold in Asian games. Even as the World Cup comes to an end on Sunday, with finals between France and Croatia (the underdog) old timers recollect past glory.
Beginning from 1948 England Olympics, the players from Hyderabad played in 1952 (Helsinki), 1956 (Melbourne) and 1960 (Rome). In the Olympics played in Melbourne, the Indian team proved their mettle also reached in the Semi-Final and after that never qualified for this International fete after 1960. The city produced Dhanraj, considered as the legend, who played in 1948 England Olympics. Later, some of the finest players rose from the Hyderabad Police Foot Ball Team under legendary Physical Director, S A Rahim.
The policemen including S K Moinuddin (1952), Noor Mohammed (1952 & 1956), S K Azeezuddin (1952 & 1956), S A Lateef (1956 & 1960), Zulfiqauruddin (1956) and Yousuf Khan (1960) played during these Olympics representing the nation. Some other players from the City who took part the Olympics are S A Salam (1956), Peter Thangaraj, a Goal Keeper (1956-60), Ahmed Hussain (1956), T Balram (1956 & 60), D Kannan (1960), S H H Hamed (1960) and S S Hakeem (1960).

India wins Gold medal in 1962 Asian Games
Some of the other players who played for Asian games G Y S Laiq, Anthony Patrik, Rahmatullah, Yousuf Khan, DMK Afzal, Naimuddin, Md Habeeb, Md Akber, Shabbir Ali and Md Fareed. S A Rahim was the coach of the Indian team which won Gold in 1962 Asian Games. They represented in Indian Team till Asian games hosted by India in Delhi in 1984. "In those days players were challenging and mostly played barefoot. In grass they were the best, but following usage of Astro-turf for football, the Indian team was not able keep the pace," said, Aleem Khan, Former International/ Coach of Sports Authority of AP & Telangana.
The coach recalls how the Fateh Maidan club provided space for the budding talent, which now does not even have the place for football players to play. Transforming the space meant for the football in the L B Stadium into tennis court a few decades ago was the last nail to end patronage enjoyed by the football.
Another legend of later years, Victor Amalraj who captained in India at International level during 1980s said that during those days they had a football culture across the nation, which completely vanished from the City. "We have a culture in Bengal, Goa, Kerala and North East now. There is no more football culture and legacy could not carry forward in the City. Like craze of Gopi Chand Academy for badminton the youngsters craved to play football in those decades. One of the major reasons for lack of encouragement is lack of infrastructure and support in local academies for sports," he said.
Md Nizamuddin
Subscribed Failed...
Subscribed Successfully...