Women's College students protest fee hike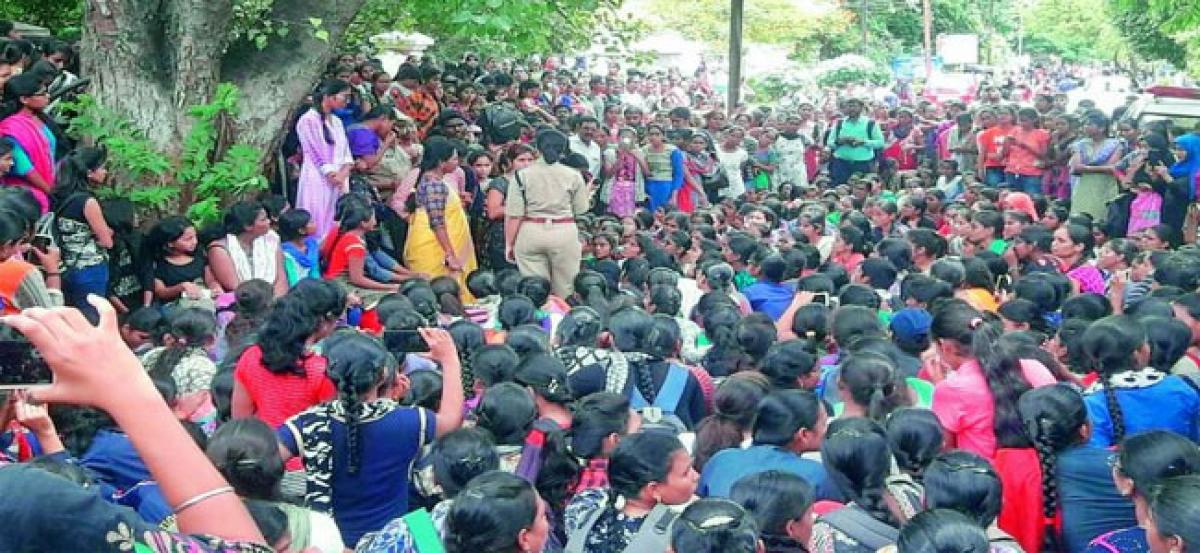 Highlights
Students of Osmania University College for Women OUCW staged protest against the hike in annual fee here on Wednesday The students gathered in hundreds at the traffic signal that is opposite the college
Koti: Students of Osmania University College for Women (OUCW) staged protest against the hike in annual fee here on Wednesday. The students gathered in hundreds at the traffic signal that is opposite the college. This is the second time within ten days that the students protested in front of the principal's office. Last Monday, the principal had asked for a week to investigate into the issue and resolve the matter.
With no positive response from the faculty, the students took to the streets. Members of Bahujan Students Federation (BSF) also joined the students protest. Sandhya, a BA final year student, said, "The fee has been raised from Rs 5,600 to Rs 8, 000 annually. I had also applied for scholarship as I come from a poor family. Despite applying for scholarship, I have to pay the whole annual fee." Srinivas, the public relations officer at OUCW stated that the girls were against paying the balance fee between annual fee and the scholarship amount.
On questioning about the rise in fee he said that there would be a 10% rise in fee every academic year. "90% of the scholarship applications are rejected", said Maryam, (B.Com II Year) as she urged for reduction in fee. The girls also demanded well maintained washrooms in the college buildings as well as the hostels. The students were asked to come up with their representatives who could voice their problems to the governing body at Osmania University (OU). The faculty members asked for 15 days to come up with a solution to resolve this matter.
BY Asna Khundmiri