4th convocation of MANAGE held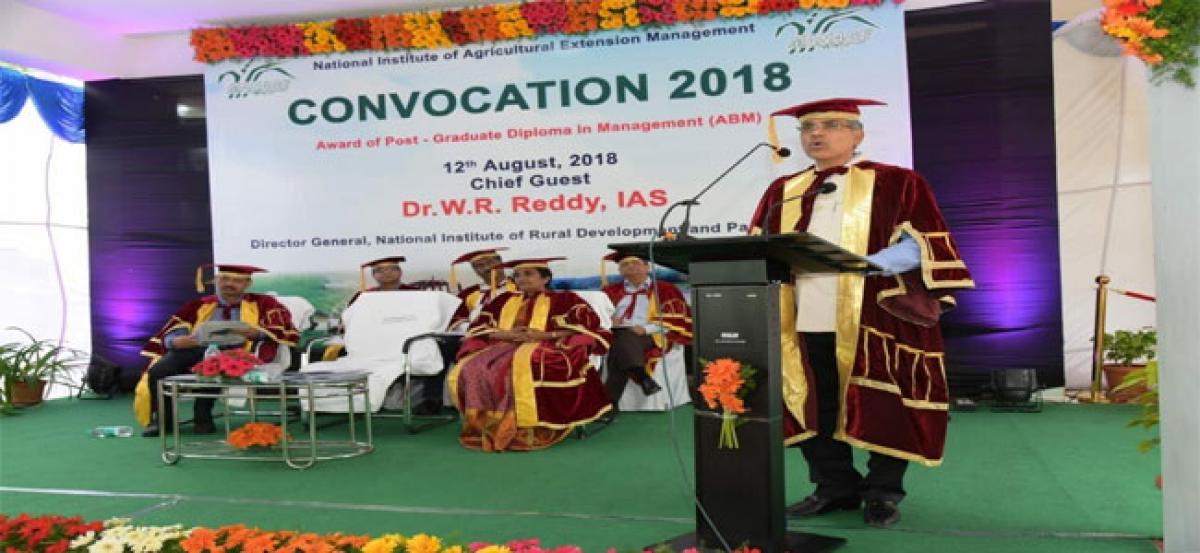 Highlights
The 4th convocation of MANAGE National Institute of Agricultural Extension Management was held in its campus located at Rajendranagar on Sunday Dr W R Reddy, Director General, National Institute of Rural Development Panchayati Raj was the Chief Guest on the occasion
Rajendranagar: The 4th convocation of MANAGE (National Institute of Agricultural Extension Management) was held in its campus located at Rajendranagar on Sunday. Dr W R Reddy, Director General, National Institute of Rural Development & Panchayati Raj was the Chief Guest on the occasion.
The campus wore a festive look with around 300 alumni and their parents congregating in the campus to participate in the Convocation function.A total of 60 students have received their Diplomas on the occasion from its 21st batch, while V Usha Rani, Director General, MANAGE welcomed the Chief Guest Dr W R Reddy.
Speaking on the occasion, the Chief Guest while congratulating MANAGE for achieving 100 percent placements during the last 21 years, also exhorted the students to inculcate human values and strive towards transforming the subsistence oriented agriculture into market oriented agriculture to help enhance farmers income and their standard of living. He said that profit orientation of agri- business companies need not come into conflict with promoting farmers interest.
"The executives working in the agri business companies can promote farmers interest by providing them with correct information on fertilizers, seeds, pesticides, irrigation systems and agriculture machinery etc. They should create a win-win situation both for companies and farmers," he added. The Convocation speech by the Chief Guest was followed by conferment of diplomas by the Chief Guest to 60 students. P Sushma was a gold medalist from the batch 2016-18. MANAGE faculty, staff and other stakeholders participated in the Program.
Usha Rani informed that this National Institute is an organization of Ministry of Agriculture & Farmers Welfare, Government of India. In addition to training, research and consultancy, MANAGE also runs a prestigious Post Graduation Program in Agri Business Management. Started in the year 1996, the Program is ranked as No.1 Sectoral B-School in Agriculture (OUTLOOK-2017). The Program is recognized by AICT E and accredited by NBA. The Program attracts students from all over the country, she said.