Being found was miracle: Thai boys in first appearance after rescue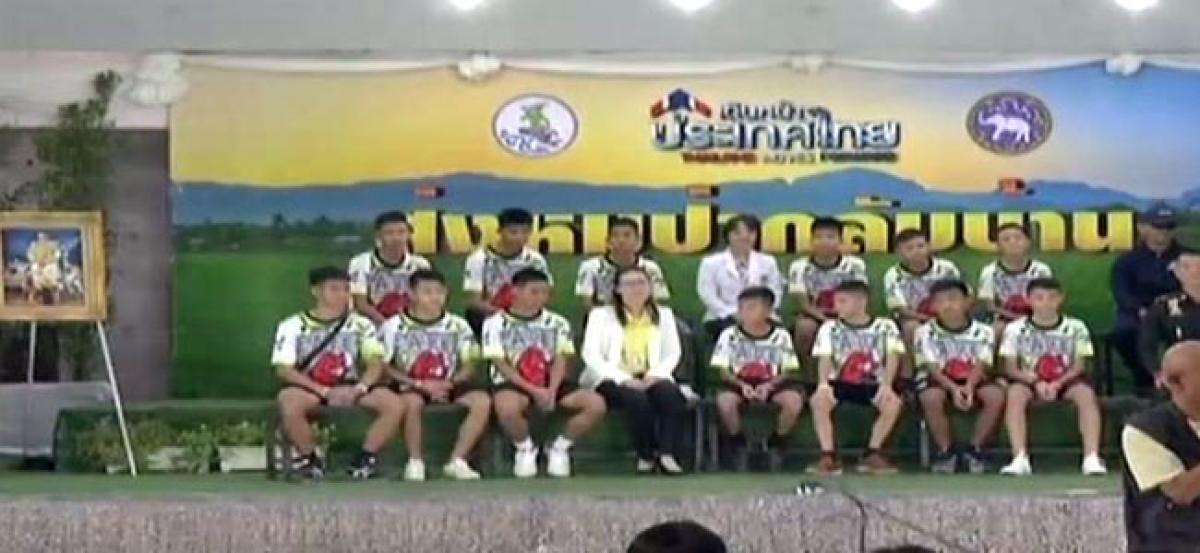 Highlights
Twelve boys and their football coach who survived a highly dangerous and dramatic rescue from a flooded Thai cave spoke publicly of their incredible ordeal for the first time on Wednesday at a press conference that was beamed around the world
Chiang Rai: Twelve boys and their football coach who survived a highly dangerous and dramatic rescue from a flooded Thai cave spoke publicly of their incredible ordeal for the first time on Wednesday at a press conference that was beamed around the world.
The "Wild Boars" team members looked healthy and happy as they answered questions about the nine days they spent in the dark before being discovered by members of an international rescue team.
A packed crowd greeted the youngsters after they were discharged from hospital in Chiang Rai, and watched as they played with footballs on a small makeshift pitch before taking their seats.
"It is a miracle," Wild Boars footballer Adul Sam-on, 14, said of the rescue, as the boys were gently quizzed about their terrifying experience.
The team had no food at all until they were found deep in the complex, surviving only on water that dripped down the side of the cave.
But doctors said all 13 were in good physical and mental health after recuperating in hospital.
The briefing was tightly controlled, with experts warning of possible long-term distress from the more than two weeks they spent trapped inside a cramped, flooded chamber of the Tham Luang cave in northern Thailand.
#WATCH: All 12 Boys of the Wild Boars soccer team who spent more than 2 weeks trapped in Tham Luang cave showcase their football skills before the press briefing #Thailand pic.twitter.com/VVWXhlmW1R

— ANI (@ANI) July 18, 2018
The "Wild Boars" team entered the cave on June 23 after practice. They were found nine days later by two British cave divers, but spent a total of 18 days inside before being extracted.