PM Modi arrives in India after 3-nation visit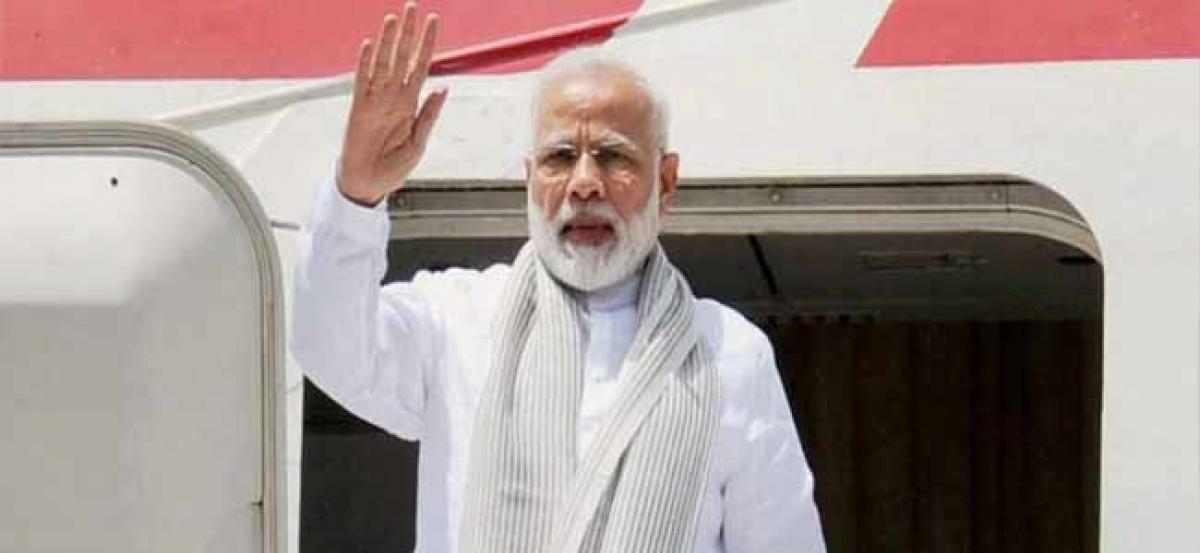 Highlights
Prime Minister Narendra Modi arrived in the national capital after completing a fiveday tour to three African nations
New Delhi : Prime Minister Narendra Modi arrived in the national capital after completing a five-day tour to three African nations.
Prime Minister Modi departed from Air Force Base Waterkloof in Johannesburg on Friday, after attending the 10th annual BRICS (Brazil, Russia, India, China and South Africa) summit.
As part of his five-day official tour, Prime Minister Modi first visited Kigali, Rwanda on Monday. He did a one-on-one meeting and delegation-level talks with the President of the Republic of Rwanda, Paul Kagame. He also interacted with the Indian community there.
India and Rwanda signed eight agreements in an effort to bolster bilateral cooperation between the two countries.
Prime Minister Modi also gifted 200 cows to villagers as a part of Rwandan Government's Girinka Programme. The function to mark the handing over of cows was held at Rweru Model village, in the presence of President Kagame.
Under this programme, the poorest residing in the region get cows from the government and gift the first female calf to a neighbour to promote brotherhood.
Later, Prime Minister Modi arrived in Kampala, Uganda and held delegation-level talks with Ugandan President, Yoweri Museveni. The former had said India would continue to play a stable partner in Uganda's journey towards development.
While addressing the Parliament of Uganda, the Prime Minister said that India felt "proud" to be Africa's partner as India's story of freedom struggle was "intimately" linked to the continent.
On Wednesday, Prime Minister Modi arrived in South Africa to participate in the BRICS summit.
India signed several MoUs in the fields of education, skill, health, and agriculture with South Africa.
According to the Ministry of External Affairs (MEA), Prime Minister Modi stressed on the need for BRICS cooperation for global portable social security framework, intended to benefit nearly 215 million people who were working outside their nations.
On the second day of the summit, Prime Minister Modi said that India intended to closely work with BRICS nations on the Fourth Industrial Revolution.
The Fourth Industrial Revolution (4IR) is the fourth major industrial era after the initial Industrial Revolution of the 18th century. It is characterised by a fusion of technologies that is blurring the lines between the physical, digital and biological spheres.
Prime Minister Modi also held separate bilateral meetings with Chinese President Xi Jinping and Russian President Vladimir Putin on the sidelines of the summit.
On the last day of the BRICS summit, Prime Minister Modi re-affirmed India's support to African countries. He emphasised the need for fostering peace and development in the African counties.
The theme of this year's BRICS summit was - 'BRICS in Africa - collaboration for inclusive growth and shared prosperity in the Fourth Industrial Revolution'.