KTR, Uttam Twitter row continues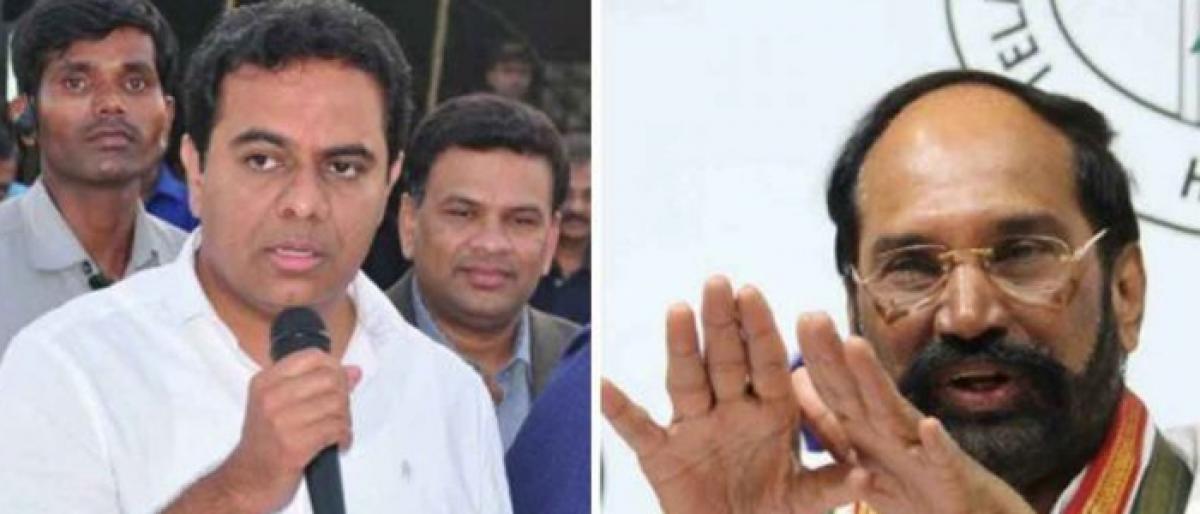 Highlights
Telangana minister KT Rama Rao continues his attack on TPCC chief Uttam Kumar Reddy who again hit back at the latter recalling the TRS leaders move during Telangana agitation
Telangana minister KT Rama Rao continues his attack on TPCC chief Uttam Kumar Reddy who again hit back at the latter recalling the TRS leaders move during Telangana agitation.
Uttam said that the Congress party does not need any lecture from the TRS leaders who abused people and police.
We don't need a lecture in being/not being crass from ppl who made their political careers by using abusive, filthy & uncouth language. Everyone in Telangana knows what a motormouth KCR is, how your cousin beat up a policeman & how you've verbally abused Police. Let all watch 👇 pic.twitter.com/2mcUtF2HXH

— Uttam Kumar Reddy (@UttamTPCC) October 25, 2018
Taking a dig at Uttam Kumar, KTR questioned the TPCC chief as to why he did not take part in the agitation. The minister also criticised Uttam that he might be hanging on with the then Chief Ministers.
Reacting to Uttam's jibe of abusing policemen, the minister agreed to it and said that he had apologised for the police publicly. KTR also asked Uttam if he will own up to the incident where the latter being caught with Rs 3 crore burnt cash.
Where were you when we were in the thick of agitation? Oh I forgot, busy hanging on to coattails of the then CMs & looting exchequer

I am proud of my role in the fight for Telangana & will cherish it. I've publicly apologised to the cop but will you own up to 3 Cr burnt cash? https://t.co/ffKyyiZsAq

— KTR (@KTRTRS) October 25, 2018
KTR further said that the election commission keeps an eye on the TPCC chief if he might repeat such incidents.
Since you seem to be fond of videos of the past @UttamTPCC attached footage shows your vehicle nabbed with ₹3 Cr cash

What makes you think Election Commission of India will go easy on you knowing fully well you're an offender who may resort to repeating electoral malpractices?? pic.twitter.com/rEqrojlEHz

— KTR (@KTRTRS) October 25, 2018