Ex-Mumbai top cop, 42 other former civil servants demand Jayant Sinha's sacking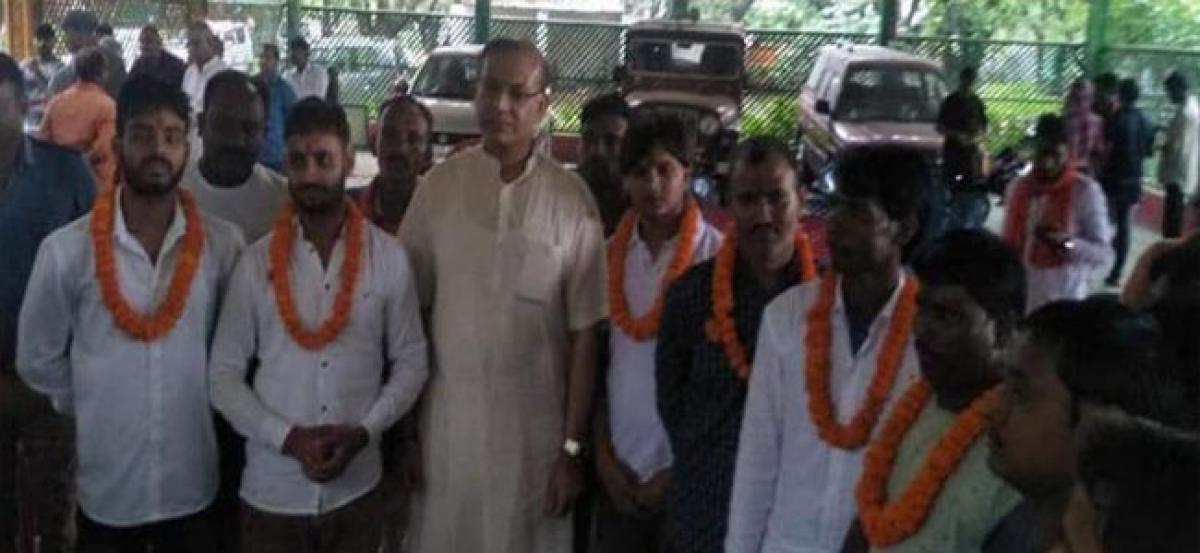 Highlights
Former Mumbai police commissioner Julio Ribeiro, former chief information commissioner Wajahat Habibullah and 41 other retired bureaucrats have demanded that Union minister Jayant Sinha be sacked for felicitating eight convicts in a lynching case
The civil servants sought the sacking of Union minister Jayant Sinha for felicitating eight convicts in a lynching case.
New Delhi: Former Mumbai police commissioner Julio Ribeiro, former chief information commissioner Wajahat Habibullah and 41 other retired bureaucrats have demanded that Union minister Jayant Sinha be sacked for felicitating eight convicts in a lynching case.
In a public statement, the former civil servants said the message Sinha's action sends out is that "there is a license to kill minorities" and people accused of such crimes will be "enthusiastically supported financially, legally and politically".
Sinha stoked controversy after he felicitated the convicts after they came out of prison on bail last week.
On June 29 last year, meat trader Alimuddin Ansari was beaten to death by a mob in Bazaar Tand area under Ramgarh police station on suspicion that he was carrying beef in his car.
Sinha had expressed happiness over the release of the convicts after being granted bail by the Jharkhand High Court recently, and garlanded and offered them sweets.
In the past, the former bureaucrats said, when there were protests against partisan support for such revolting actions, the central government "conveniently used the fig leaf" of constitutional separation of powers to argue that the locus standi lay with states, despite most of these states being ruled by the same party which was in power at the centre.
"Now that a Union minister has openly questioned a criminal case where his own party government in the state had, admirably in our opinion, prosecuted and brought to justice the accused, we would like to know what stand the Government of India proposes to take. We demand the immediate resignation/removal of Shri Jayant Sinha from the Council of Ministers and an apology to the people of India from the party he represents for brazenly sympathising with those convicted of murder," they said.
A fast-track court on March 21 sentenced the 11 convicts to life imprisonment.
Eight of the 11 convicts were granted bail by the Jharkhand High Court on June 29 this year. Two are in Hazaribag Central Jail and a juvenile is in a correction home.
Another convict secured bail on July 4.