Telangana Primer Kabaddi League begins on a rollicking note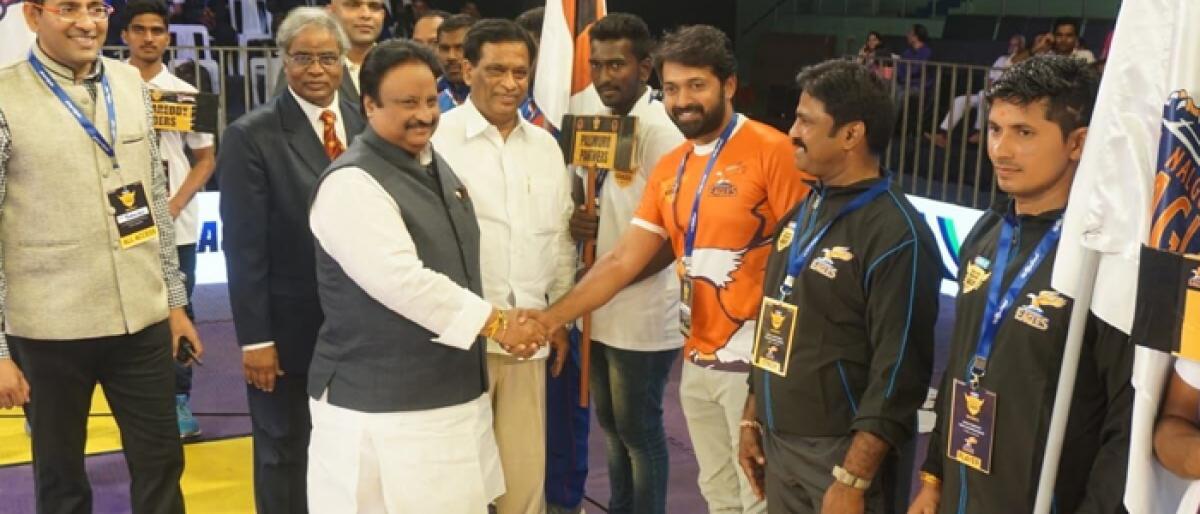 Highlights
Ranga Reddy Raiders opened their title defence on a scintillating note when they drubbed Gadwall Gladiators 2618 to give a flying start to Telangana Primer Kabaddi League TPKL Season 2 at Saroornagar Indoor Stadium here on Friday However, it was the second match that went tantalisingly close to the delight of the fans
​Hyderabad: Ranga Reddy Raiders opened their title defence on a scintillating note when they drubbed Gadwall Gladiators 26-18 to give a flying start to Telangana Primer Kabaddi League (TPKL) Season 2 at Saroornagar Indoor Stadium here on Friday. However, it was the second match that went tantalisingly close to the delight of the fans.
The Hyderabad Bulls-Mancherial Tigers showdown was cliff-hanger from the word go with players from both sides going all-out to counter the opponent keeping the scorer busy in the process. Eventually, the Bulls managed to scrape through with a 24-22 verdict that came as the perfect start to what is bound to be a roller-coaster run for eight contending teams.
Earlier, the League, which concludes on September 30, was inaugurated by Member of Parliament AP Jitender Reddy in the presence of SATS Chairman Allipuram Venkateswar Reddy and Secretary-General of Telangana Kabaddi Association, K Jagadishwer Yadav.
SK Ameer, captain of Raiders, was declared as the best defender while the best raider was Bhaskar from Gladiators for the first match. For the second match, best raider was Sainath from Mancherial Tigers while Hanumanth from Hyderabad Bulls was the best defender.
Results: Ranga Reddy Raiders 26 by Gadwal Gladiators 18; Hyderabad Bulls 24 bt Mancherial Tigers 22.