NASA sets likely funeral for silent Mars Opportunity rover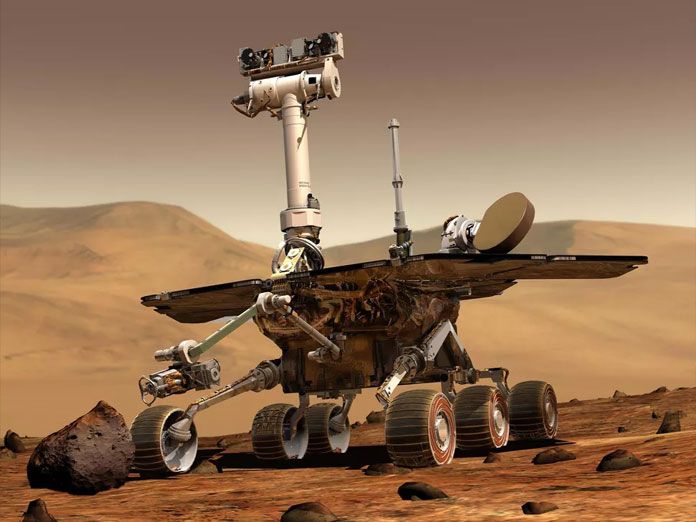 Highlights
NASA appears to be convening its leadership to deliver a eulogy for its Mars rover, Opportunity
NASA appears to be convening its leadership to deliver a eulogy for its Mars rover, Opportunity.
The space agency has scheduled a briefing Wednesday when it will announce the results of final attempts to contact the solar-powered robot that's roamed the Red Planet since 2004.
NASA lost contact with Opportunity during a planet-wide dust storm last June and hope has slowly faded since that the robot will phone home. Because the rover is solar-powered, it would be unable to charge its batteries and operate if its solar panels have been covered by a significant amount of dust.
The opportunity had an initial aim of covering 700 yards (640 meters) and operating for just 90 days on the surface of Mars. It has exceeded expectations more than 50 times by remaining operational for more than 14 years.
The astronomy community online speculation is that NASA won't be able to raise opportunity when it makes one last attempt Tuesday night.
Astrophysicist Gemma Lavender tweeted, "Think we may be saying goodbye to the Opportunity rover."
The idea that the briefing should be sad rather than a "hey, maybe this little robot still has a little more" one is supported by the fact that the & # 39; NASA administrator Jim Bridenstine will be available with the Mars Exploration Rover mission and an engineer of the Mars 2020 rover team. I can already hear the opening words on the "robotic torch" to the next generation rover set to launch the next year.
In addition, this highlight coil of Opportunity's career has appeared on the net Tuesday with a description that includes a lot of talking about the rover to the past.
We will not know for sure what the fate of Opportunity will be until 11.00, PT when NASA will broadcast the briefing live via NASA TV and YouTube (which you can access by clicking on the inclusion below), but it does not seem good.
We will have more about life, timing and (probably) the end of Opportunity on Wednesday, so check back.
NASA is 60 years old: the space agency has brought humanity further than anyone else and intends to go further.
Take him to extremes: mix insane situations – eruption of volcanoes, nuclear collapses, waves of 30 feet – – with everyday technology. Here's what happens.

Subscribed Failed...
Subscribed Successfully...