Revolutionary writer Varavara Rao held over plot to assassinate PM Modi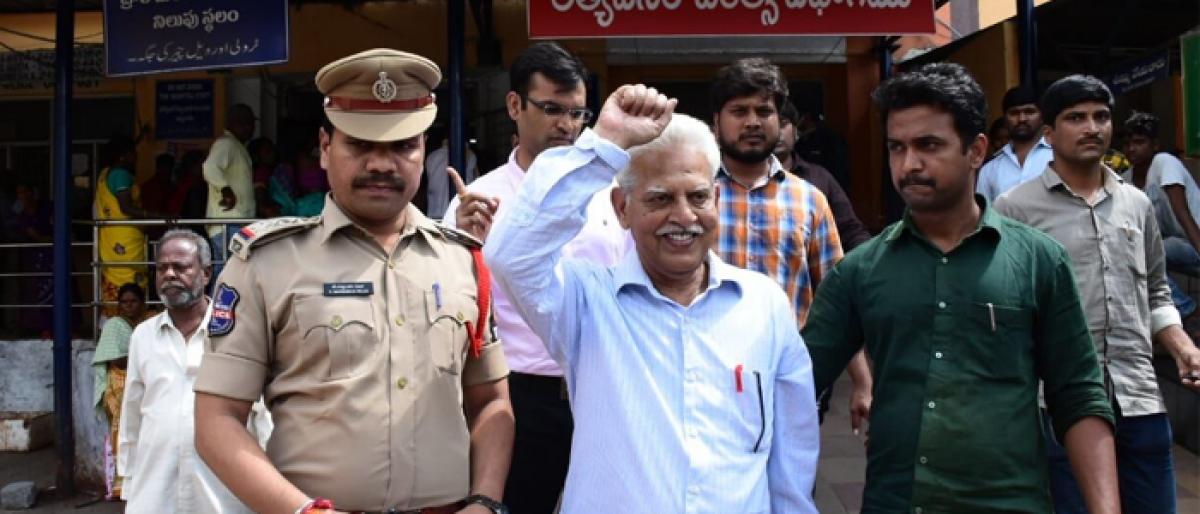 Highlights
In a dawn swoop, Maharashtra police arrested revolutionary writer and Virasam Viplava Rachayithala Sangham founder Varavara Rao at his residence here on Tuesday
​Hyderabad: In a dawn swoop, Maharashtra police arrested revolutionary writer and Virasam (Viplava Rachayithala Sangham) founder Varavara Rao at his residence here on Tuesday.
Pune police, with the help of their Telangana counterparts, arrested the aging leader at his residence in Gandhinagar here. He was arrested on charges of conspiring and helping financially the persons who were plotting to assassinate Prime Minister Narendra Modi.
According to police sources, the raids conducted at Varavara Rao's residence were also in connection with the Elgaar Parishad Rally/ Bhima-Koregoan case where various Naxalite sympathisers were arrested. Police recovered a letter from one of the arrested suspects in which Varavara Rao allegedly complimented him on success of attacks on policemen in Surjagad in Gadchiroli by Naxalites.
The Pune police also made searches in the houses of two journalists at Himasai gardens at Gandhinagar and at Nagole who are members of Virasam and in the flat of Prof Satyanarayana at EFLU near Osmania University.
A 20-member police team led by ACP Shivaji Pawar in plain clothes entered Varavara Rao's residence at 6 am at Siddamsetty's Hima Sai Heights and told him and his family members that they were going to search their house. After doing their job, they arrested him relating to the case which was filed in Vishalbagh in Pune, Maharashtra, alleging his involvement in conspiracy to assassinate the Prime Minister.
Varavara Rao and his family members questioned the Pune police whether they have any arrest or search warrant against him. Then the police, contending that they did not need any warrant for making the searches and by showing a paper which is in Marathi language, searched the house.
Immediately they took away the mobile phones of all the family members and disconnected the land phone and started the search operations. They carried two cameras with them and made video of their search. They also asked Varavara Rao and his wife Hemalatha some questions. They searched each and every corner of their house. Till 2 pm, the search continued.
When the members of civil liberties and people's unions reached the spot and staged a dharna, the Telangana police controlled the crowd. After 2 pm, the Pune police arrested Varavara Rao and took him to Gandhi Hospital for medical check-up. From there they took him to Nampally court seeking transit warrant for taking him to Maharashtra.
After the arrest of Varavara Rao, his wife Hemalatha, told the media persons that the police forcibly took away their mobile phones, SIM cards, laptops and harddisk, documents and books. "They took our signatures on the papers which were in Marathi language," she said.
Police also seized mobile phones, old mobile phones and SIM cards, laptops, hard discs, pen drives and books and various documents from the houses of the two journalists. They also collected the mail IDs and their passwords from them.
After the arrest of Varavara Rao, the Virasam members and people's unions and CPI leaders condemned the arrest. Addressing a news conference, Hemalatha and her daughters Anala and Bhavana said the search operations and the arrest were meant to intimidate those who are fighting for justice of adivasis and the other weaker sections.
They, however said that the arrest would not make any difference to the struggle for justice for adivasis. "Since 1970. We are used to arrests. As many as 25 cases have been registered against Varavara Rao. The trumped-up charges cannot be proved," they said.
Interested in blogging for thehansindia.com? We will be happy to have you on board as a blogger.