Huzurnagar: Papers of CPM candidate, octogenarian Narasamma rejected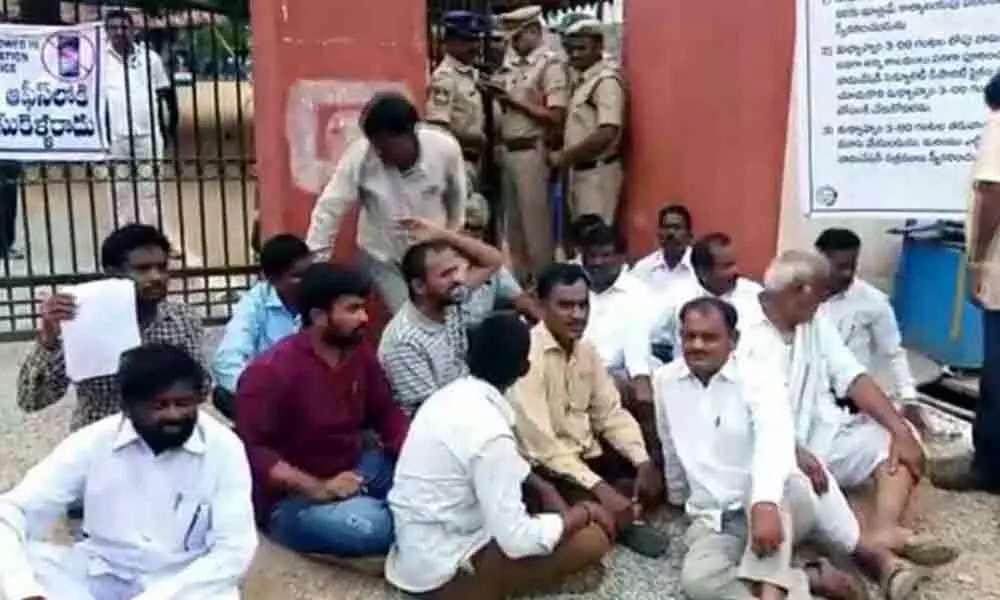 Highlights
A total of 36 candidates are in fray for the bypoll.
CPM stages dharna in front of Tahsildar's office, urges the returning officer to consider party candidate P Shekar Rao nomination.
Huzurnagar: The nominations of several candidates, including that of the Communist Party of India (Marxist) candidate P Shekar Rao, were rejected by the returning officer of Huzurnagar constituency after scrutiny of filed nominations on Tuesday.

According to official sources, as many as 76 candidates filed their nominations from September 23 to September 30. After scrutiny of 119 sets of nominations filed by the candidates, the officials rejected 45 nominations due to various reasons including not paying deposit amount, incomplete filling of Form-26 , filing nomination through other than nomination form, not signing on nomination form, not having required 10 proposals and not signing on Form-26.
Officials informed that the nominations of 31 candidates were accepted by the returning officer.
Among the few noted rejected candidates are CPM candidate Parepally Shekar Rao, Telangana Inti Party candidate Sambashiva Goud, 85-year-old woman Laxmi Narasamma, disabled leader G Rajesh and AAP candidate Lingidi Venkateshwarlu.
Meanwhile, CPM candidate P Shekar Rao contested as party MLA candidate for Huzurnagar Assembly seat in 2014 and 2018 elections. It came to be known that his nomination was rejected due to not filling of all columns in the nomination form.
Expressing their concern, the CPM leaders and party workers along with Shekar Rao staged a protest in front of the office of the Tahsildar's Office.
They alleged that the returning officer and District Revenue Officer P Chandraiah acted like an agent to ruling party. They demanded to cancel the bypoll to save the democracy. Other rejected candidates expressed the same opinion akin to CPM candidate and demanded returning officer to consider their nominations to conduct fair and free by-election to Huzurnagar seat.