Hyderabad: Sailing sisters on a roll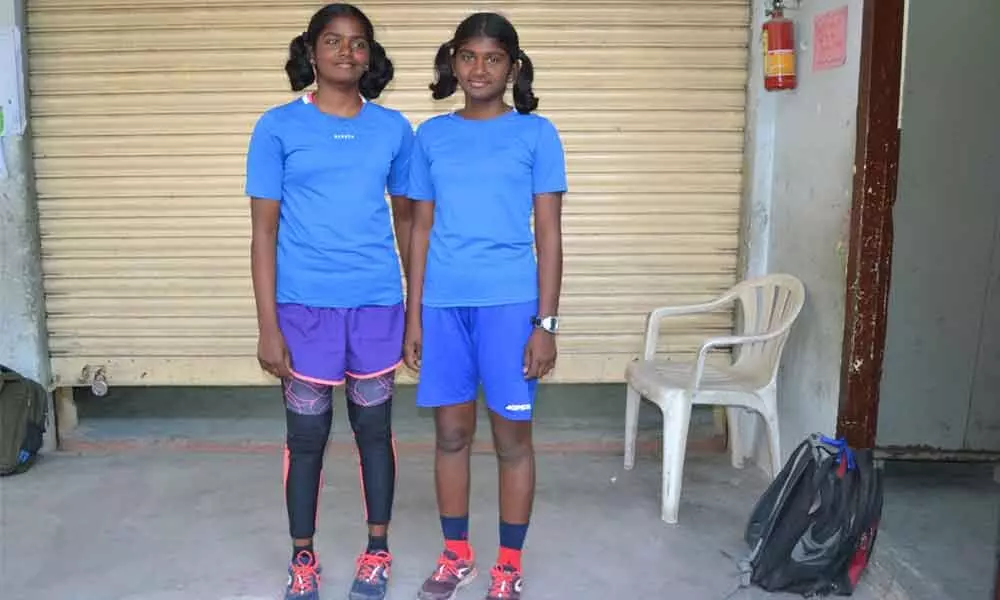 Highlights
Secunderabad: Mudfort is ecstatic over its resident-siblings Dharani Laveti 14 and Jhansi Priya Laveti, 13, daughters of Ramana and Durga Rao. It is a...
Secunderabad: Mudfort is ecstatic over its resident-siblings Dharani Laveti 14 and Jhansi Priya Laveti, 13, daughters of Ramana and Durga Rao. It is a proud moment for young girls from Mudfort in Secunderabad to make a mark in sport and that too in sailing, but the sisters are on a roll. The lives of students of Udhav School in Rasoolpura, changed for the better when the Nandi Foundation selected the girls from a Government School four years ago.

Thanks to their interest and hard work, the girls have already won several medals and visited Spain and Portugal bringing laurels. Jhansi Priya has been selected to represent India at the World Championships at Lake Riva Del Garda in Italy to be held from July 1 to 12. Her sister Dharani too can make the cut provided she does well in the upcoming Nationals Championship to be held at Mumbai in April.
No substitute to hard work
Speaking to The Hans India, the caretaker of the girls, Surekha, who manages the schedule and logistics, says, "The girls are focused and want to win every event. Their hunger for success is what makes them stand out."
Every day, the siblings train at Suchitra Academy which has a gym as well as swimming pool between 6 to 9 am, followed by attending the school and tuition in the evening. On Saturday afternoon and Sunday they practice at the Hussain Sagar.
Suheim Sheikh, founder of the Yacht Club took our responsibility and enrolled us in Udbhav School in Rasoolpoora, which is run by the alumni of IIM Ahmedabad.
All our expenditure including education, nutritional needs, traveling training and all the others are looked after by him," said Jhansi Priya. On average, the Yacht Club spends about Rs 4-5 lakh per year on each sportsperson.
International Indian Regatta, Youth National, Youth Multinationals
Monsoon Regatta, Telangana Regatta and Marve National Sailing Championship, Pondicherry International and Atlantic Youth are some of the sailing competitions the siblings are slated to take part.
Dharani has bagged two bronze medals one at Telangana Regatta and Atlantic Youth, Jhansi too has two bronze medals and is ranked No 2 in India and 17 in Asia.
Initial hiccups
Jhansi Priya said, "In the beginning, both of us were nervous and when Suheim sir took me to the pool for swimming for the first time, I was shivering. Slowly, by seeing our seniors, we developed an interest in the sailing. "Sometimes we developed rashes in our hands and legs and for that antibiotics were given and at times we were also taken to dermatologists."
Both girls want to become naval officers.
Presently though, all the focus is on training. All types of core skills like tacking, jibing, knots are taught to us and also our coach motivates us and he also provides us all the facilities that are needed. As part of training for the upcoming national championships, every day we visit Suchitra Academy and every weekend for 7 to 8 hours sailing training is given to us, say the sisters.
Dharani says, "Sailing has changed my life. "My mom works as a housekeeper in Yashoda Hospital and my father Durga Rao is a mechanic. We want to make them proud."
The lives of students of Udhav School in Rasoolpura changed for the better when the Nandi Foundation selected the girls from a government school four years ago
Jhansi Priya has been selected to represent India at the World Championships at Lake Riva Del Garda in Italy; her sister Dharani hopes to make the cut in the National Championship in Mumbai in Aprila