Nivar leaves a trail of destruction in Prakasam district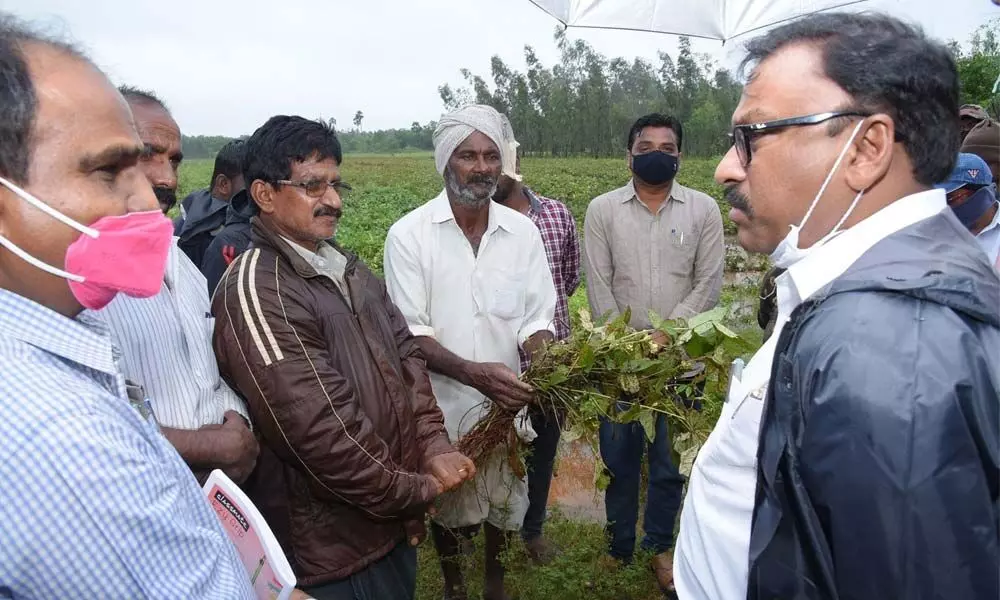 Highlights
The Nivar cyclone has lashed out heavily at the Prakasam district and damaged large area of agriculture and horticulture crops, throwing the farmers into tears
Ongole:The Nivar cyclone has lashed out heavily at the Prakasam district and damaged large area of agriculture and horticulture crops, throwing the farmers into tears.
The Ulavapadu mandal received 264mm of rainfall, highest in the district, while Kandukur received 210mm, Singarayakonda 204mm, Ballikurava 202mm, Tangutur 200mm, Kothapatnam 198mm, SN Padu 190mm, Zarugumalli 187mm, Marripudi 185mm, Podili 179mm, Pamur 174mm, Kondepi 174mm, Ongole 174mm, Gudlur 173mm, Lingasamudram 168mm, Veligandla 168mm, Ponnalur 162mm, CS Puram 159mm, NG Padu 158mm, and J Pangulur mandal received 155mm of rainfall since the Nivar making landfall on Thursday morning. The officials calculated that the district received a total rainfall of 7650mm, an average of 137mm per mandal in the last two days.
The officials of various departments estimated that Nivar cyclone has affected 420 villages from 35 mandals, displaced 5,139 people and damaged 60,354 hectares of agriculture and 993 hectares of horticulture crops in the district. They observed that 93 houses were completely damaged, and 99 houses were partially damaged while 25 kilometres of road was damaged in the district. The electricity department announced that the cyclone effected 262 feeders, 73 substations, and 210 poles in the district. The officials also informed that they have set up 58 cyclone relief centres in Singarayakonda, Ulavapadu, Gudlur, Zarugumalli, Chirala, Naguluppalapadu, Ongole, Tangutur, Vetapalem, Kothapatnam, Chinaganjam, Martur and Tangutur and provided shelter to 5,690 people from 1,285 families in them.
The Prakasam district collector Dr Pola Bhaskara inspected a few of the cyclone-affected areas in the district. He assured the farmers that the government will come to the rescue them and ordered the officials to register the losses of the crops in two or three days. Conducting a review meeting with concerned officials at Kaundukur sub-collector office, the collector said that 25 mandals in the district received heavy downpour and the paddy, cotton, chilli, red gram, black gram, Bengal gram, tobacco, and millets crops were heavily damaged. He observed that the Kandukur division faced more damage and advised the officials to alert the people living in low lying areas as the tanks are filled up to the brim and may overflow due to the flood. He ordered all officials to work in coordination by taking the village secretariat as a unit.
The joint collector JV Murali, sub-collector Bhargav Teja, RWS SE Sanjeeva Reddy, DPO Narayana Reddy, JD agriculture Srirama Murthy, APMIP PD Ravindra Babu, electricity SE Sivaprsad Reddy, irrigation SE Reddaiah and other officials also participated in the meeting.