F&O data signals shifting of range to lower band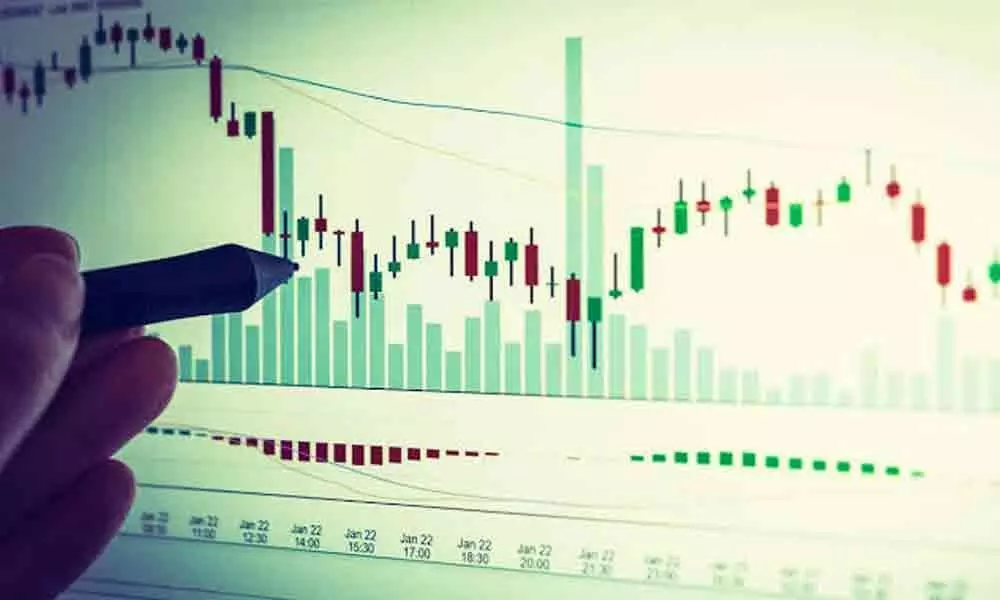 Highlights
Put-Call ratio of OI at 0.66 indicates OTM Call writing; Nifty rollover to Feb series at 66.30% lower than previous 3-mth average of 72.13%
The broad-based Nifty tumbled 300.25 points or 2.51 per cent in the special Budget session on Saturday from the pre-Budget level of 11,962 points. The derivatives segment recorded shorts build-up and unwinding of long positions as the Budget disappointed the markets.
The 12,200 strike has Call OI of 31.69 lakh contracts followed by 12,000 strike with 31.18 lakh contracts and 12,100 strike with 28.28 lakh contracts.
Highest Call OI addition of 18.21 lakh contracts was seen at 12,000 level followed by 15.22 lakh contracts at 11,900 level and 11,800 strike with 12.42 lakh contracts.
On the Put side, 11,500 strike has highest OI of 14.94 lakh contracts followed by 11,800 strike with 13.26 lakh contracts and 11,700 strike with 11.64 lakh contracts.
Highest Put OI addition of 4.36 lakh contracts was at 11,500 strike and 3.88 lakh contracts at 11,400 strike.
Dhirender Singh Bisht, senior research analyst (derivatives) at SMC Global Securities Ltd, said: "Short buildup and long unwinding are seen on every rise. In the Feb monthly expiry, Put writer at 12,000 are trapped and this level will now act as strong resistance for Nifty.
Downside, some Put writing at 11,500 seen can act as intermediate support. Buying at current level is like as catching a falling knife. In the Feb weekly expiry option contracts, maximum options Open Interest building up was seen in 12,200, 12,000 and 11,900 calls.
In option data, shifting of range towards lower band is seen. Market undertone is likely to remain bearish." January series in year 2020 concluded with losses and the market witnessed a low rollover into February series ahead of the Union Budget-2020.
With over 10 million shares, Nifty rollover to February series was 66.30 per cent, which is lower than the previous three-month average of 72.13 per cent. The overall rollover was 86.4 per cent as against the three-month average of 90.19 per cent.
Corona virus fears dampened the market sentiment and forced the traders to offload their long positions and build fresh shorts in the derivatives space. "Overall derivative data indicates short rollover to Feb series, and most of the Nifty Feb futures positions have been rolled over in the range of 12,050-12,075 points.
Derivative data indicates bearish scenario to continue. After the Union Budget Nifty breaches 12,000 level and continued to trade below this mark. Earlier, highest Put Open Interest was standing at this level before the Budget session," further added Bisht.
The Implied Volatility (IV) increased in line with global volatility index. US VIX shot over 53 per cent, while India volatility index in this period has moved up 46 per cent. This has been a globally driven sell-off so far in equity markets.
"The Implied Volatility of Calls was up and closed at 13.03 per cent, while that for Put options closed at 19.93 per cent. The Nifty VIX for the week closed at 16.83 per cent and is expected to remain volatile. PCR OI for the week closed at 0.66, which indicates OTM Call writing," remarked Bisht.
For the week ended February 1, 2020, BSE Sensex closed at 39,735.53 points, a net loss of 1,877.66 points or 4.51 per cent, from the previous close of 41,613.19 points. NSE Nifty fell by 586.4 points or 4.78 per cent and closed the week at 11,661.85 points as against last week's 12,248.25 points.
Bisht forecasts: "On the technical front, 11600-11500 spot levels are support zone. Nifty has multiple resistances at higher levels and various resistance are 12,000, 12,200, 12,300 spot levels."
The derivatives analysts further hold that the recent rollovers in the indices have been on the lower side. Nifty futures have started the February series at multi-year lows of OI.
The concentration shifted more to Nifty options in both weekly and monthly contracts, while the highest Put base is hovering near 12,000 level.
Bank Nifty
With a net loss of 1,420.85 points or 4.54 per cent for the week, Bank Nifty closed at 29,820.90 points as against 31,241.75 points. The Bank Nifty managed to hold firm above its highest Put base of 30,500 for the January futures and options (F&O) series.
According the data at ICICI Direct.com, the highest Put base for the February derivatives series is placed at 30,000, which is the key pivotal level for the upsides to continue.
Analysts feel that since the Budget disappointed the investors, the index may move at or below these levels until fresh positive triggers boost the market sentiment.
The current price ratio of the Bank Nifty-Nifty saw marginal bounce after remaining under pressure for a long time. Any positive trigger from budget will help Bank Nifty to outperform in coming days.
The Bank Nifty began the February series with lower rollover of 62 per cent as against the previous roll of 74 per cent along with lower rollover cost of only 115 points, according to ICICI Direct.com.
Interested in blogging for thehansindia.com? We will be happy to have you on board as a blogger.