3-day 'Public Policy Dialogues: Bridging Research and Practice' begins at ISB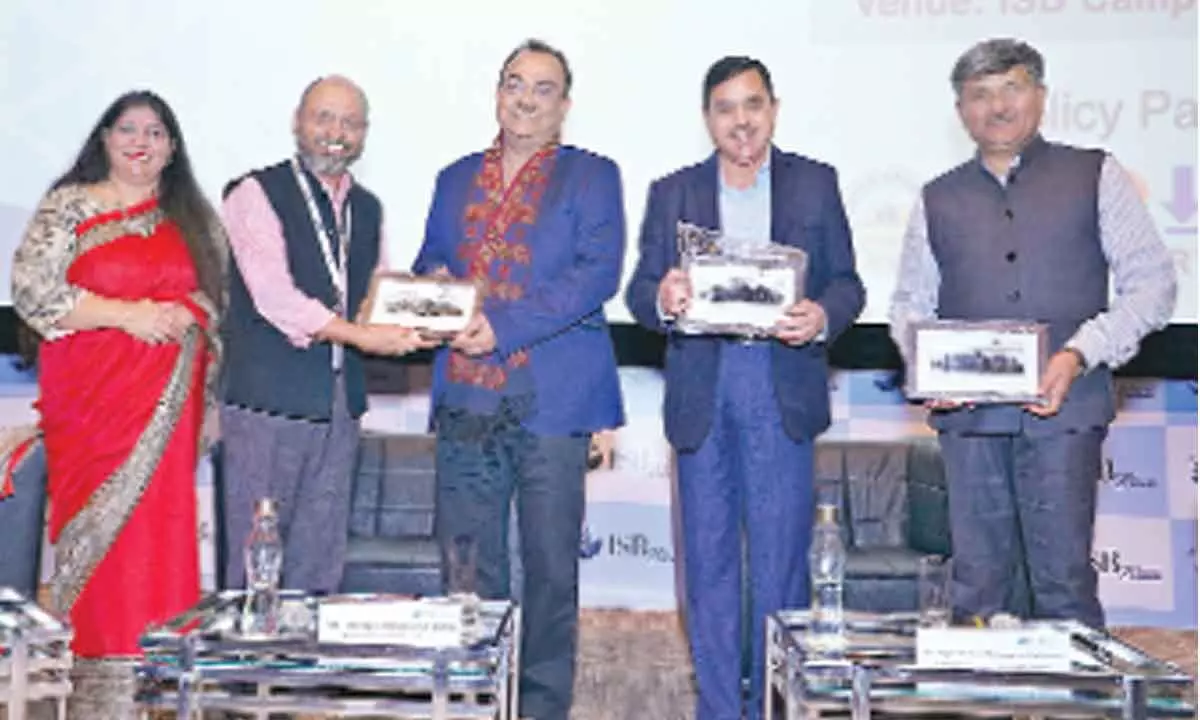 Highlights
Policymakers, industry & researchers come together to dwell on challenges in policy implementation & capacity building; highlight key issues & solutions in bridging gap between research & practice
Hyderabad: "Public Policy Dialogues: Bridging Research and Practice' commenced at the ISB Hyderabad campus on Wednesday. On the first day of this intellectual congregation, eminent academicians and practitioners from the public and private sectors, government, educational institutions, think-tanks, and civil society organisations came together on one platform to generate new visions for policy evolution and development.
The event started with a welcome address by Prof. Ashwini Chhatre, executive director, Bharti Institute of Public Policy. He called the event a unique initiative where people with different voices in the same room came together to express their opinion as equal stakeholders. At the opening Plenary- "Public Policy Design Implementation and Analysis", Prof. Chhatre averred that: The policy world has changed a lot in the last decade because of advances in technology allowing for a more diverse and larger number of stakeholders to be able to voice their opinions, concerns, and oppositions vociferously.
Amarjeet Sinha, former adviser to the Prime Minister, shared his experiences in policy design and issues that are faced in implementing policies on the ground. Highlighting the financial constraints that are faced when policies are being formulated, he discussed the entire policy process, sharing his own experiences of various schemes that he pioneered, such as the Sarv Shiksha Abhiyaan, the PM Awaas Yojana, and many other projects.
Srinivas Katikithala, director, Lal Bahadur Shastri National Academy of Administration (LBSNAA), threw light on the issue of effective implementation of policies and the importance of capacity building. Quoting examples from his own field experience in Gujarat, he shared information on policy cases with the audience, which has been imbibed into national policies owing to their successful implementation. He emphasised the significance of planning while formulating a policy and identifying the soft spots where policy can make a difference. He talked about Mission Karmayogi and the capacity-building ecosystem at LBSNAA, and the transformational steps undertaken recently
During the inaugural plenary session, Jugal Kishore Mohapatra, former Odisha Chief Secretary, said, "When it comes to policy making and implementing government schemes and projects, there cannot be one cookie-cutter model that fits all in a country, like India, which has such diverse States, both geographically and culturally. What may work in western States may not work in northeastern States. Therefore, rolling out pilot projects goes a long way as the situation on the ground always differs from ideal cases".
Dr. Aarushi Jain, policy director, Bharti Institute of Public Policy, moderated the inaugural session.
Earlier, Navika Kumar, group editor, Times Network, and Editor-in-Chief, Times Now Navbharat, setting the context for the public policy landscape, said the media, policymakers, think-tanks, and the government must walk the path together as partners for development.
The event will provide a unique platform to discuss multiple public policy innovations, issues, and challenges and facilitate collaborations and interactions between policy researchers and practitioners.