6-day Maha Samprokshanam begins with religious fervour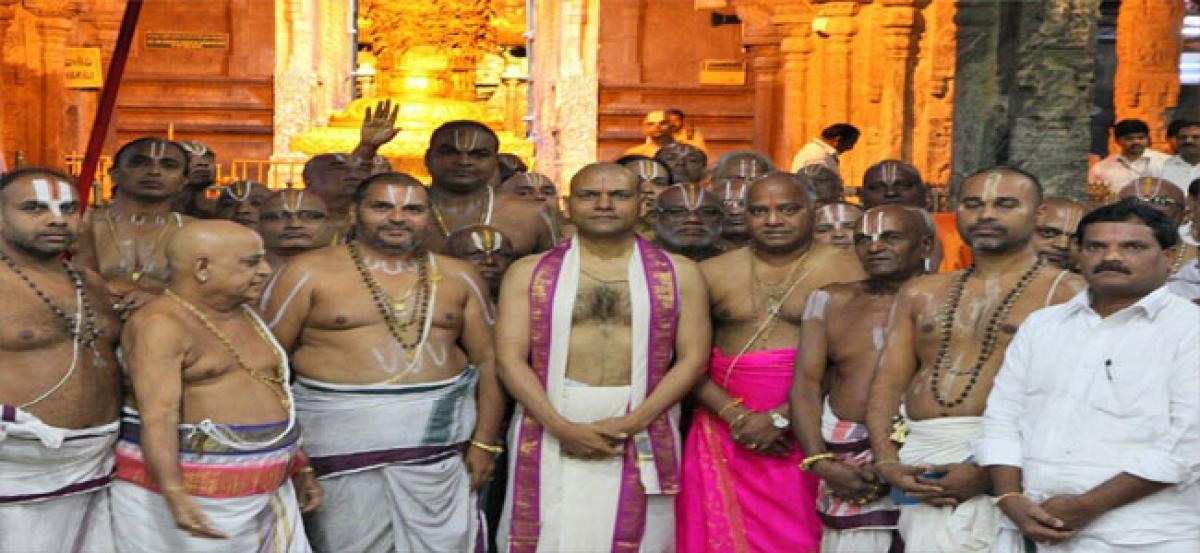 Highlights
The sixday AshtabandanaBalalayaMahaSamprokshanam began amidst religious fervour in the famed temple of Lord Venkateswara, Tirumala, on Saturday with the performing of Ankurarpanam ceremony
Tirupati: The six-day AshtabandanaBalalayaMahaSamprokshanam began amidst religious fervour in the famed temple of Lord Venkateswara, Tirumala, on Saturday with the performing of Ankurarpanam ceremony.
After Ankurararpanam, the temple priests led by chef priestVenugopalaDeekshthulu went in a procession from the temple toVasanthamantapam, where they collected fresh earth (MruthSangraham)for performing Ankurarpan in the specially set up Yagasala in the shrine.Following the age old practice of Vaikhanasa Agama, SenadhipathiUtsavam was also conducted before MruthSangraham, in which the deityof Vishvakshena, the commander-in-chief of Lord MahaVishnau was taken in a colourful procession.
Earlier in the day Acharya Varnam also known as RutwikVarnam was held in the temple for designation of performers involved in the six-day long ritual after the religious personnel including 44Ritwiks, 16Paricharaks and Vedaparayanamdars offered prayers to Moola Virat (presiding deity) Lord Venkateswara as a token of receiving his Aagna (approval) for the conduct of ritual.
Chief priest VenugopalaDeekshthulu handed over the blessed Vasthramswhich the Ritwiks have to wear as `DeekshaVastrams' after dousingthem in turmeric water while performing the ritual and allocated `Sthanams to them in Yagasala. The Yagasala was set up in Parakamani area where 28 Yagakundams were set up. TTD senior officials including executive officer Anil Kumar Singhal,joint executive officer K Sreenivasa Raju, vigilance andsecurity authorities and temple officials were present.
TTD as precautionary measure cancelled issuing of darshan tokensincluding Rs 300 tickets, slotted SarvaDarshan, DivyaDarshan,ArjithaSevas and VIP break to facilitate the smooth conduct ofMahaSamprokshanam which will be observed in all Vaikhanasatemples once in 12 yearsfollowing Vaikhanasa Agama. It also unleasheda wide publicity campaign informing the pilgrims across the countryabout the performance of ritual limiting the darshan timing dailyduring the ritual.
This seems to have its impact with the queue lines which normally brim with devotees duringSecond Saturday and Sunday,wore a deserted look while the crowd was thin in RTC andRailway stations.RTC curtailed 200 trips with the pilgrim rush dipped on Saturday and isplanning to reduce it to 600 trips on Sunday. A seniorofficial said the RTC daily operate 1,700 trips.The tollgate which normally looks crowded with RTC buses, privatetaxis and other vehicles lining up for checking wore a desertedlook on Saturday.
Interestingly, the ritual proved to be a boon to pilgrims whoreached the holy hills unaware of cautioning of TTD as they couldhave darshan in direct line without waiting in queue complexon Saturday evening onwards. It is needless to say that TTD officials heaved a sigh of relief withthe first-day of Samprokshana ritual passing off smoothlycontrary to their apprehension facing difficulty in handling thepilgrims.