Congress demands Joint Parliamentary Committee probe into Rafale deal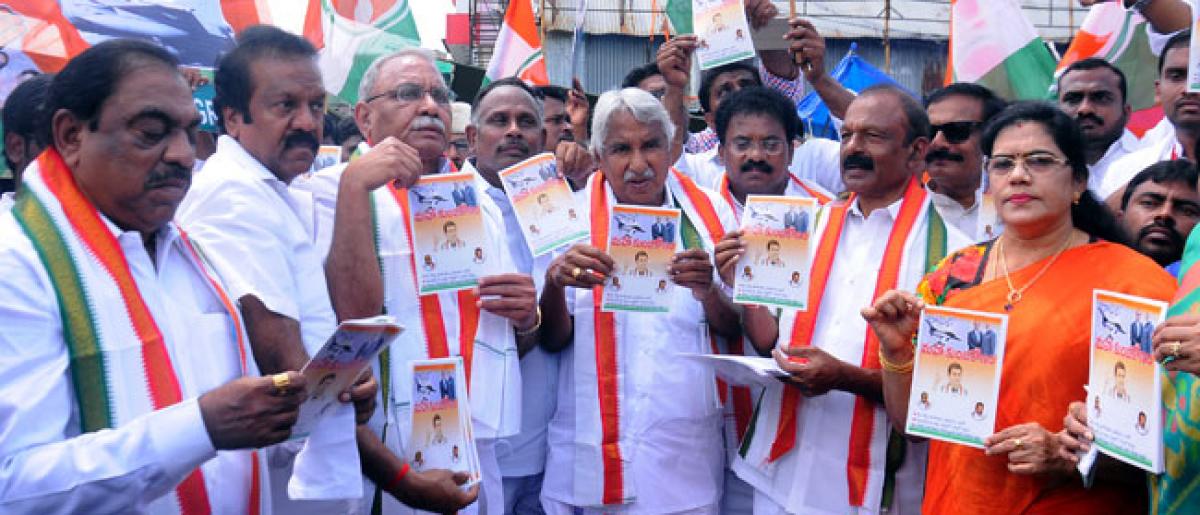 Highlights
Andhra Pradesh Congress Committee affairs incharge Oommen Chandy demanded that Prime Minister Narendra Modi should resign immediately following the huge scam in the Defence deal on purchase of Rafale fighter jets worth thousands of crores of rupees
Vijayawada: Andhra Pradesh Congress Committee affairs in-charge Oommen Chandy demanded that Prime Minister Narendra Modi should resign immediately following the huge scam in the Defence deal on purchase of Rafale fighter jets worth thousands of crores of rupees.
Chandy alleged that the Defene deal with a French firm causes huge loss to the exchequer endangering the national security. He demanded that probe should be conducted with a Joint Parliamentary Committee on the whole episode.
He along with PCC chief N Raghuveera Reddy, former Central ministers, the MLAs and other leaders staged dharna at the Lenin centre on Monday protesting against the deal made by the Union Government.
Chandy alleged that the government decided to purchase 36 jets from Dassault Aviation even without calling for tenders. He said the unilateral decision would be beneficial to the Reliance company and it would be a great loss to the country.
He further alleged that the Modi government is guilty of compromising national interest and national security in the Rafale deal. He said the Modi government refuses to state the truth and place facts in the public domain.
He demanded that a probe should be ordered with a Joint Parliament Committee into the Rafale scam. He further said that Reliance claimed to be have got contract worth Rs 1,30,000 crore in the warplanes purchase deal. He felt Prime Minister Narendra Modi and Defence Minister Nirmala Sitaraman should be brought before the Joint Parliamentary Committee to state the facts in the thousands of crores deal.
He said Hindustan Aeronautics Limited should be chosen as primary offset contractor for manufacturing the Rafale aircraft in the country. PCC chief N Raghuveera Reddy, Rajya Sabha member K V P Ramachandra Rao, former MP Chinta Mohan, former Union Minister Pallam Raju, former minister K Kruparani, former Union minister J D Seelam, former MLA C Ramachandraiah and others participated in the dharna.