Accolades to Sri Rama Pattabhishekam verse drama in Vijayawada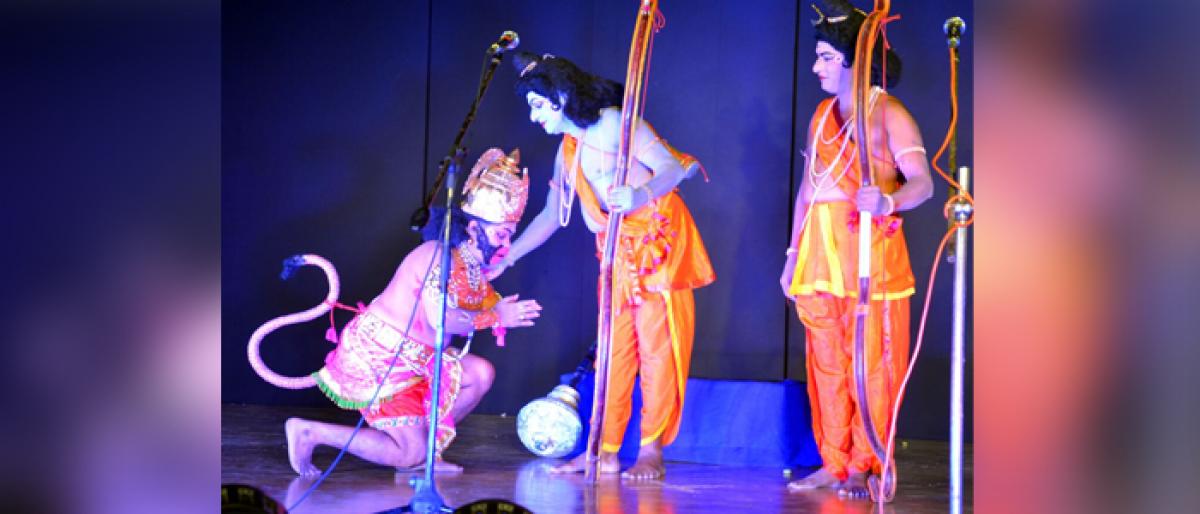 Highlights
Sri Rama Pattabhishekam verse drama was showcased on the second day of Padya Nataka Utsavam being organised jointly by Andhra Pradesh Nataka Academy and the Department of Culture, Government of Andhra Pradesh at Tummalapallivari Kshetrayya Kalakshetram here on Thursday
Vijayawada: 'Sri Rama Pattabhishekam' verse drama was showcased on the second day of Padya Nataka Utsavam being organised jointly by Andhra Pradesh Nataka Academy and the Department of Culture, Government of Andhra Pradesh at Tummalapallivari Kshetrayya Kalakshetram here on Thursday.
Savera Arts, Kadapa presented the drama 'Sri Rama Pattabhishekam.' Clarity of the dialogues and excellent rendering of poem were the assets of the artistes.
Venkateswarlu as Sri Rama, Madhu as Lakshmana, Subbarayadu as Ravana, Gangadhar as Anjaneya, Pamivati as Jambavantha and Krishna Reddy as Vibhishana performed well.
Nataka Academy chairman Gummadi Gopalakrishna supervised the event.
At Kanakadurga Nagar, the Durga Malleswaraswamyvari Devastanam concucted the cultural events in connection with the ongoing Navaratri festival.
About 400 dance artistes performed before Goddess Kanakadurga.
The teams of Sappa Shivakumar and D Aparna presented the devotional dance items.
Joshita exhibited impressive Ramayana keerthana, Jai Sitasri showcased Sringaralahari and Charishmasri presented Om Namassivaya items.