KIMS introduces pediatric cardiology in Ongole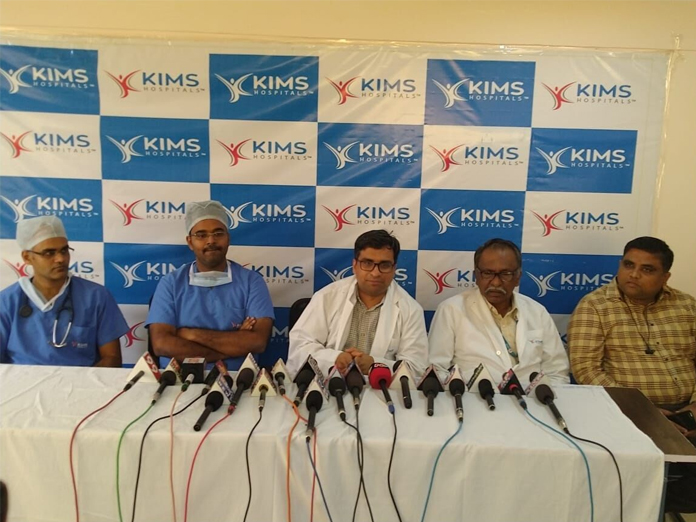 Highlights
The KIMS Hospital in Ongole introduced the pediatric cardiology specialty from Tuesday The management announced that an expert from their Hyderabad hospitals will be available at Ongole on fourth Tuesday of every month
Ongole: The KIMS Hospital in Ongole introduced the pediatric cardiology specialty from Tuesday. The management announced that an expert from their Hyderabad hospitals will be available at Ongole on fourth Tuesday of every month.
Dr Sudeep Varma, the pediatric cardiologist from Hyderabad announced that the specialty is launched from Tuesday by conducting an emergency surgery on an eight-year-old girl.
He explained that the children who are weak, not gaining weight, skin turning blue should be diagnosed for the issues of pediatric cardiology.
He said that from now on pediatric cardiology procedures like button process, balloon process and others will be available in KIMS Ongole and advised the parents of children to utilize the service locally than spending time and money at other locations like Hyderabad, Vijayawada or Chennai.
Satuluri Narasimha Murthy, general manager of the hospital announced that the hospital is organizing a pediatric cardiology screening camp from February 7 to 20 in the hospital.
He said that there will be no OP fees for the camp and the hospital offers 50 percent discount for all tests that required. He assured the parents that if any child requires cardiology or cardiothoracic surgery, it can be done under the Dr NTR Vaidyaseva scheme for free.
The cardiologists in the hospital Dr Sridhar Babu, Dr Harish, medical superintendent Dr Venkateswarlu, marketing manager Govardhan Talamanchi also participated in the programme.