Kolkata-based BTL EPC Ltd., an Arm of the Shrachi Group, is expanding footprints on EPC Pan India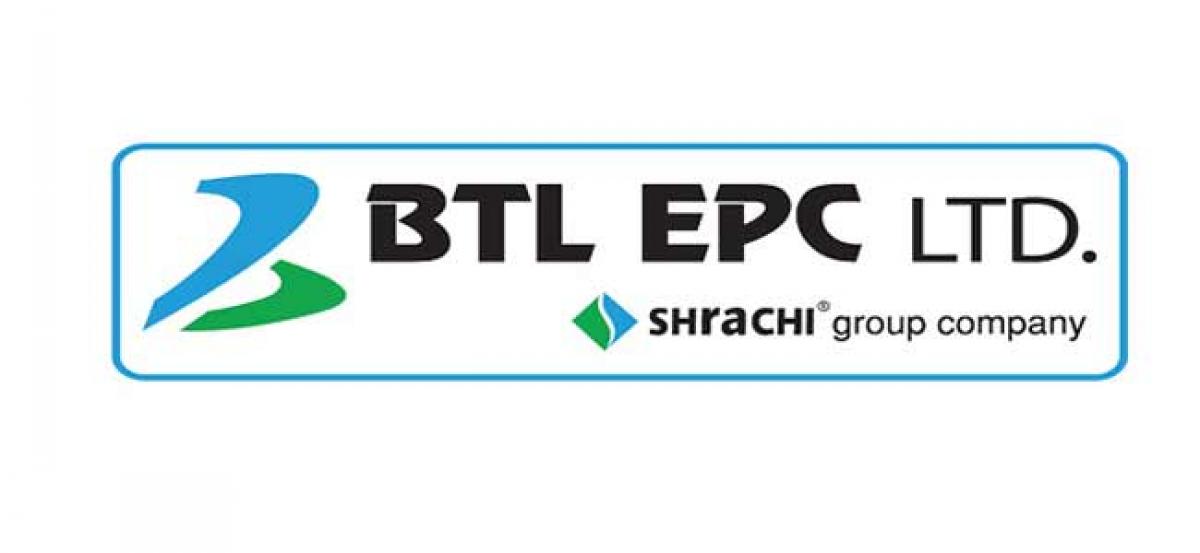 Highlights
India is currently witnessing a rapid and steady growth in its economy and there\'s a boom in the engineering, procurement and construction (EPC) sector.
Kolkata (West Bengal) : India is currently witnessing a rapid and steady growth in its economy and there's a boom in the engineering, procurement and construction (EPC) sector. Leveraging this conducive market, BTL EPC Ltd. (a division of the Rs. 1000 crore conglomerate Shrachi Group), a young and vibrant organization providing EPC solutions across Government organizations and PSUs across India, has taken an aggressive growth strategy in helping its clients substantially maximize their productivity and savings.
Presently, the company has an order book position of more than Rs 700 crore.
Ravi Todi, Managing Director, Shrachi Group, said, "We expect to grow at a CAGR of 15 per cent to 20 per cent at least for the next few years."
BTL EPC Ltd. at present has verticals like Bulk Material Handling project division, Coal Chemical division, Transmission Division, Solar Division, Water Division and Equipment Division. "Among others, BTL EPC has now drawn up a clear roadmap to get more into product manufacturing in power and steel sector," said Todi.
The Kolkata-headquartered company is already in talks with a number of foreign players for technology tie-ups and others for this purpose. The company has got into designing and manufacturing of a wide range of products used in thermal power plants, steel and oil and gas sectors. BTL EPC Ltd. is also involved in the manufacturing of various defense products.
That's not all; the company is also looking at an inorganic growth by way of domestic acquisitions. "Like many other industries, in our industry also I can see a consolidation happening. We are keeping our eyes and ears open for that. Fifty years is a fairly long period. We had to go through lot of changes and transformation over all these years. We had to evolve. We had to bring in changes with regard to system, processes, customization, training of people, and method of doing business, which of course has its challenges" added Todi.
"It is a very competitive world, where one needs to be present in clients' mind space continuously, even if you are doing EPC or engineering jobs. There has to be an instant brand recall also. We are therefore going whole hog on social media, digital media in order to get noticed in corporate circles and stay and look young and vibrant," Todi further said.
Quite significantly, BTL EPC Ltd., which has so long been depending heavily on public sector jobs, is now increasingly tapping the private sector. "At present, as much as 95 per cent of our revenue comes from public sector or government jobs while only 5 per cent comes from private sector jobs. However, things are changing now and going forward, we expect that government: private break-up to be 75:25," said Todi.
Some of the remarkable achievements done by BTL EPC Ltd. during this financial year are as follows
• Commissioning of Primary Crushing Plant (PCP-3) at TATA STEEL, Ghato West Bokaro area
• Installation of de-nitration plant at HWB Kalapakkam under BARC
• New order received for Coal Handling Plant at NBPPL Unchahar
• An order booking for Pet Coke Handling system by Pipe Conveyor at MRPL, Mangalore
• Promoting a toxin free environment through an implementation of Sewage Treatment Plant in various towns in Chas and Hazaribagh Area on a/c of JUIDCO
• Order bagged for a project of 3MW Solar Power Plant at MES Panagarh
• BTL EPC Ltd. has successfully received approval from ASME for manufacture of R, U and U-2 Stamp vessels and associated equipments
Apart from the above achievements, BTL EPC Ltd. is actively involved in the energy sector where the organization is executing power transmission jobs such as, setting up of high voltage transmission lines for the Power Transmission Corporation of Uttarakhand Limited (PTCUL), Himachal Pradesh Power Transmission Corporation Ltd., Shimla and many such executions for other energy clients as well.
Interested in blogging for thehansindia.com? We will be happy to have you on board as a blogger.