FSME India seeks support from MSMEs in AP, Telangana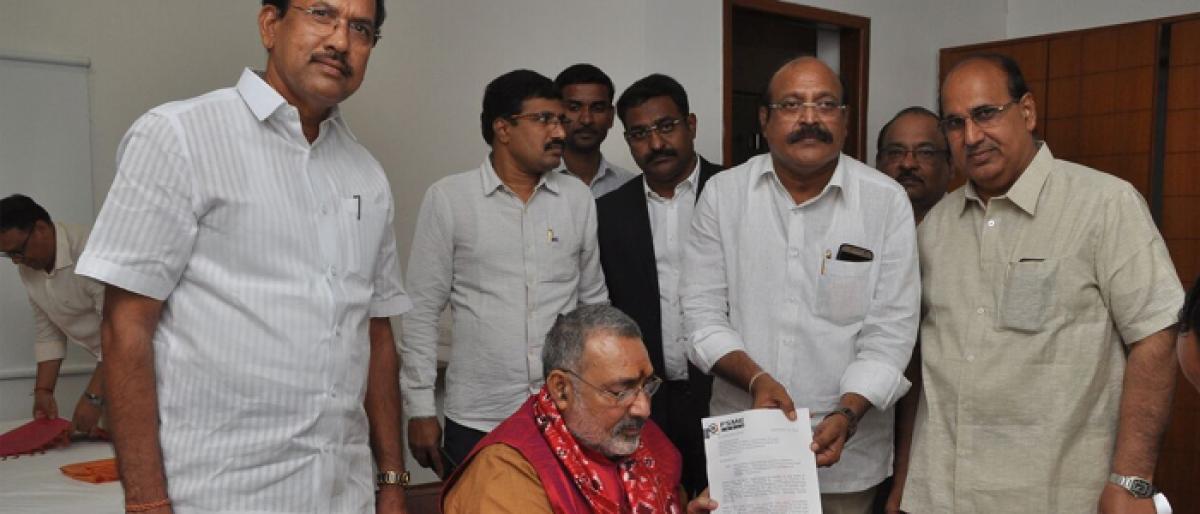 Highlights
The Federation of Small and Medium Enterprises of India FSME India urged the central government to extend support to micro, small and medium enterprises MSMEs in Andhra Pradesh and Telangana In a memorandum submitted to Giriraj Singh, Union Minister of State for MSMEs during his recent visit to the city, APK Reddy, National President, FSME India, maintained that MSME sector was facing innumer
​Hyderabad: The Federation of Small and Medium Enterprises of India (FSME India) urged the central government to extend support to micro, small and medium enterprises (MSMEs) in Andhra Pradesh and Telangana. In a memorandum submitted to Giriraj Singh, Union Minister of State for MSMEs during his recent visit to the city, APK Reddy, National President, FSME India, maintained that MSME sector was facing innumerable challenges in both the Telugu states on the account of impractical non-performing asset (NPA) norms being imposed by the banks and Reserve Bank of India.
"The central government should take immediate steps to bring in new NPAs in order to help MSMEs. Otherwise, scores of MSME units will be closed in the Telugu states and across the country," he added. He also brought to the notice of the Minister the delay in payments from public sector undertakings (PSUs) and large corporates. "Most of the PSUs and corporates don't release the payment to their vendors as per the purchase order terms.
Most of the MSMEs are getting their payment after more than 180 days. As result, small companies are failing to make statutory payments, loan repayment and clear wages. This delay is one of the main reasons for MSMEs defaulting on loan payments and therefore turning into NPAs," he explained.
Pointing out that MSME sector which accounted for majority of private jobs and exports from the country was in bad shape across the country, he requested the Union Minister to convene a joint meeting of all the industry bodies and officials from various departments to discuss problems being faced by the sector and initiate measures to solve them.
Subscribed Failed...
Subscribed Successfully...