Singh & Associates hosts QUEST 2018-Knowledge Exchange Series in collaboration with PwC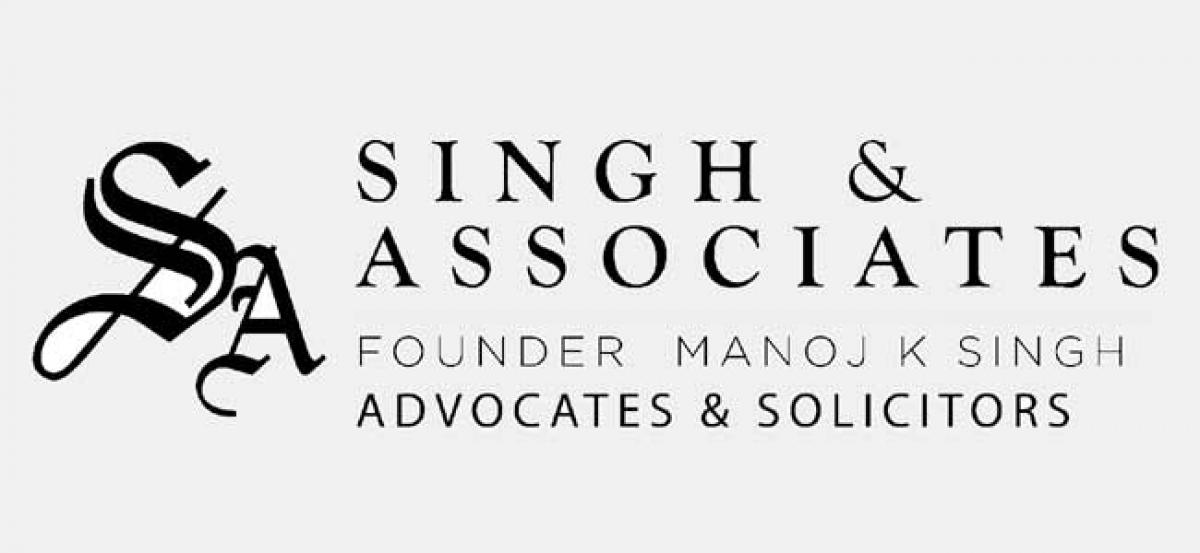 Highlights
Singh Associates SA, a leading fullservice law firm, in collaboration with PricewaterhouseCoopers PwC, a leading multinational professional services firm, are organizing a Knowledge Exchange Series QUEST 2018 The Invite Only event will be held on 26th October 2018 at New Delhi and the prime theme of the event will be Infrastructure Execution Disputes
· Knowledge Exchange Series is themed around Infrastructure: Execution & Disputes.
· Brings together eminent experts and industry leaders from the Infrastructure Sector sharing their insights and experiences on various aspects of project execution and dispute resolution.
NEW DELHI: Singh & Associates (S&A), a leading full-service law firm, in collaboration with PricewaterhouseCoopers (PwC), a leading multinational professional services firm, are organizing a Knowledge Exchange Series - QUEST 2018. The "Invite Only" event will be held on 26th October 2018 at New Delhi and the prime theme of the event will be "Infrastructure: Execution & Disputes".
The event will see interactive sessions by top leaders from the industry. The event is being organized to bring forth the opinions of the Leaders from Infrastructure industry with rich and extensive knowledge on various aspects of the execution of large projects and dispute resolutions.
The Knowledge Exchange Series will serve as a platform for stakeholders to come together and share their experiences and views on the execution of infrastructure projects vis-à-vis disputes arising therefrom, key issues for disputes management and arbitration as a preferred tool to resolve such disputes.
The event will constitute renowned speakers and experts from various industry sectors such as Law, Judiciary, Science and Technology Institutions, Trade Bodies, and Corporates having a wealth of experience in the infrastructure sector.
The objective of the event is to discuss and examine recent trends, preferences, including judgments and the impact of various disputes arising in Infrastructure projects. The event will provide an excellent opportunity for participants to meet, exchange ideas and network with leaders and professionals from the Infrastructure and allied sectors.
Speaking about the event, Mr. Manoj K Singh, Founding Partner, S&A said "We are delighted to bring together various industry leaders on a single platform to discuss critical aspects in the execution of Infra projects and disputes arising in the sector per se. Through this discussion, with various knowledge experts, we believe we will have this unique opportunity to take-away constructive and very practical insights about the policies, risks involved and the dispute resolution processes."
Speaking about the event, Mr. Gagan Puri of PwC said "Disputes today are complex and require deep expertise in their efficient and speedy resolution. In a country like India where spends on infrastructure are massive and complexities are manifold, chances of construction disputes increase significantly; phenomena that we see more and more in our work today. This session gives a unique opportunity for participants to deliberate, discuss and combine inputs from a legal as well as commercial perspective to bring forth some of the best practices on approaches, practices, and methodologies towards effective and successful resolution. The panelists from Singh & Associates and PwC together with the end-users hope to facilitate a thought-provoking qualitative discussion on their shared collective dispute resolution experiences."
Interested in blogging for thehansindia.com? We will be happy to have you on board as a blogger.