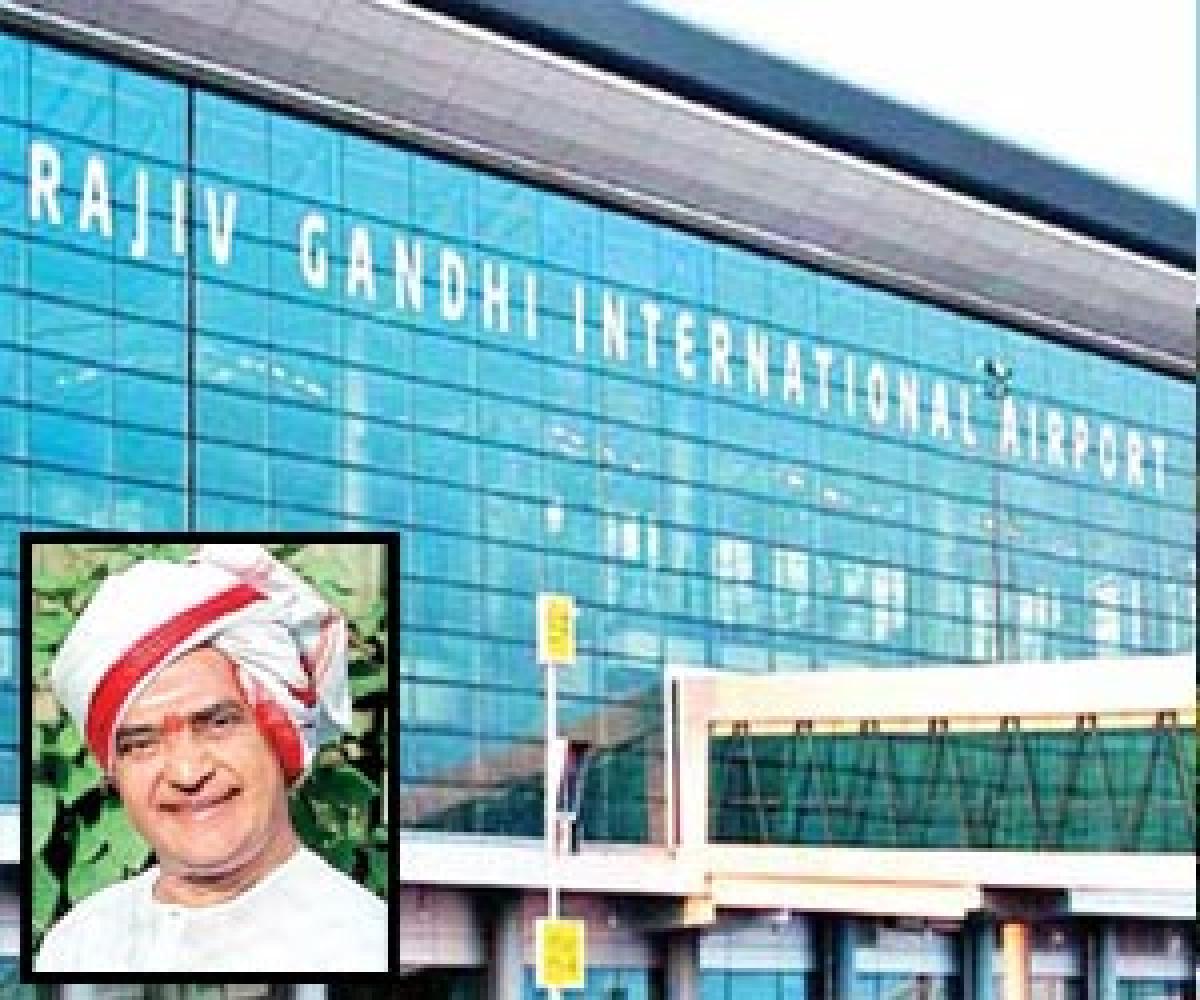 Highlights
Union Minister for Civil Aviation P Ashok Gajapathi Raju could have persuaded the Telangana Chief Minister K Chandrashekar Rao to accept the proposal to rename the domestic terminal of Shamshabad airport after N T Rama Rao
Union Minister for Civil Aviation P Ashok Gajapathi Raju could have persuaded the Telangana Chief Minister K Chandrashekar Rao to accept the proposal to rename the domestic terminal of Shamshabad airport after N T Rama Rao, given the fact that KCR has great personal admiration for NTR. KCR has even named his son as Taraka Rama Rao. But, it is a fact that despite personal admiration, KCR would have perhaps taken the same stand if the Union Minister had proposed. But, at least the Centre could have claimed to have observed niceties
NT Rama Rao, the actorturned politician, became a phenomenon by triggering the Telugu sentiment. Rama Rao rose as a response to Rajiv Gandhi insulting the then chief minister of united Andhra Pradesh, T Anjaiah. Ironically, three decades after, Rama Rao now becomes a victim of ongoing war on sentiment. It's again something to do with Rajiv Gandhi. Of course, Rajiv Gandhi is no more. NTR is no more. But, naming the airport is the cause of fresh controversy.
Union Minister for Civil Aviation P Ashok Gajapathi Raju issued orders to rename the domestic terminal after N T Rama Rao. The minister defends his action stating that he was only implementing the earlier decision of the central government that was kept on hold by the Congress-led UPA government. But, this explanation falls short of convincing any one at least for one reason. The central government in a federal set up cannot name or rename anything without even consulting the state government concerned. The Centre may be well within its right. But, it would be in fitness of things to write to the state government concerned. The Centre could have taken a decision irrespective of the opinion of the state government. But, now such a unilateral action by the Union minister, who is otherwise known to be non-controversial, has incurred the wrath of everyone. Even his own party in Telangana could not support the minister at least on this aspect.
The Union government is well aware of the fact that the Telangana state government has a different take on this. The Union minister could have persuaded the Telangana chief minister to accept the proposal given the fact that K Chandrashekar Rao has great personal admiration for NTR. He has even named his son as Taraka Rama Rao. But, it is a fact that despite personal admiration KCR would have perhaps taken a same stand if the Union minister had proposed. But, at least the Centre could have claimed to observe the niceties.
The TRS has taken an expected position on this issue. Driven by politics of sentiment, KCR theories the whole issue by arguing that Andhra leader's names should not be given in Telangana. This is an unacceptably parochial stand. Rama Rao is an internationally known Telugu actor who has millions of admirers even inTelangana. Besides, his revolutionary decision to abolish Patel-Patwari system has shaken the feudal system in Telangana. Rama Rao galvanized the opposition forces across India as the head of the National Front, the anti-Congress conglomerate. The logic being applied to NTR can even be extended to Rajiv Gandhi. Telangana is not an independent country. It is a state in India that shares the common national and more precisely the same Telugu identity.
However, it is a normal practice to name installations after the local personalities though none should argue that only the names of local leaders should be commemorated. Nothing significant is named after Bhagat Singh or Kalpana Dutt, or Shivaji in Telangana or Andhra Pradesh. This does not mean we have no regard for them. The Congress known for the political sycophantism named anything and everything on the Earth if possible on Mars after the Nehru - Gandhi family. Surprisingly, the TRS suddenly finds no problem with Rajiv Gandhi name when it demanded status quo. They are only opposed to naming the terminal after NTR. Thus, the TRS is not so keen on getting it named after any prominent leader from Telangana but is more interested in opposing NTR's name. This is nothing but an attempt to whip up sentiment.
The party that came to power riding on Telangana sentiment would like to feed on it while in power too. Similarly, the TDP did not choose to persuade the Telangana government but decided to unilaterally impose NTR's name. The TDP continues to take a hard stance despite a resolution by the state legislature. All this is to set off Andhra Pradesh sentiment. Instead of naming only a domestic terminal in an international airport, it would be much better honour to the legendary actor and politician if a new international airport in the new state of Andhra Pradesh is named after him.
Chandrababu Naidu drove back to power by triggering a strong sense of being aggrieved. Hard stand of Telangana government on such an emotive issue like naming the terminal after Rama Rao would further intensify such a feeling. This would be a political capital for the TDP government. Remember, a wave of protest was seen in the Seemandhra region over losing Hyderabad. Now, the Telangana government opposing even naming a terminal of an airport in Hyderabad after NTR would further hurt their feelings which can be a fodder for power politics.
A national policy perhaps would be needed on naming installations. At least a political consensus should be evolved. Such things cannot be left to partisan politics.
Interested in blogging for thehansindia.com? We will be happy to have you on board as a blogger.