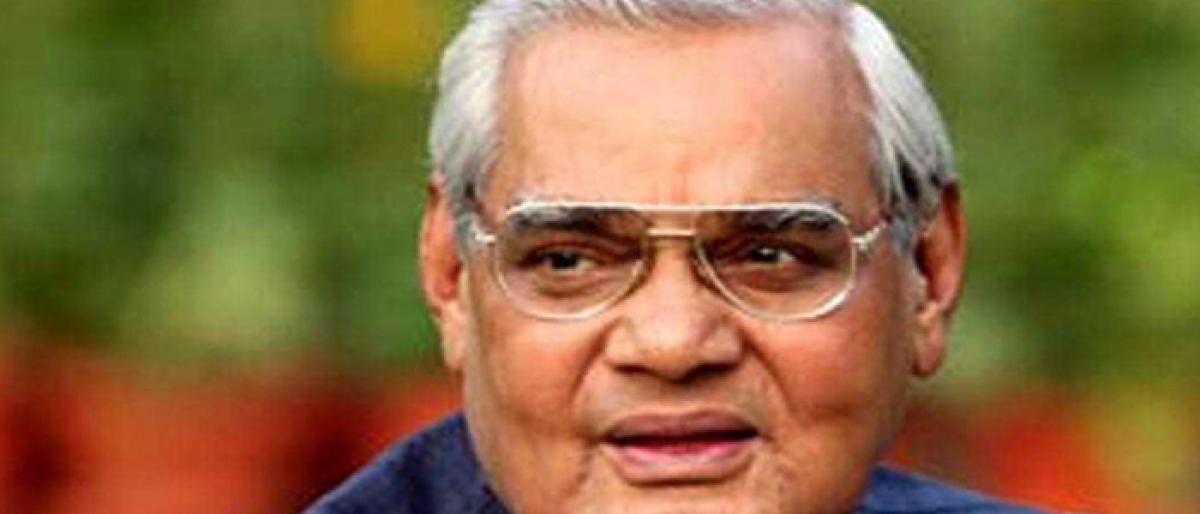 Highlights
Former Prime Minister Bharat Ratna Atal Bihari Vajpayee took the final bow from this world theatre Rich tributes have started pouring in for this genteel persona Vajpayee leaves behind a muchloved legacy both as a leader and as a scholarpoet Unlike some other nations, India is fortunate enough to have such scholars heading its governments
Former Prime Minister Bharat Ratna Atal Bihari Vajpayee took the final bow from this world theatre. Rich tributes have started pouring in for this genteel persona. Vajpayee leaves behind a much-loved legacy both as a leader and as a scholar-poet. Unlike some other nations, India is fortunate enough to have such scholars heading its governments. However, it should be admitted that history would judge him as despite his stature and the respect he commanded cutting across party lines, he had had his pitfalls and shortcomings.
Vajpayee was Prime Minister thrice - for 13 days the first time, 13 months the second time and a full term the third time. His governments endured what few other governments had to and he had his share of glory in handling them. There was criticism too, however. Significant among the achievements was the nuclear tests (Pokhran-II) that forced Pakistan too to conduct similar tests. Lahore Summit was a full-scale diplomatic process launched by him with the historic inauguration of the Delhi-Lahore bus service in 1999. His push for peace with Pakistan to resolve the Kashmir dispute and other conflicts led to Lahore Declaration which committed both the nations to dialogue, expanded trade relations and mutual friendship and envisaged a goal of denuclearised South Asia.
Then there was the Kargil conflict with Pakistani supported Mujahideen and non-uniformed Pakistani soldiers with official identifications and Pakistan Army's custom weaponry infiltrating the Kashmir valley and occupying the crucial mountain tops. The three-month long conflict ended in glory for India with Vajpayee taking a tough stand on international stage by warning the US "we will get them out, one way or the other".
This propelled the BJP- led NDA to a 303-seat victory in the general elections. However, this victory notwithstanding, Vajpayee faced criticism over the botched supply of coffins for the soldiers killed in Kargil. The Barak Missile scandal forced George Fernandes, the then Defence Minister, to resign. Indian Parliament was attacked during his tenure and it almost led to a war with Pakistan.
The worst moment of his rule came when Gujarat riots took place and Vajpayee had to officially condemn it. His controversial remarks followed it when he said "wherever there are Muslims in large numbers, they do not want to live in peace". Vajpayee failed in stopping the events. On the positive side we have Sarva Siksha Abhiyan and the National Highways Scheme that changed the profile of India. It was a mixed bag. Yet, Vajpayee was loved by one and all. His peace initiatives with Pakistan were hailed by Kashmiris as unparalleled and the Vajpayee's path of 'Insaniyat, Kashmiriyat, Jamooriyat' is hailed till today.
As mentioned earlier, it is his persona that endeared him to all. He was on talking terms with everyone. His rule saw the BJP's fortunes rising alongside the urban middle class and young people. A positive and enthusiastic response for economic expansion built up. A statesman that he was, perhaps, he knew that there is a point beyond which virtue can be carried out without changing both its name and its nature. RIP Sir.
Subscribed Failed...
Subscribed Successfully...