Medical Innovation Ecosystem Energised At Medic 2018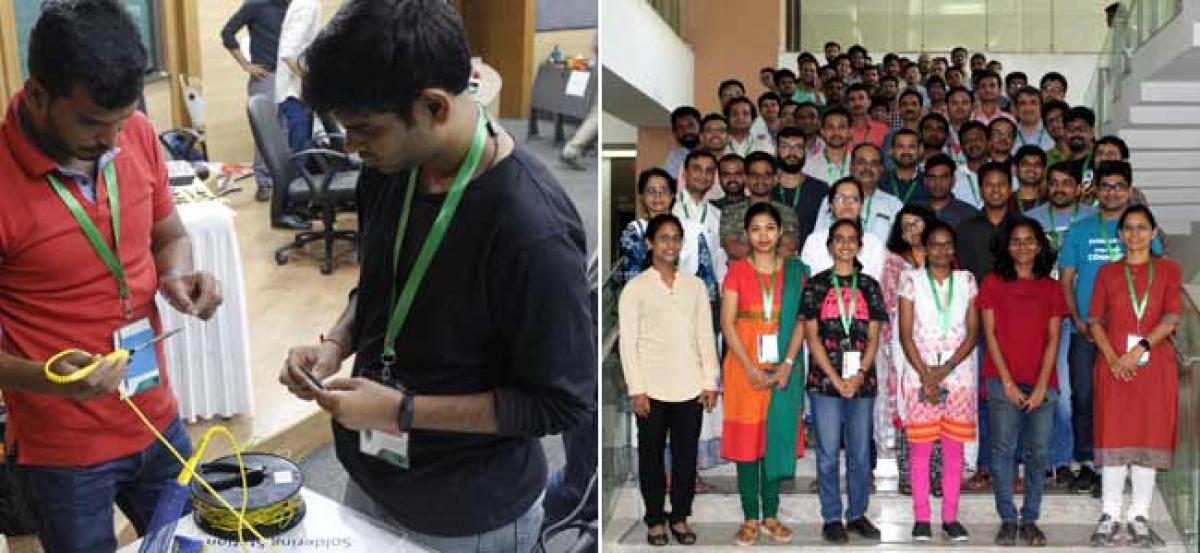 Highlights
Medical Device Innovation Camp MEDIC, an initiative by BETiC Biomedical Engineering and Technology incubation Centre at IIT Bombay, Fri, 28 Sep to Tue, 2 Oct 2018, came to a close
BETiC to expand by 8 more centres in 2018
Medical Device Innovation Camp (MEDIC), an initiative by BETiC - Biomedical Engineering and Technology incubation Centre at IIT Bombay, Fri, 28 Sep to Tue, 2 Oct 2018, came to a close.
60 inspired agents of change, from Meghalaya to Trivandrum, went back, inspired to become champion-makers in their own right. These were doctors, engineers, entrepreneurs, managers and teachers from across India, working in teams of four, people they had never met, and problems they didn't know anything about, to develop novel solutions for 15 unmet clinical needs curated from different hospitals. (Annexure 1).
Pokhran man, Padma Vibhushan Dr Anil Kakodkar, scientist and former chairman of the Atomic Energy Commission of India, Dr. Ramanan Ramanathan, Mission Director AIM, Dr. Manish Agarwal (Orthopedic Surgeon, Hinduja Hospital, Dr. Devang Khakar, Director IIT Bombay, Prof. A.K. Suresh (Deputy Director of IIT-B), Dr. Aniruddha Malpani, venture capitalist, Ms. Sunita Singh of the Sadhwani Foundation, gathered to see what innovations the teams had come up within four days and four sleepless nights.
Prof. B. Ravi, Head of BETiC, IIT Bombay, the architect of MEDIC said, " MEDIC is a one-of-a-kind, multi-level, multi-disciplinary hackathon, where we expose participants to a whole range of uncertainties. They undergo 360degree transformation, from cynics to believers in the 5 days that they are here, and move back to their institutions with a unique fire in their belly, determined to make change happen. Many of them, come back and work with us at BETiC.
MEDIC saw new partner institutes signing MoUs with BETiC-IIT Bombay, including KJ Somaiya College of Engineering, Mumbai, Symbiosis International University, Pune, Gyanmanjari Institute of Technology, Bhavnagar, GH Raisoni College of Engineering, Nagpur and Gujarat Technological University, Ahmedabad.
Earlier in 2018, BETiC-IIT Bombay signed MoU's with Datta Meghe Institute of Medical Sciences, Wardha, MIT Art, Design and Technology University, Pune and Andhra Pradesh MedTech Zone, Visakhapatnam.
Several other institutes also indicated a desire to partner with BETiC, after the 5-day hackathon.
Ojal Paul, the incubation centre manager at SCTIMST TIMED, one of India's foremost bio-engineering and testing centres shared interest in getting into an MoU with BETiC.
Maverick innovators like Aaditya Koshe, of Anant Engineering products Pune, went back inspired to do more.
The 5-day event also saw an exhibition of innovative products. Well-known innovations such as the Ayulink smart stethoscope (record and send heart & lung sounds of rural patients to urban doctors to get correct diagnosis), Diabetic foot scanner (to prevent long-term ulceration and amputation), Hybrid plaster splint (to hold injured body parts together after an accident to prevent further damage during transport) and 3D printed anatomical models (to allow doctors to plan and practice the surgery in advance; esp face, jaw areas) were on display at the exhibition.
BETiC hall of fame includes 'Algosurg', now a silicon valley-based company , with an investment by American seed accelerator, Y-combinator.
The first reprint of the book, 'The Essence of Medical Device Innovation' was also launched by film-maker Rakeysh Omprakash Mehra at MEDIC.
Annexure
1. Non-Invasive Intra-cranial Pressure Measurement:
Patients with brain injury have increased intra-cranial pressure. Non-invasive device to measure and monitor Intra Cranial Pressure (ICP) will help in early and timely intervention.
2. Wearable device for early indicator of stress:
A device capable of early diagnosis and termination of potential stress is needed to inform the individual to breathe deeply, and stimulate the para-sympathetic nervous system.

3. Centric jaw relation recorder for tooth reconstruction by dentists:
Centric jaw relation is a crucial relation of maxillary region and mandibular jaw. This is the only repeatable and recordable relation on which oral rehabilitation can be performed.
4. Non-invasive device for early detection of gum disease: Gingivitis screening:
Skilled personnel are required to identify gingivitis, which causes bleeding on brushing & swelling in gums. If left untreated it leads to periodontitis (inflammation of bone). Early detection of gingivitis is needed
5. Non-invasive tooth vitality detector:
Decayed or damaged tooth are either extracted or a root canal procedure is performed to save the tooth. The decision depends upon the vitality of tooth, which needs to be ascertained.
6. Lung secretion remover for COPD patients to reduce WOB:
Patients with COPD suffer from secretion retention leading to increased work of breathing and reduced oxygen desaturation. Physiotherapist face difficulty in removing secretion through airway clearance technique; a better method or device is required.
7. Device to detect fainting cause by common people:
When a person faints in a public place where medical professionals are not readily available, there is a need to detect the root cause of fainting, to enable appropriate early intervention.
8. Monopolar electro-cautery hook to avoid unintentional burning by jerk:
In laparoscopic surgery, tissue cauterization/ cutting is done using electric current through hook; controlled by foot switch. Electric current does not stop automatically after dis-engaging from tissue causing undesired burning. A device to avoid this is required.
9. Non-invasive point of care device to screen diabetes patients (early diabetic screening):
The test for diabetes is cumbersome and invasive because of needles; the cost of needle replacement is also involved. A device for rapid screening of diabetes patients is required.
10. Selective phototherapy for vitiligo patients with improved accessibility:
Vitiligo patients need to expose their to skin UV-B for prescribed period. Some areas are not easily accessible. An efficient & cost-effective UV-B phototherapy device for vitiligo treatment is required.
11. Instrument for precise and efficient laparoscopic suturing:
During laparoscopic surgery, 'suturing' & 'knotting' require high skills. A device which can replicate the above steps and help in better surgical outcome is desired.
12. Automated device to accurately measure and monitor IV drips (IV flow control and monitoring):
The amount of the medicine passing through the IV is decided by the doctor but the flow rate is manually calculated by the nurse, which is time consuming and often inaccurate. A device that can readily convert amount of medicine to the appropriate flow rate is required.
13. Device for Parkinson's patients to perform routine tasks better (Parkinson tremor management):
Design a device which can help patient afflicted with Parkinson's disease to do routine activities such as grasping and writing (signature).
14. Smart crutches to reduce user stress and enhance functionality:
There is difficulty in carrying crutches for disabled patients. Current crutches are heavy and bulky to carry. A simple, light, easy to use, patient friendly device is needed for bearing load and assist walking/ activities.
15. Limb supporter for pre-surgical scrubbing to reduce manual effort:
Limbs to be operated upon are cleaned and painted with sterilised fluid. This is tiring for OT assistant to hold the limb and time-consuming for the surgeon. A device is needed to reduce the effort and time.
16. Device to measure and classify deformity in Club foot children:
It is necessary to measure & classify deformity of weight bearing club-foot children. A device to uniformly measure the angular deformity in clubfoot children at OPD/ remote places is required.