Bus operators stage dharna at RTA office in Khairatabad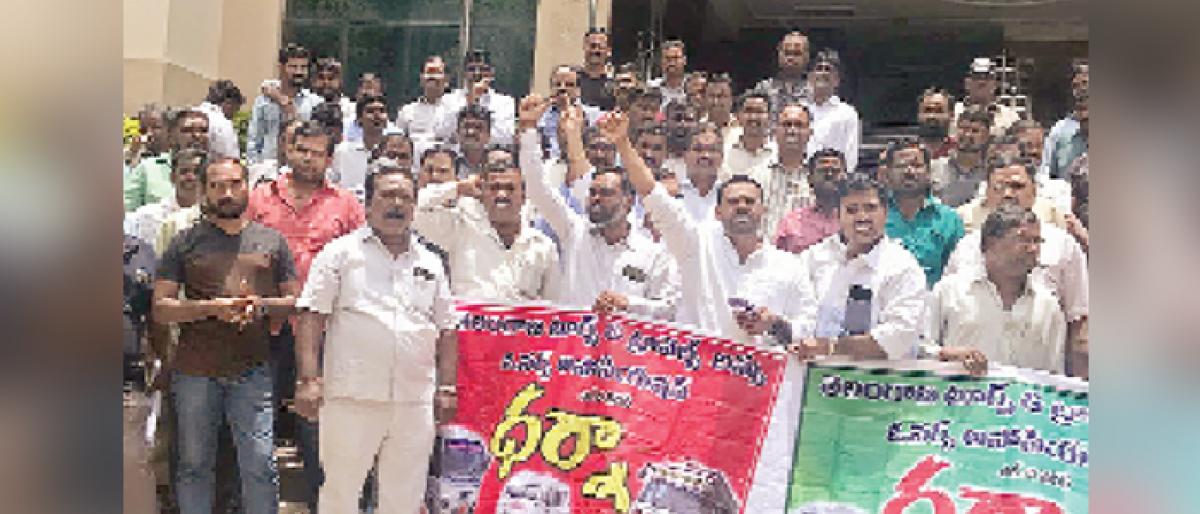 Highlights
Hundreds of bus operators, under the aegis of Telangana State Cabs and Bus Operators Association TSCBOA, held a dharna demanding resolution of their pending issues at Road Transport Authority RTA headquarters in Khairatabad on Tuesday
Demand resolution of issues pending since formation of Telangana State
Call for immediate scrapping of border tax collected by AP
Hyderabad: Hundreds of bus operators, under the aegis of Telangana State Cabs and Bus Operators Association (TSCBOA), held a dharna demanding resolution of their pending issues at Road Transport Authority (RTA) headquarters in Khairatabad on Tuesday.
Led by TSCBOA, president, Syed Nizamuddin, the bus operators raised slogans against the State Government and RTA authorities for not reacting to their demands which were pending since formation of Telangana in June 2014.
Speaking on the occasion, Nizamuddin demanded that the State government take immediate measures to make Andhra Pradesh remove the Border Tax on vehicles coming from Telangana.
He said the Telangana bus operators were being forced to pay Border Tax of Rs 365 per seat. Therefore, an operator is being forced to pay an extra tax of nearly Rs 8,000 for a 22-seater bus per single trip.
"This additional burden of Rs 8,000 per bus per trip has badly hurt the transport industry. None of us are able to operate our buses to Andhra Pradesh as we also cannot shift the additional burden on our passengers," he said.
Nizamuddin said that many operators were resorting to 'vehicle stoppage' by surrendering their RC books before RTA as they are unable to do business.
He said most of the contract carriage vehicles depend on tourism, mostly religious tourism, and nearly 5,000 buses are operated to destinations like Tirupati, Srisailam, Sri Kalahasti, Kanaka Durga Temple of Vijayawada and Mantralayam.
Therefore, the entire travel and tourism industry was badly hurt due to Border Tax. He demanded that the Telangana government join the agreement of southern states on Border Tax.
"There is no border tax for contract carriage vehicles for entry into Tamil Nadu and Kerala as per the agreement of the southern states had with the erstwhile united Andhra Pradesh government.
After the formation of Telangana in 2014, the agreement stands valid only for AP government, while the operators from Telangana are being forced to pay the border tax.
Being the new southern State, Telangana should have been automatically be a part of the agreement. But it is not being honoured. Therefore, the Telangana Government should join the agreement so as to help the travel industry," said Nizamuddin.
Nizamuddin informed that despite bifurcation of Andhra Pradesh and formation of Telangana State, the State Government continued the system of permits and fee slabs of Rs 892.50 for single district, Rs 1207.
50 for two-districts and Rs 2,670 for state permits. After bifurcation, the geographical area of Telangana got reduced with borders from the state capital falling within 100 km radius.
Therefore, he said that the fee should be revised and rationalised. He demanded that the State government introduce common fee for the entire State and scrap the present system of district-wise tax.
The TSCBOA chief said that there was a huge leakage of revenue in PSV Tax (company-owned vehicles).
This leakage can be plugged by introducing a common tax for all vehicles (contract carriage) and by fixing a common fee for the entire State.
There can be only two slabs – single district and state-level tax. While the tax for single district could be Rs. 600, for more than one district it can be Rs 1200/-
On information of dharna by bus operators, Principal Secretary of Transport Department Sunil Sharma came to the RTA office and received a representation by the TSCBOA.
He assured the bus operators that all their issues would be resolved in a month's time.