Where is Nikki Haley going? US president Donald Trump knows the answer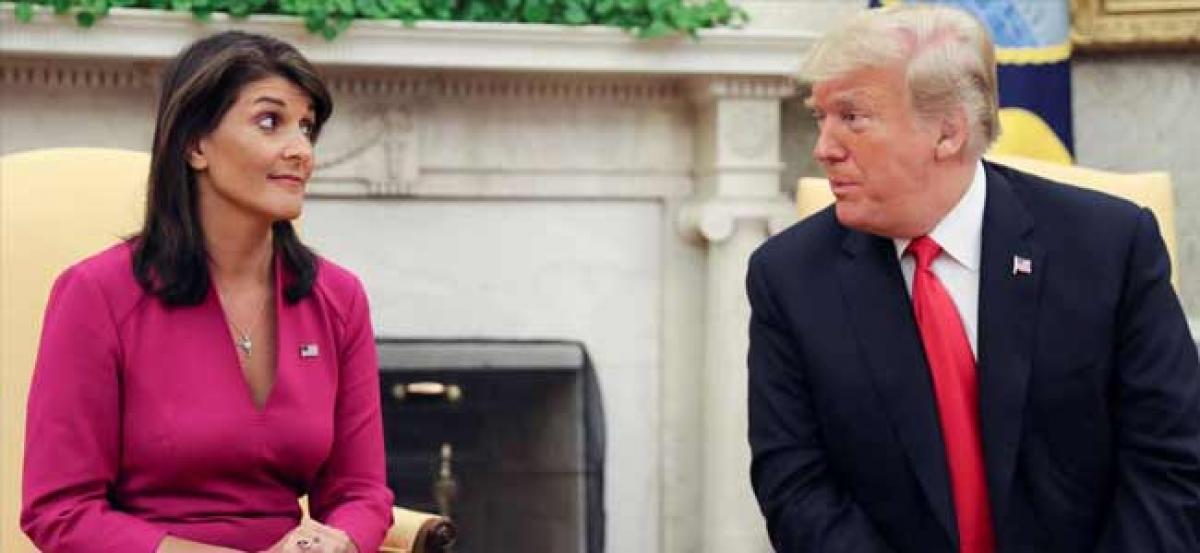 Highlights
IndianAmerican Nikki Haley, who a day earlier announced her resignation as the US Ambassador to the UN, is likely to join the private sector and hopefully, make a lot of money, President Donald Trump said as he profusely praised his top diplomat at the United nations
Indian-American Nikki Haley, who a day earlier announced her resignation as the US Ambassador to the UN, is likely to join the private sector and hopefully, make a lot of money, President Donald Trump said as he profusely praised his top diplomat at the United nations.
Haley (46), the first Indian-American to hold a cabinet-ranking position in any presidential administration, tendered her resignation Tuesday, which Trump accepted.
Haley is likely to stay in the position till the year-end, before which her successor could be nominated and confirmed by the Senate.
"Nikki is going to be here until the end of the year. Nikki is our friend. She has been great. I want whoever it is to spend some time with Nikki before Nikki goes out and gets herself a job, and hopefully does -- she's going to make a lot of money. And I think Nikki will come back in some form too. But she's an extraordinary person, good person," Trump told reporters at the White House on wednesday.
Haley has said that she is taking a break after more than a decade in public life.
Trump told reporters that he was looking at four-five different individuals as her replacement. One of them being Dina Powell (45), the former deputy national security adviser to Trump.
Asked about the timing of Haley's resignation, that too just before the mid-term polls, Trump said nothing much should be read into this.
"There's no good time. I mean, there is be no good time. She told me about this a long time ago. And, frankly, it's almost four weeks. So, it's not that bad. No, I don't think so at all. I thought it was very elegantly done," he said.
"If she waited until after, then they'd say, 'Oh, she?'. You know, if we win, they'd say, why is she doing it. And if we lose, they'd say, oh, well, that's obvious why she's doing it. Okay? So there's really no good time to do it," the President added.
Trump said Haley spoke to him about it some six months ago. "She and I had spoken at least six months ago. Maybe even a year ago, we had conversations. She wanted to be here for about two years. I think the point really was, last week at the United Nations, she wanted to get through that and then go, probably into the private sector for a while," he said.
The president exuded confidence that Haley would come back into government because she's a terrific person.
The Washington Post on Wednesday said that Nikki Haley served in the Trump administration and departed with most of her dignity intact. "That, in and of itself, is what makes her extraordinary," the daily said.
At the Pentagon, Defence Secretary James Mattis said Haley had been a wonderful representative for the US. "She has been just a tremendous asset to those of us here in the Department of Defence," he said, adding that he worked very closely with her.
"We saw ourselves in many occasions collaborating together on how we would deal with certain issues, alongside the secretary of state. She's done yeoman's work up there, and I would just tell you that she may be moving on but losing our respect one bit," Mattis said.