Dharmendra Pradhan lays foundation stone for NSTI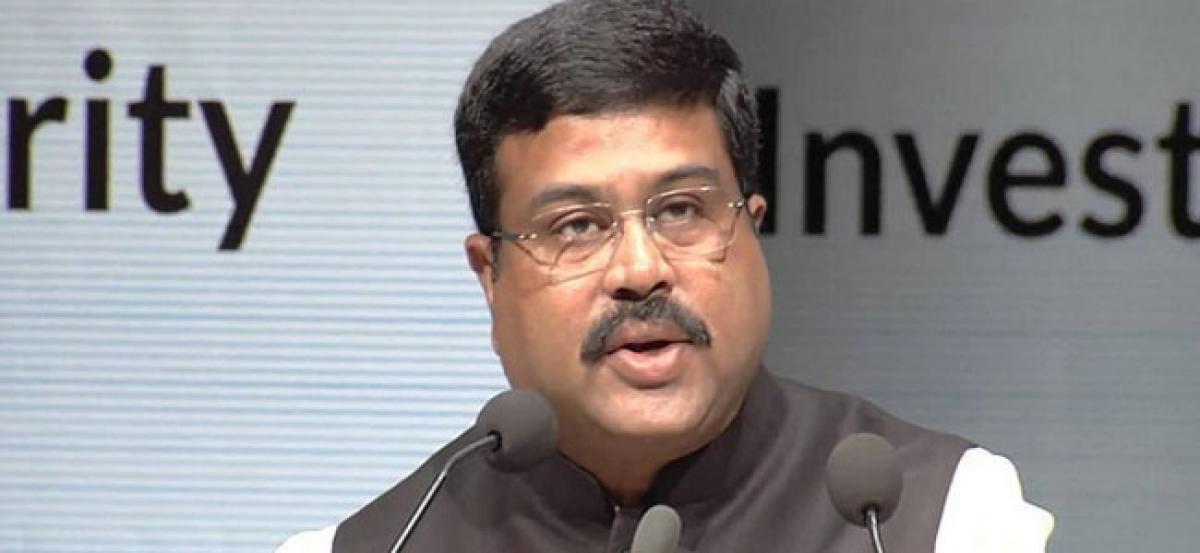 Highlights
In an effort to meet the rising demand for skilled manpower, Ministry of Skill Development and Entrepreneurship has announced to launch the National Skill Training Institute NSTI in Barang, Bhubaneswar
Bhubaneshwar [Odisha]: In an effort to meet the rising demand for skilled manpower, Ministry of Skill Development and Entrepreneurship has announced to launch the National Skill Training Institute (NSTI) in Barang, Bhubaneswar.
The launch announcement was made in the presence of the Minister for Petroleum and Natural Gas and for Skill Development and Entrepreneurship, Dharmendra Pradhan.The institute will be set up at a cost of Rs 160 crore. The institute shall be equipped with state of the art facility to impart skill development courses to the trainers and assessors along with training of candidates in new age courses catering to the needs of the industry, designed keeping in mind the youth of the institutes' catchment areas.
NSTI, which will function under Directorate General of Training (DGT), is going to include training activities like, Trainers Training (Long term/Short term), Refresher Training (Long term/Short term), Re-skilling/Up skilling courses, Certificate courses and Common Facility Centre (CFS).
Applauding the efforts of the organisations, Dharmendra Pradhan said: "Government of India has introduced an array of national and state level projects like Make in India, Digital India, Smart Cities, Clean India, Urja Ganga Gas Pipeline Project and Sagarmala Port Project; for which we will need skilled workforce. Skill India is a demand driven program which trains people in job roles which are market relevant and of current industry needs and standards. Setting up of this NSTI in Bhubaneshwar is yet another step to empower the youth of the state and make them job ready for industries functioning here. This would also help us address the issue of migration."
"NSTI, Baranga will play a pivotal role in making of meritorious and skilled workforce to the world market. This will also help youths to live a life on their own terms and make them self-independent. Skill being considered as one of the most prerequisite in this 21st century in any sector, Government of India has put in efforts for the construction of this modern state of art institute in Odisha.
This institute will also impart training to the trainers who are teaching students of various ITIs and other skill based education. NSTIs are being envisioned as a one stop shop to supplement the training activities in the country. We aim to have one NSTI in each State very soon," he further added.
To ensure that the courses begin at the earliest, a Memorandum of Understanding (MoU) was signed with National Small Industries Corporation (NSIC) for starting a temporary campus of National Skill Training Institute Bhubneswar in their premises at Mancheswar Industrial Area, Bhubneswar.
The use of Internet of Things in Agriculture, Smart Cities and Health Care in addition to other courses in the area of Mechatronics and Mobile Repair, will be the prime highlight of training in this facility.The objective is to revitalise the existing training infrastructure and develop new institutions in the unserved areas with focus that these institutions will continue to provide relevant and employable skills to our youth that remain the main driving force in our Skill Development efforts.
Ministry of Skill Development and Entrepreneurship (MSDE) was formed on November 9, 2014, by the Government of India to focus on enhancing employability of skills. The Ministry aims to bridge the gap between demand and supply of skilled manpower to build new skills and innovation not only for existing jobs but also for jobs that are to be created.
Till date, more than three crore people have been trained under Skill India. Under its flagship programme, Pradhan Mantri Kaushal Vikas Yojana (PMKVY) 2016-2020, the Ministry has trained more than 50 lakh candidates so far.