Karunanidhi's health remains critical : Doctors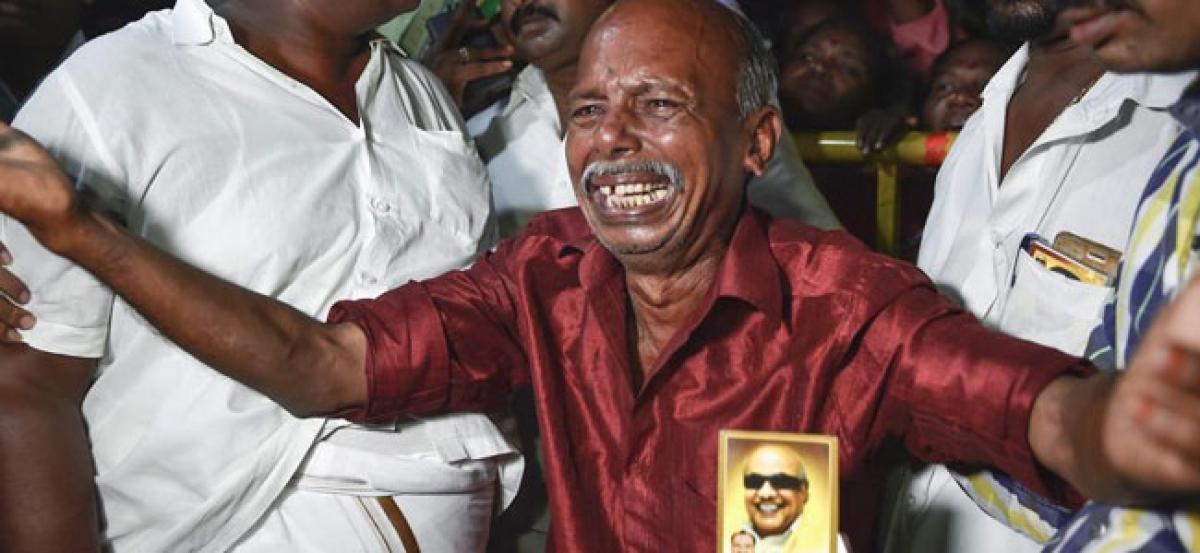 Highlights
DMK Chief Kalaignar Karunanidhis health condition has declined The hospital said that maintaining his vital organ functions continues to remain a challenge
CHENNAI: DMK Chief Kalaignar Karunanidhi's health condition has declined. The hospital said that maintaining his vital organ functions continues to remain a challenge.
V Narayanaswamy, CM of Pondicherry, just arrived at Kauvery Hospital to visit him. Party supporters are gathering outside the hospital to protest.
At 10:50am, Valko, the general secretary of MDMK, arrived at Kauvery hospital. M K Stalin, DMK working president arrived at the hospital on 10:00.
A DMK cadre slept outside a car showroom opposite Kauvery Hospital with catchy slogan on Karunanidhi. At 8:00am, the hospital said, "There has been a declined in the medical condition of DMK president, who has been receiving treatment in the ICU.
Reports say that nearly 500-600 police personnel are in duty both inside and outside the hospital. TR Baalu, former Union Minister, visited the hospital early in the morning. Rajathi Ammal, Kanimozhi, A Raja stayed overnight in the hospital. Cadres sleep on the road outside the hospital. Kanimozhi, DMK leader, met people who were gathered outside the hospital.
Yesterday in the late night, Union Minister Nitin Gadkari visited the hospital to enquire about Karunanidhi's health. Dr. Aravindan Selvaraj, the executive director of Kauvery hospital, said, "His response to the medical interventions over the next 24 hours will determine the prognosis."