Peace in Indian Ocean a priority for Indian foreign policy: Sushma Swaraj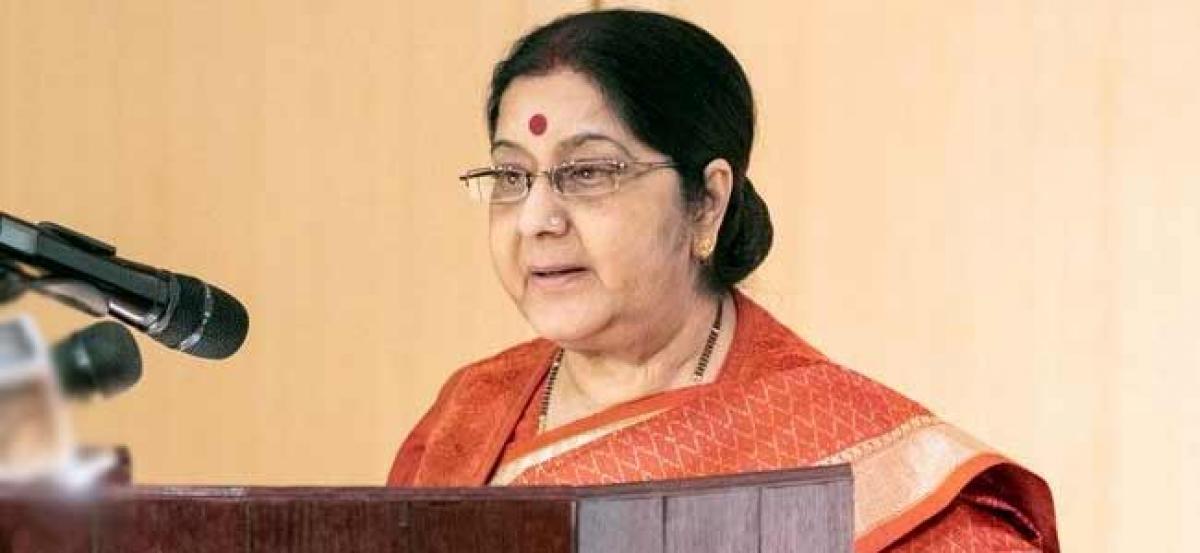 Highlights
Emphasising on the economic importance of the Indian Ocean, External Affairs Minister Sushma Swaraj on Monday said nurturing a climate of peace and stability in this region is an important priority for Indias foreign policy
New Delhi/Hanoi: Emphasising on the economic importance of the Indian Ocean, External Affairs Minister Sushma Swaraj on Monday said nurturing a climate of peace and stability in this region is an important priority for India's foreign policy.
Swaraj's comments assume significance in the wake of China increasing its footprints in the Indian Ocean, which figures prominently in President Xi Jinping's ambitious 'One Belt, One Road' initiative to build a new Silk Route.

India is opposed to the 'One Belt, One Road' initiative as it includes the China Pakistan-Economic Corridor (CPEC) which transverses through Pakistan-occupied Kashmir.
China has stepped up activities in the Indian Ocean where it is building ports and other infrastructure in Sri Lanka, Bangladesh and Pakistan.
"There can be no doubt that the Indian Ocean is at the centre of the emerging 'Age of Asia'...This region is host to the world's busiest waterways and three-quarters of that traffic is headed for destinations beyond our region," Swaraj said while addressing the Third Indian Ocean Conference at Hanoi.
"As an important trade and energy waterway, carrying half the world's container shipment, one-third of its bulk cargo traffic and two thirds of oil shipments, the Indian Ocean clearly assumes importance well beyond its immediate shores and its littorals," she said.
"Nurturing a climate of peace and stability in this region is therefore an important priority for our foreign policy," Swaraj added.
Emphasising that India and Vietnam are connected not only by the common waters but also by a shared vision for peace and prosperity, she said, "Hanoi is therefore a particularly appropriate setting for us to discuss developments in the Indian Ocean and the Indo-Pacific region."
The Indian Ocean, which borders Africa, the Middle East, Asia and Australia, is home to major sea lanes and choke points that are crucial to global trade. Nearly 40 per cent of the world's offshore petroleum is produced in the Indian Ocean, which also has rich mineral deposits and fisheries.
Swaraj said in an inter-dependent world characterised by enhanced economic and trade linkages, the importance of sustainable use of our ocean resources cannot be overstated.
"For us in India, the seas around us have nurtured our links of commerce and culture with our extended neighbourhood over millennia," she said.
Swaraj said though there is diversity within the region; the challenges within it are "quite similar".
"Our vision for the region is one of cooperation and collective action," she said.
"We cannot tap the bounty of the Indian Ocean without ensuring maritime peace and stability. Economic prosperity and maritime security go hand-in-hand," she said.
Swaraj said those who live in this region bear the primary responsibility for peace, stability and prosperity in the Indian Ocean.
She further said India sees Association of Southeast Asian Nations (ASEAN) as central to the regional maritime architecture.
Swaraj is in Vietnam on the first leg of her four-day two-nation tour which aims at deepening India's strategic cooperation with Vietnam and Cambodia -- the key countries in the ASEAN region.