Attempts by DMK to break AIADMK, topple govt won't fructify : TN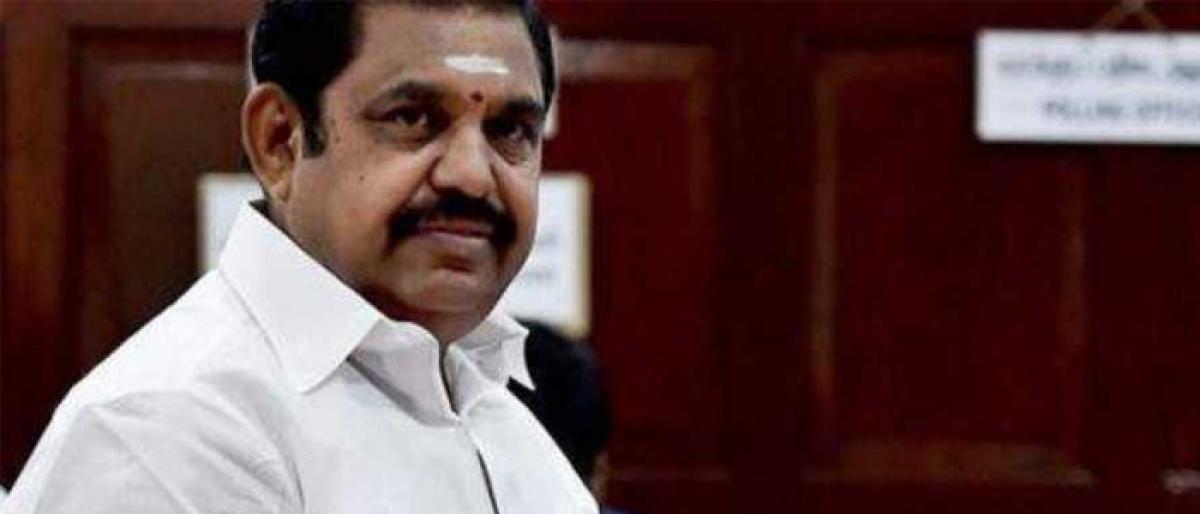 Highlights
Tamil Nadu Chief Minister K Palaniswami on Thursday asserted that any attempts by the DMK to break AIADMK or topple the state government would not fructify
Salem: Tamil Nadu Chief Minister K Palaniswami on Thursday asserted that any attempts by the DMK to "break" AIADMK or 'topple' the state government would not fructify.
Taking a dig at the DMK, he said the party has 'expertise' in doing politics over internal matters of other parties.
Declining to comment on the succession war in DMK involving late DMK Chief Karunanidhi's sons, MK Alagiri and MK Stalin, he told reporters here that the opposition party would do whatever they want when an opportunity comes up.
He was asked how he viewed the matter, pointing out that the earlier split in AIADMK, involving his deputy O Panneerselvam, was keenly debated and critiqued upon, including by DMK.
Alagiri, expelled from DMK in 2014 for alleged anti-party activities, has been insisting that he be re-inducted, even indicating he was ready to accept his younger brother's leadership.
Stalin was elevated as DMK chief on August 28. Palaniswami, however, charged the DMK with trying to "do whatever" for political gains when an opportunity came up.
"As far as we are concerned, we are functioning democratically. We never talk about others, nor do we do politics when an issue crops up (for them). DMK has expertise in that.
They will do whatever they want to when an opportunity comes up," Palaniswami, ruling AIADMK's Joint Coordinator, said without specifying any particular instance.
AIADMK was founded by the late MG Ramachandran and later "held together" by J Jayalalithaa, he said. "Not just one DMK, let there be many DMKs, but they cannot break this party (AIADMK) or topple the government. That will never happen," he added.
Asked about his party's preparedness for next year's Parliamentary election, Palaniswami said the poll dates were yet to be announced.
To a query on the damage to shutters in Coleroon river in Tiruchirappalli, he said the repair work was being carried out with senior state government officials camping there, and that it was expected to be completed in two to three days.