India wins against Argentina in a stunning 2-1 match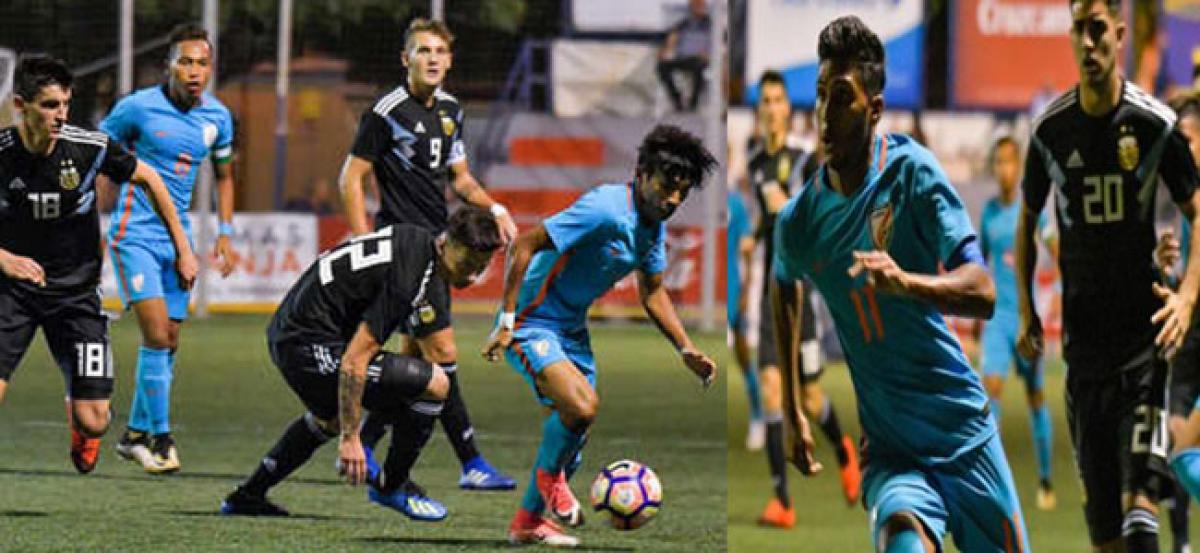 Highlights
Not many people expected India would play well as they playing in the tournament for the first time and it wouldnt stand against Argentina, Venezuela and Mauritania Floyd Pinto just became Indias U20 football coach just 10 days earlier as Portuguese coach Luis Norton de Matos had stepped back
PANAJI: Not many people expected India would play well as they playing in the tournament for the first time and it wouldn't stand against Argentina, Venezuela and Mauritania. Floyd Pinto just became India's U-20 football coach just 10 days earlier as Portuguese coach Luis Norton de Matos had stepped back.
In a press meet Floyd said, "I would be happy if the Spanish people have more respect for Indian Football by the end of this tournament."
In their first match India had lost to Mauritania and the second match was a draw with Venezuela. The third match against Argentina was a win with 2-1 lead. Anwar Ali's goal from a freekick is undoubtedly the goal of the tournament. People around the stadium stood up on their feet and applauded. The goal was unexpected but Anwar made it possible.
While Argentina and Venezuela made it to the semifinals from the group but India is out with the confidence that they can beat the more established teams. Floyd added that, "This Victory should not be misconstrued. This doesn't mean that we will qualify for the U-20 World Cup but this gives us a new belief."
Speaking on how this win over Argentina is being compared to the win over 'Italy' that proved to be a fraud, he said, "This was the Argentina national team that had players from academies like Boca Juniors, Inter Milan and Newell's and in the dugout was regular coach Lionel Scaloni, a 2006 World Cupper and the legendary Pablo Aimar as technical director."