After silver lining, Johnson wins gold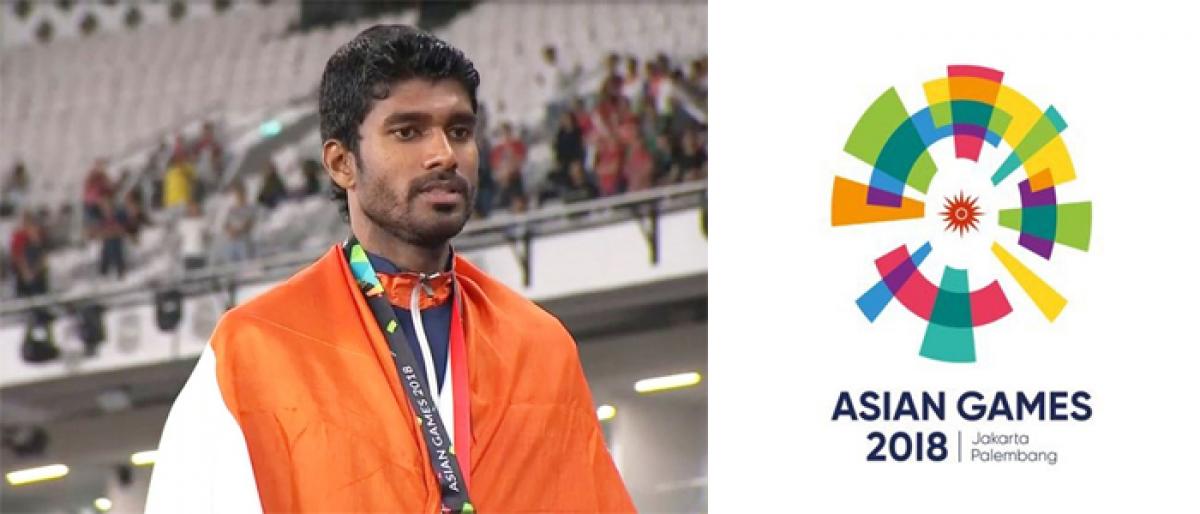 Highlights
Indias Jinson Johnson claimed a gold medal in the mens 1500m event, in which 800m champion Manjit Singh finished fourth in Jakarta on Thursday
Jakarta: India's Jinson Johnson claimed a gold medal in the men's 1500m event, in which 800m champion Manjit Singh finished fourth in Jakarta on Thursday.
Johnson clocked 3:44.72sec to claim the top honours ahead of Iran's Amir Moradi, who turned in a timing of 3:45.62sec, his season's best effort. Johnson earlier won a silver in the 800m event.
Ending with a bronze was Bahrain's Mohammed Tiouali (3:45.88sec).
Manjit, who had stunned one and all with his 800m gold, took the fourth position with a timing of 3:46.57sec.
Punia wins bronze
Defending champion Seema Punia settled for a bronze in the women's discus throw event in the Asian Games in Jakarta on Thursday.
The 35-year-old Seema cleared a best distance of 62.26m, her best in six years, but that was just enough for a bronze medal.
Asian champion Chen Yang of China hurled the disc to gold winning distance of 65.12 in her last attempt, which was a huge 2.86m more than the Indian at the GBK Main stadium.
The Asia number one Chen, 27, was always a top contender in this event with a personal and season best throw of 67.03. She kept improving with her throws and was closely followed by compatriot Feng Bin, who grabbed the silver with 64.25m, which also came in her last attempt.
Seema's best throw came in her third attempt when she sent the disc to 62.26m, which was better than her gold-winning effort at the 2014 Incheon Games, where she had managed 61.03m.
Chen was in lead from her first attempt of 59.61m after Seema began with a 58.51m and looked unhappy with her effort.
It then remained a fight between the two Chinese.
Feng overtook both Seema and her compatriot Chen with her first throw of 61.84m. Feng has a personal best of 65.14 but managed 64.58 this season.
Chen though came back and reclaimed the top position by hurling the disc to 64.45m in her second attempt.
Seema fouled the second chance but improved her mark in the next. She was now fighting the two Chinese but Feng remained ahead of the Indian as her fourth attempt of 63.81 kept her in second place.
Seema fouled her fifth attempt and had to go all out in her last chance. However, her sixth attempt cleared only 61.18m.
Seema now has four CWG medals and two Asian Games medal and remains India's best discus thrower.
Sandeep fouled all her three final attempts.