Shaw a mixture of Tendulkar, Sehwag and Lara: Shastri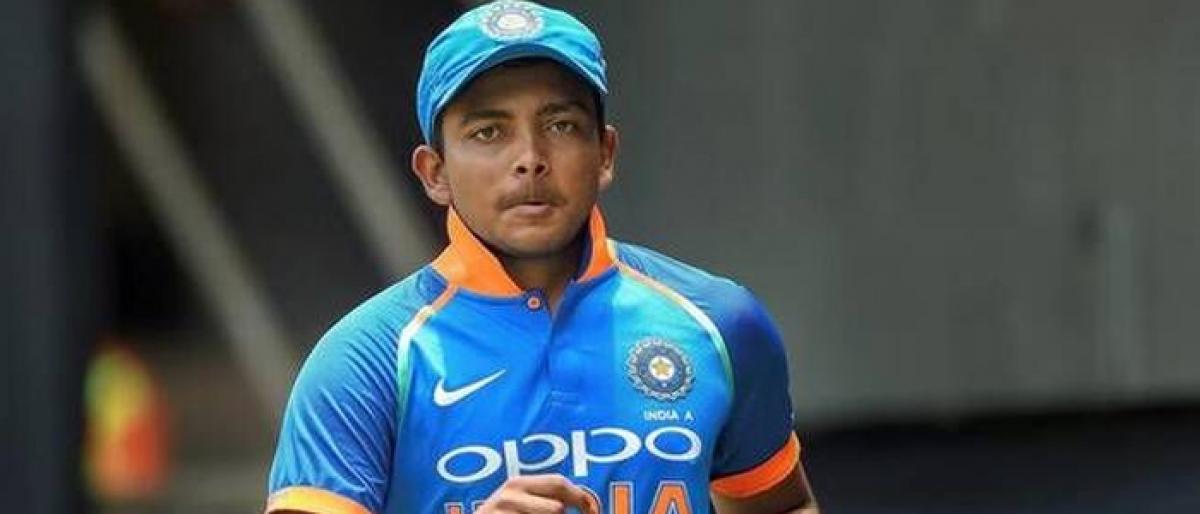 Highlights
India coach Ravi Shastri saw in Prithvi Shaws batting, glimpses of two of the greatest batsmen of modern era and a nonconformist who redefined batsmanship
Hyderabad: India coach Ravi Shastri saw in Prithvi Shaw's batting, glimpses of two of the greatest batsmen of modern era and a non-conformist who redefined batsmanship.
An overwhelmed Shastri on Sunday, in one breath, mentioned the names of three legends -- Sachin Tendulkar, Brian Lara and Virender Sehwag -- while trying to describe the 18-year-old Shaw who accumulated big runs in his first brush with top-flight international cricket.
"He (Shaw) is born to play cricket. He's been playing since the age of eight in the maidans of Mumbai. You can see all that hardwork showing. He's a spectator's delight.
There's a bit of Sachin there, a bit of Viru in him and when he walks - there's a bit of Lara as well," Shastri said.
"If he can keep his head on his shoulders and keep the work ethic, he has a bright future."
Opener Shaw flayed the Caribbean attack during his 52-ball-70 on the second day of the second Test to give India a flying start, days after hitting a century on debut.
Shastri lauded the efforts of Umesh Yadav, who returned a match haul of 10 wickets to become only the third Indian pacer to achieve the feat after Kapil Dev and Javagal Srinath.
"It can be a frustrating profession when you sit on the bench like Umesh for 4 Tests. Only 11 can play.
He got his opportunity here and I'm very happy for him. It's been done only four times (ten-for for a pacer in India). "What this will do is make him believe that he belongs.
He can say now that he wants his place. That's given us a headache.
He was on target," Shastri said of the pacer. The coach was also fulsome in his praise for 20-year-old wicketkeeper-batsman Rishabh Pant, while backing K L Rahul to regain his touch.
"I think (Rahul) will be fine. He's a world-class player. Sometimes he tries too hard.
He works really hard on his game. "Pant is another name. He got his opportunity, he grabbed it, now he has consolidated it.
About Wriddhiman Saha returning and challenging Pant, he said, "You've got to go on current form."
Last but not the least, on the triumph, Shastri said, "Lot of positives for us. When we are playing at home it's easy to get complacent and carried away."
"When you lose one fast bowler (Shardul Thakur went off in the first morning), you have another one who stands up and takes 10 wickets."
Shaw (18 years and 339 days) meanwhile became the second youngest to hit the winning runs in a Test after Pat Cummins (18 years and 198 days) against South Africa in Johannesburg in 2011.