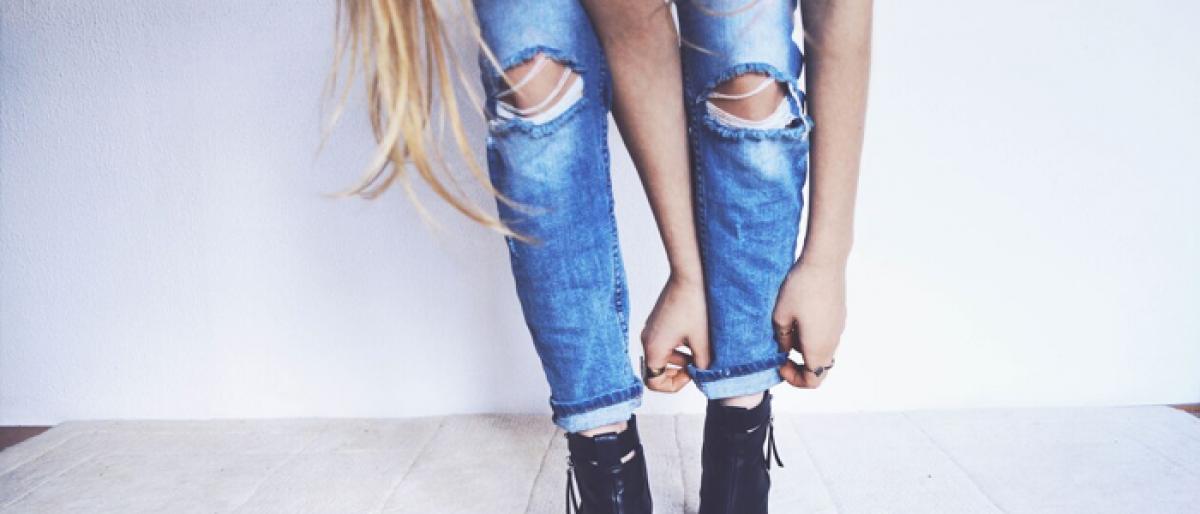 Highlights
Ripped jeans became fashionable in the 80s when heavy metal rock stars showcased their talents on stage with ripped jeans and wild hairstyles It was...
Ripped jeans became fashionable in the 80's when heavy metal rock stars showcased their talents on stage with ripped jeans and wild hairstyles. It was the grunge era that brought a change in opinion about torn clothing being fashionable. This trend is popular again with men and women and it is leaving its rips on wardrobes around the country.
The trick to pulling off ripped jeans is to not pair them with other distressed garments. Denim lends streetwear edge to any outfit, adding in other worn-in pieces can make the look sloppy instead of cool. Stick to pieces like a blazer and turtleneck for a polished outfit, a voluminous top and trending ankle boots, or a simple T-shirt and a moto jacket to achieve a model-off-duty look.
The Minimal Look
For a basic effortless style, pair ripped jeans, with a classic tee and fresh white kicks. Add some sunnies and your favourite handbag and you're good to go. Combine a pair of ripped jeans with an oversized sweatshirt keeping it simple.
The Winter Look:
Pair up with a simple sweater but add a statement necklace and heels, or you can pair it up with a tank top, a cardigan, and sneakers. The key to making this look less 'bummy' is to wear form-fitting jeans and add some cute accessories. In harsh winters add knee-high boots and a long cardigan to stay cosy even with the holes in your jeans and accessorise with a cosy blanket scarf and booties.
The Summery Look
Add flat sandals and a flowy kimono top for the perfect casual look. Add a baggy striped tee to super skinny ripped jeans for a classic combo. Keep your ripped jeans classy with feminine accessories like gold jewellery, a floral scarf, pretty earrings, and heels. Go boho-chic with loose ripped jeans cuffed up, a long tunic, and a hat.
The Chic and Office Look
Front-tuck a button-down shirt into skinny ripped jeans and add some booties. Wear high-waisted denim with a sparkly crop top for some bling and glamour. Add heels and a blazer with your ripped skinny jeans for a more professional vibe. You can't go wrong with an all-black ensemble! Add a glam top and colourful heel for a simple look that stands out.
Date at Eight
Style your ripped jeans with a pair of fishnet stockings. It's the perfect evening outfit that's sure to turn heads. You can style oversized ripped jeans with an oversized denim jacket. Colour match your top and shoes or pair up the jeans with a sleek blazer.
Deepika Sarode - The writer is the founder of PikaLove.
Subscribed Failed...
Subscribed Successfully...