Over 2 lakh people mobilised for TRS meet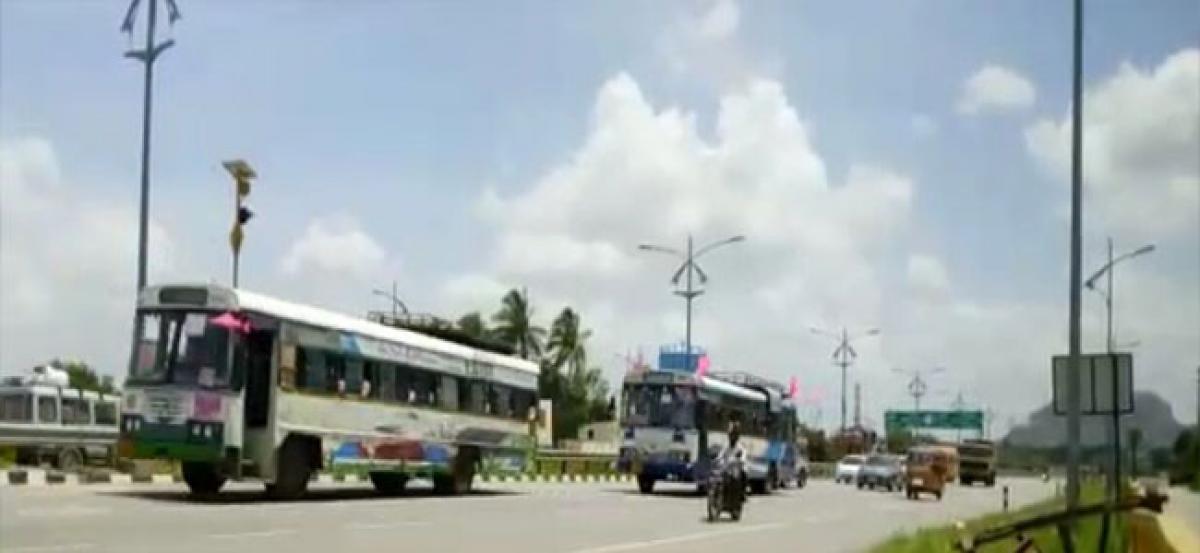 Highlights
As against a target of pooling more than 280 lakh public from all the 14 constituencies of erstwhile Mahbubnagar, the TRS party has succeeded to mobiles at least more 2 lakh people for the Pragati Nivedhana meet held on Sunday in Hyderabad
Mahabubnagar: As against a target of pooling more than 2.80 lakh public from all the 14 constituencies of erstwhile Mahbubnagar, the TRS party has succeeded to mobiles at least more 2 lakh people for the Pragati Nivedhana meet held on Sunday in Hyderabad.
Expressing satisfaction over the grand success of the meet the TRS carders from Mahbubnagar district said that though the government had expected about 25 lakh people to attend the meet but it crossed the figures of more than 30 lakhs, this itself shows that the people of the State are very much with the TRS party and supporting the TRS government in its efforts to reform the overall development of the state, observed Srikanth, a TRS party activists from Jadcherla, while commenting on the success of Pragati Nivedhana Sabha held in Hyderabad.
"There is no doubt that the TRS party will definitely come to power for second term in 2019 and will complete all the pending works and at the same time initiate newer development programmes. The Pragati Nivedhana Sabha was an apt platform created by the TRS party to tell the people of the state what it has done during the past 4 years and how far it has achieved success in its maiden programmes and welfare schemes in the state," said Srikanth. For pooling the public from each constituency, the TRS party leaders and their mandal incharges and MLAs from their respective constituencies had set a target of pooling 20,000 people and accordingly rented 70-80 buses from all the 9 RTC depots.
On an average as many as 3,000 to 5,000 people were mobilised from each mandal, going by this among all the 64 mandals of erstwhile Mahbubnagar about 2 lakh people were transported to the Pragati Nivedhana sabha, observed the TRS leaders in the district. From Pebbair mandal in Wanaparthy district as many as 6000 people were transported in 20 RTC buses, 50 cars and jeeps and 200 Toophans.
Agriculture Market Chairman Gouni Buchhaiah, flagged off the vehicles from the market yard in Pebbair. Similarly in Narayanpet, as many as 219 buses carrying about 8,000 passengers were flagged off by the Narayanpet MLA Rajender Reddy. From Kollapur mandal of Nagarkurnool district, as many as 6,500 people were mobilized for the Pragati Nivedhana Sabha in 569 vehicles, where the TRS activist flagged off the vehicles with fire crackers.
Interested in blogging for thehansindia.com? We will be happy to have you on board as a blogger.